DISCLOSURE: I may link to relevant products, companies or helpful info which may be affiliate links, meaning I may earn a small commission. As an Amazon Associate & other affiliates, I earn from qualifying purchases at no extra charge to you. The views & opinions are my own. Please see the disclaimer and privacy policy.
Last Updated on February 20, 2023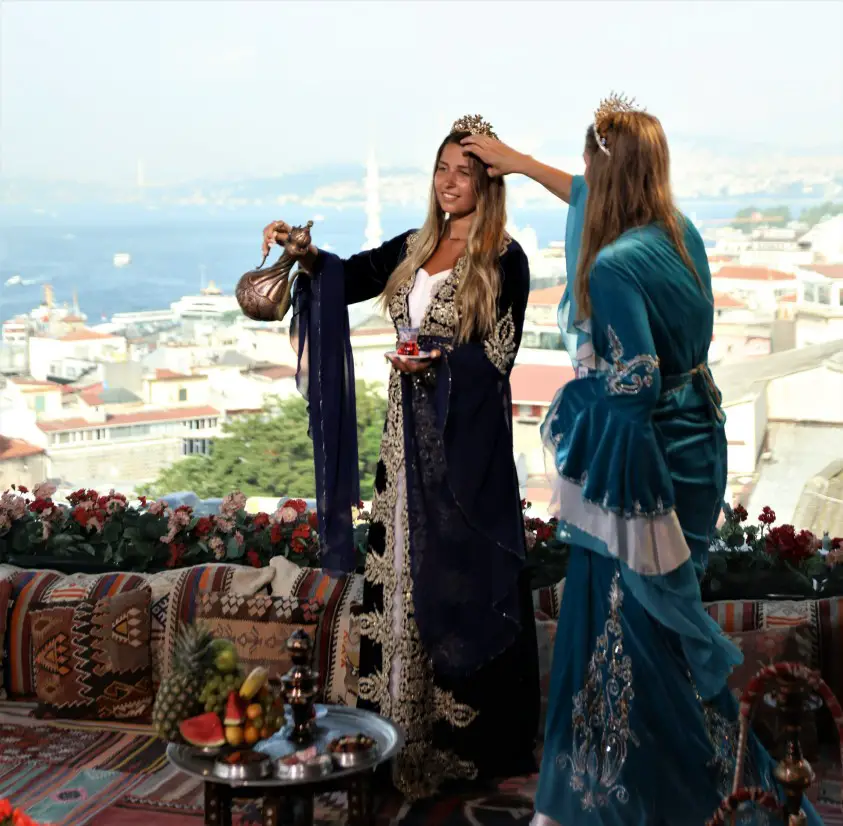 Where to get great Rooftop Pictures in Istanbul
Turkey is an incredibly photogenic country with its unique landscapes and stunning architecture. Istanbul itself has an amazing amount of Instagram-worthy locations. While walking around this sprawling city you will discover many beautiful views and all the great photo spots in Istanbul. 
On our small group tour through Turkey, my daughter and I decided to create some extra special memories by signing up for a mother-daughter Istanbul rooftop photoshoot in Turkey to get great Instagram pictures.
Almost by accident, we ended up finding one of the most unique photographic locations in Istanbul and getting our dreamy rooftop Instagram photos of Istanbul.
Finding a good place for Instagram photos in Istanbul Turkey
We had wanted to find Kubbe Istanbul.  I screenshotted some good directions from other popular Instagrammers that had been there before.  We walked the streets, following the directions perfectly.  Or so we thought.  We walked back and forth and up and down the last street, desperately looking for some sign that we were at the final destination. It looked right from the photo on the directions, but the rooftop of Kubbe just wasn't there.
Sorry for ourselves, we never found it and finally gave up.
Eventually, a local guy walked past and we asked for help.  He took us on a twisty-turny trek through the Istanbul streets, up and down and all around.  It seemed like we were walking forever, miles and miles.  Finally, he pointed down the last street and said, "Go halfway down and you will be happy with the results."
He had led us to Taht Istanbul and we were indeed happy with the results.  Keep reading to see our beautiful mother-daughter photoshoot pictures!
Want a hassle-free photoshoot in Istanbul? Try one of these Istanbul Photo Tours.
Several even offer a PICK UP!
1 Hour Private Photoshoot in Istanbul
I'm Alexandra, photographer from İstanbul.
I will be glad totaled for you magical photos, which will remind you forever about incredible Istanbul. I speak English, Russian and Turkish. I have a large collection of flying dresses for beautiful photo shoots I am ready to make an amazing photo shoo…
Photoshooting in Istanbul
Get magazine-quality photos of your time in Istanbul on a private photoshoot around the city's historical district. Follow your private photographer through the Sultanahmet quarter for pictures in front of the Hagia Sophia and Blue Mosque. Then, head to the bustling Eminonu Square and picturesqu…
instagram istanbul Photo Shooting
My Instagram to contact & DM: @turkeyprotraveller Here is my list of best places for photoshooting
You can pick one of the options as your favorite location
We will meet in the place you choose, I will send you the location if you need (please note this reservation is for one place only) – Blue…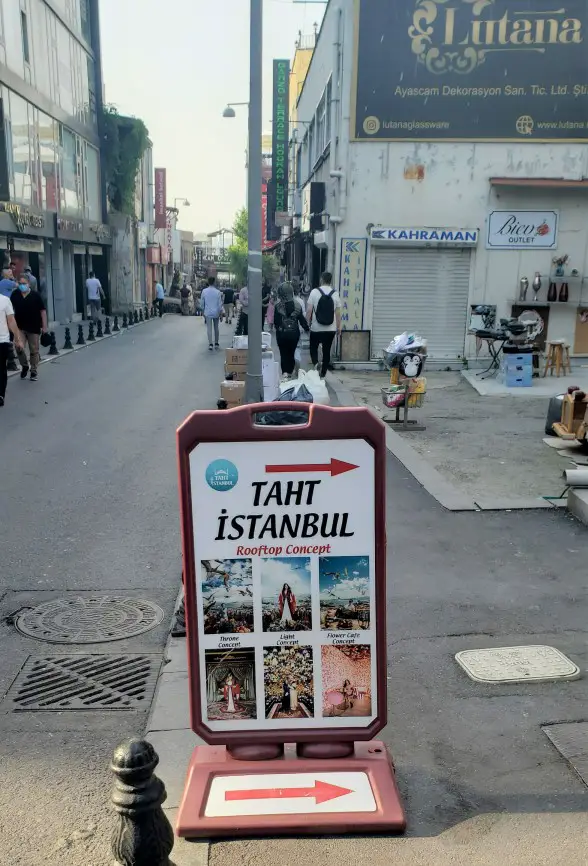 The sign said "Taht Istanbul, Rooftop Concept" with a little red arrow.  We had never heard of it and didn't really know where the local guy had taken us.  We wanted photos on one of the best rooftops in Istanbul, so there was a glimmer of hope that this was a rooftop Istanbul photographer!
We followed the sign down some dark alleyways.  The hallways were packed with boxes and flowers and who knows what else.  It was the storage area for the adjacent shops that were overflowing with merchandise. Finally, we went up some stairs and came to a reception area with a lady who was all smiles and happy to see us.
Finally, we reached the reception area and were welcomed with a friendly greeting.
We were hot and sweaty from a long day of touring.
Our Photo Package
---
We upgraded our package without much thought so that we could have ALL the fun.  Our package included all 4 unique background scenes.  We did bring skirts to get dressed up but opted for the traditional costumes that they provided in order to add that extra Turkish flair to our photo shoot.
Taht Istanbul took 400+ photos, including solo shots and mother-daughter photos.  They shared them with us and we picked 10 of our favorites for editing into a final version.  Some of these included adding birds to the Istanbul rooftop photos.
The videographer also took some interesting videos with our phones.  I was able to include some of these videos in the Istanbul rooftop photoshoot session video that I made.
Dressing up for our Istanbul Instagram Photoshoot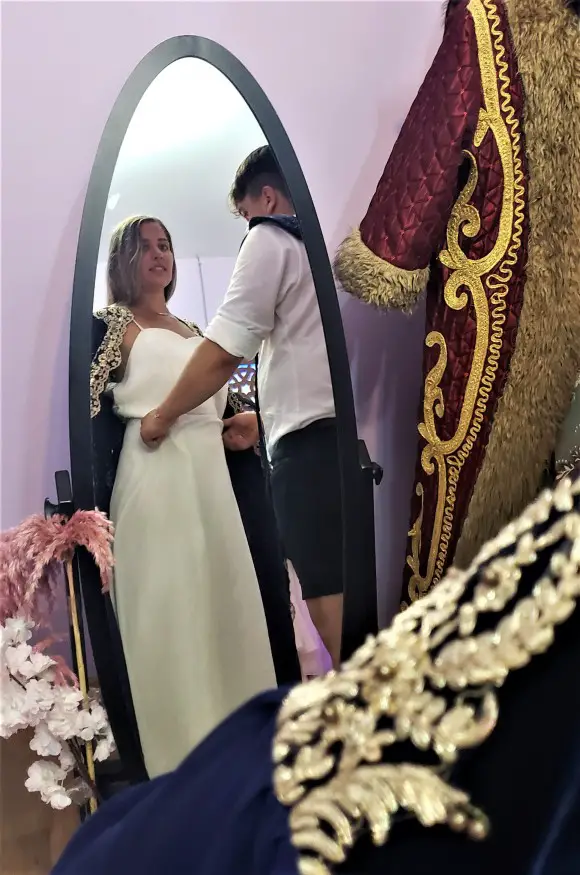 Our package included some Ottoman traditional attire for our photo shoot, so they escorted us to the dressing room.   We put on a white slip first.  This would be the base of our outfit.  On top of the slip, we would wear the fancy cloak.  Which color should we choose?  It was tough for me because all the royal velvet colors were so impressive that I liked them all!
Size didn't matter.  The cloaks were simply tightened by a waistband and pinned at the back to adjust them to your size.  After all, there wouldn't be any photographs from the back so extra material and pins didn't matter back there!
The finishing touch was a headdress.  Bedazzled with sparkly jewels, there were choices of silver or gold crowns fit for a sultan –or the harem of the sultan?  These were also one-size-fits-all and mine became tighter as the photoshoot became longer!  Maybe my head just kept getting bigger!!!
Unique Concepts for an Istanbul Photoshoot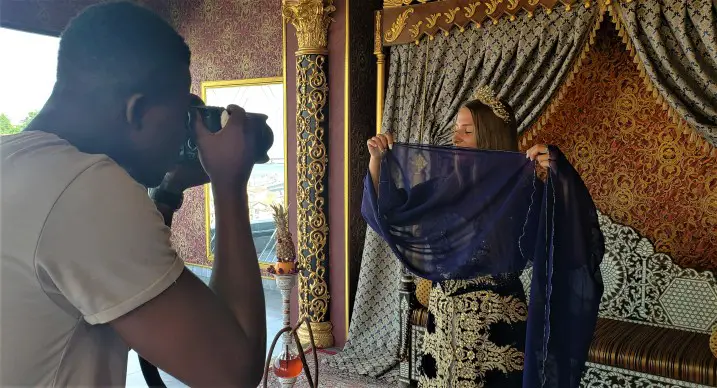 There are 4 different scenes that you can choose from.  We chose the package that included all 4 because we wanted a variety of photos to represent our trip to Turkey.
Rooftop Backdrop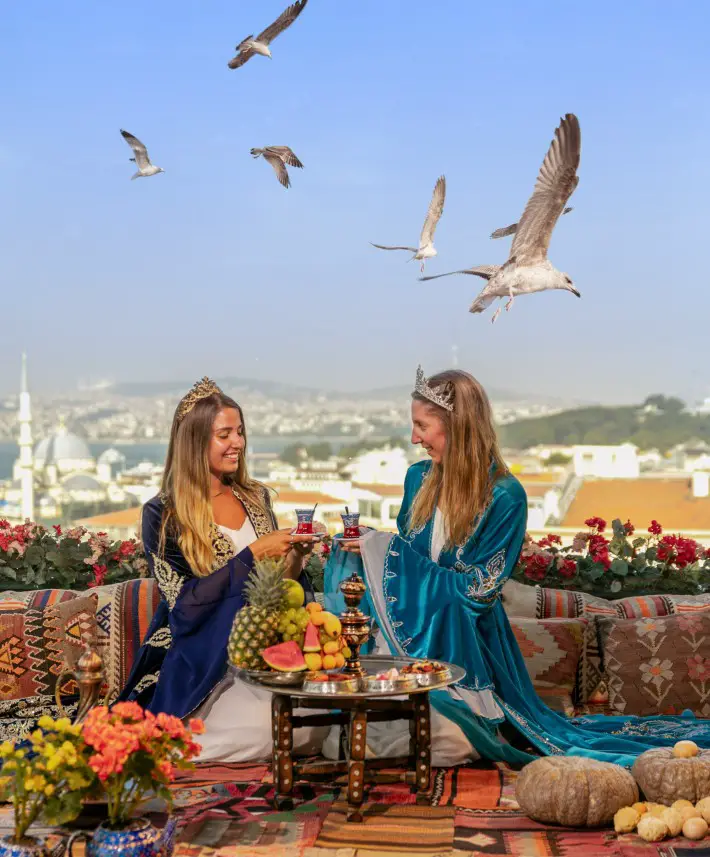 The rooftop photos were what we had come in search of.  Everyone wants that Instagram Turkey photo on the rooftop with the seagull birds in the background overlooking the mosques.  This is exactly what we got while we were seated on top of the colorful Turkish rugs and sipping Turkish tea! 
They turned out to be stunning photos of us flying high over the city on our Turkish rugs.  These photos are my very favorite!
Royal Harem of the Sultan Backdrop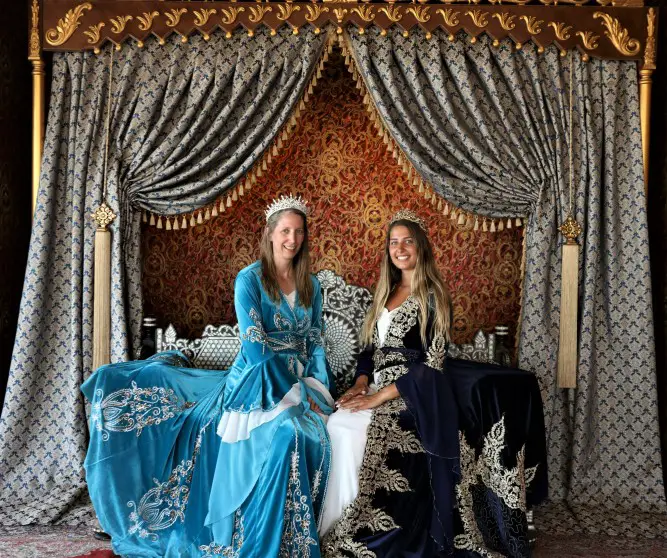 The next scene was the royal backdrop in the harem of the Sultan.  We felt like we were princesses on our throne in this scene.  Well, it was a mother-daughter photoshoot, so I guess it was a queen and her princess daughter!
Turkish Lamps Backdrop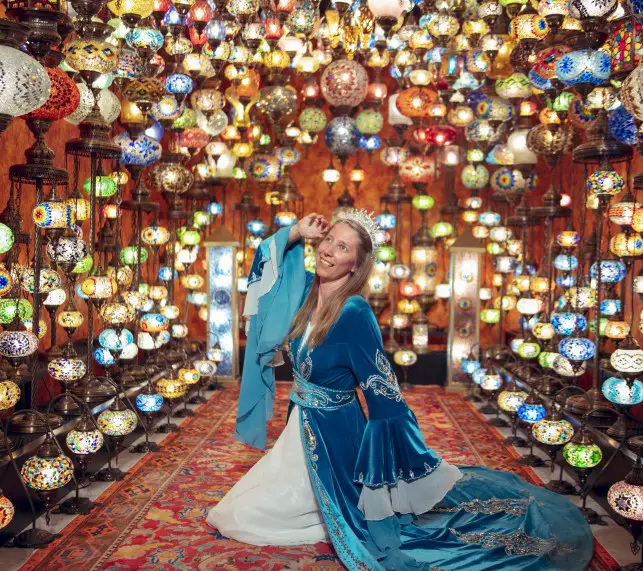 By the time we were doing this photoshoot, I had already purchased my souvenirs from Turkey, including 2 Turkish lamps. The BONUS was that I had also gotten very cool photos in the lamp shop at the Grand Bazaar in Istanbul. THIS photo shoot on the rooftop in Istanbul was even better though!  
Dressed in our cloaks, we were surrounded by dozens and dozens of colorful lamps hanging all over the scene.  They glowed ….and we glowed, happy to be there!
Pink Candy Shop Backdrop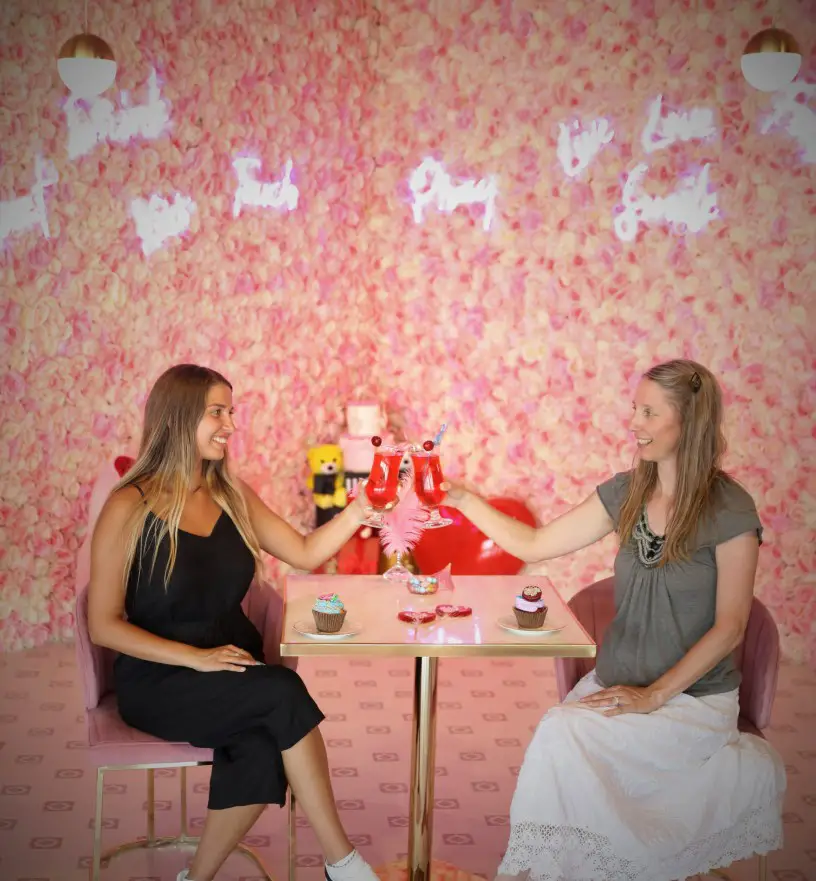 I am not sure why this happy, pink candy shop represents photos of Turkey, but it was still a fun photoshoot in Istanbul. We took off our Turkish robes, put our street clothes back on, and giggled as we posed with our malts with walls of pink flowers on all sides of us.
Rooftop Balcony at Taht Istanbul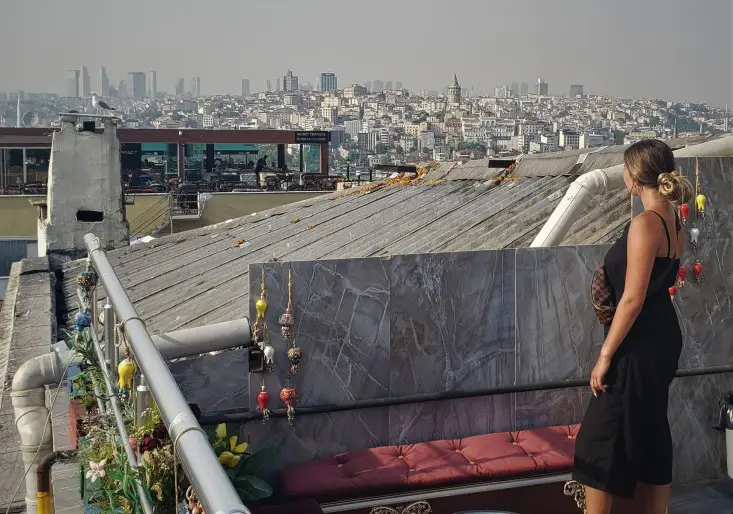 The rooftop view at Taht Istanbul is amazing.  They even have a balcony on the back of the studio.  Before or after your professional Istanbul photoshoot, the balcony patio is a great place to hang out and take even more rooftop Instagram photos of Istanbul!
There were even some seagulls hanging out on the rooftop over on this balcony.
Sign up for a PRIVATE TURKEY PHOTOGRAPHY SESSION for amazing Istanbul pictures for Instagram!
Private Photo Session in Istanbul (istgrapher)
Commemorate your trip to Istanbul during this private photography session. Choose from a list of iconic locations—including Galata Tower, the Hagia Sophia, the Blue Mosque, and the Grand Bazaar—as your backdrop. Receive all unedited images the same day. Choose 10 high-resolution photos to be edited…
More fun things to do in Istanbul
Overall Review of Taht Istanbul for Instagram photos in Turkey
We had the time of our lives! Even though this rooftop photo shoot wasn't planned, it was definitely one of the highlights of our vacation in Turkey. We ended up getting some very cool photos that are perfect for Instagram and represent our mother-daughter trip to Turkey as well as our time in Istanbul.
Taht Istanbul is a customer-friendly photoshoot company in Istanbul and we highly recommend making a stop here to preserve the memories of your Turkey vacation!
Make plans to schedule your photo shoot in Istanbul TODAY!
Photoshooting in Istanbul
Get magazine-quality photos of your time in Istanbul on a private photoshoot around the city's historical district. Follow your private photographer through the Sultanahmet quarter for pictures in front of the Hagia Sophia and Blue Mosque. Then, head to the bustling Eminonu Square and picturesqu…
Like this post? Planning a photoshoot in Istanbul?
PIN IT!