DISCLOSURE: I may link to relevant products, companies or helpful info which may be affiliate links, meaning I may earn a small commission. As an Amazon Associate & other affiliates, I earn from qualifying purchases at no extra charge to you. The views & opinions are my own. Please see the disclaimer and privacy policy.
Last Updated on February 5, 2023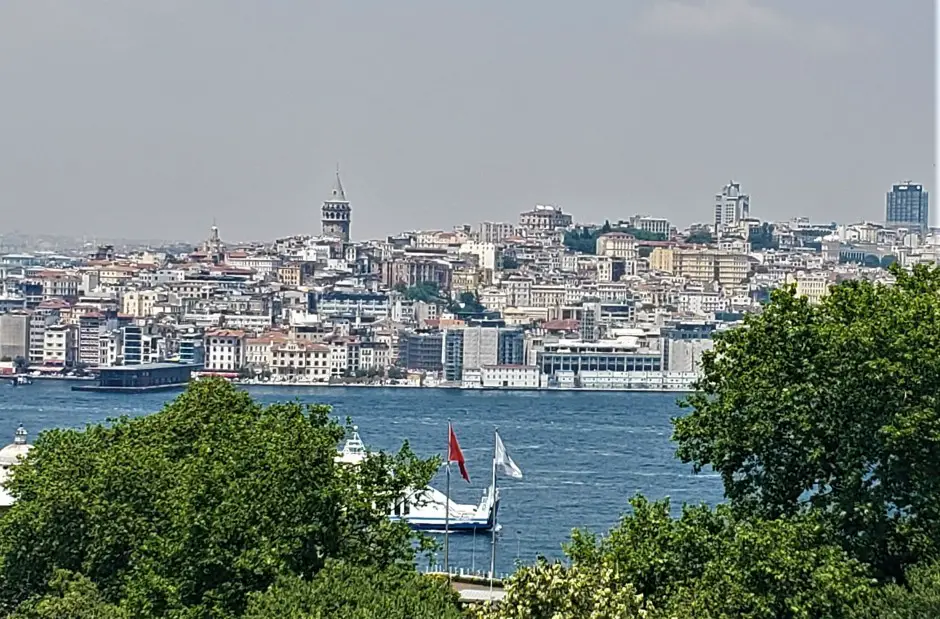 Istanbul, the largest and most populated city, is an important stop on your grand tour of Turkey. Hidden photo spots and Instagrammable locations are all around this beautiful city in what is now referred to as Turkiye.  It is filled with historical sites, important monuments, grandiose mosques, and a river separating the city into two continents.  The best views in Istanbul are often just around the corner and then there will be another one to discover just beside it!
When looking for the best photo spots in Istanbul you will not run out of ideas or subjects.  The list is endless, but we will start with some of the most popular Istanbul viewpoints to get you started on your fun day of touring the gorgeous city. Keep reading for some of the popular ideas of the best photo spots in Istanbul Turkey.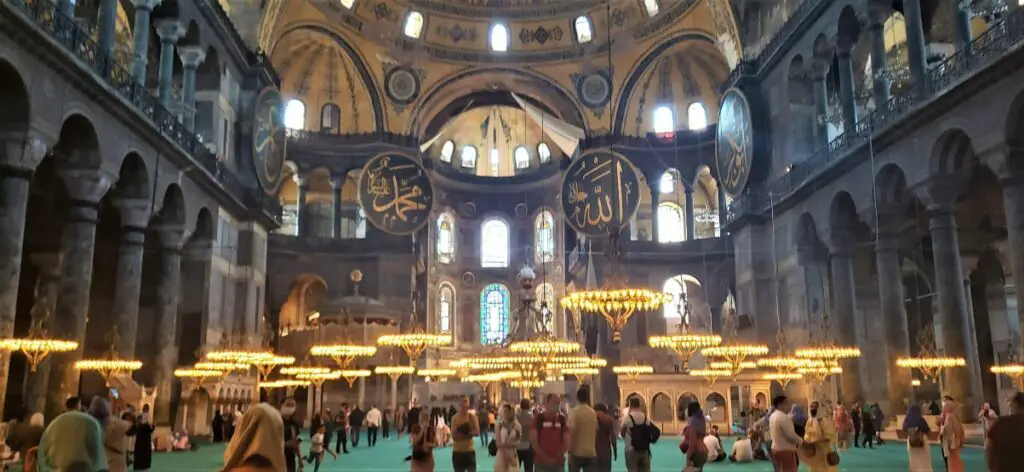 Best views of Istanbul to include on your itinerary
Galata Tower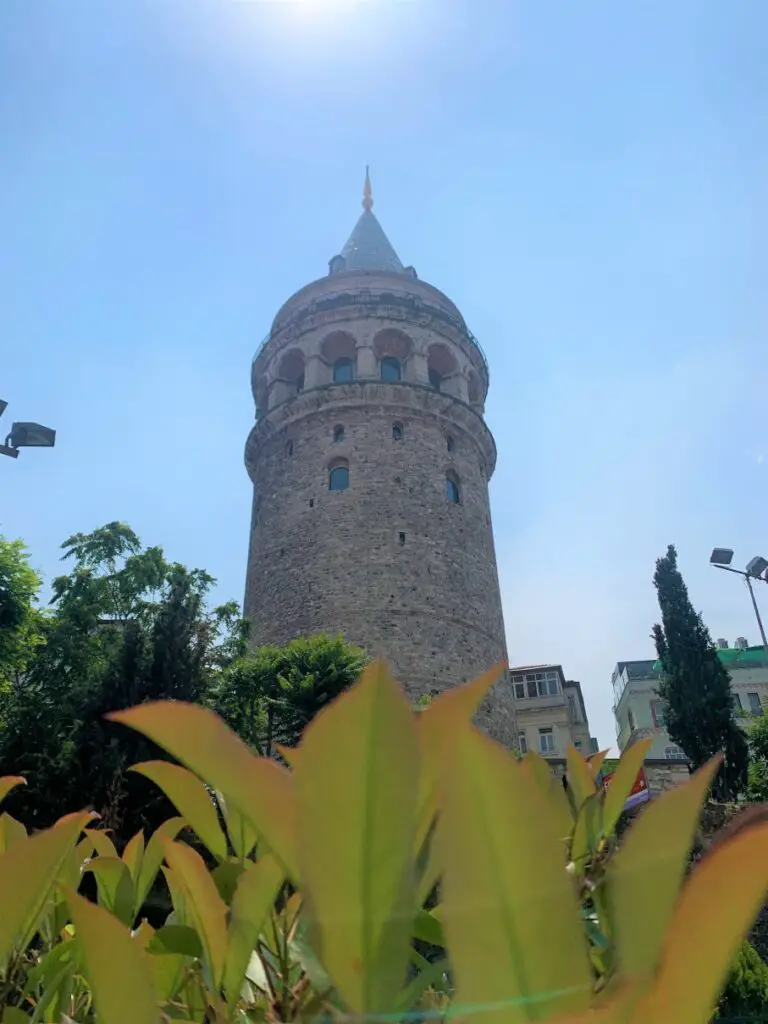 While we were exploring Istanbul and its treasures, we were so impressed by Galata Tower, one of the oldest towers in the world and one of the symbols of Istanbul.  It offered amazing panoramic views of Istanbul and the Bosphorus Channel.  We stayed up at the top for a long time taking in the view from each side of the Tower and getting videos and photos from that high vantage point.  I think this might be the best viewpoint in Istanbul and the overall best view of Istanbul!
It is a popular site for tourists and locals alike as it stands as an icon, high above the surrounding buildings.
It is probably one of the most popular tourist spots in Istanbul and one of the best photo spots in Istanbul.  Taking photos from the top with its 360-degree panoramic view, or taking photos of the tower itself from the ground below are equally impressive!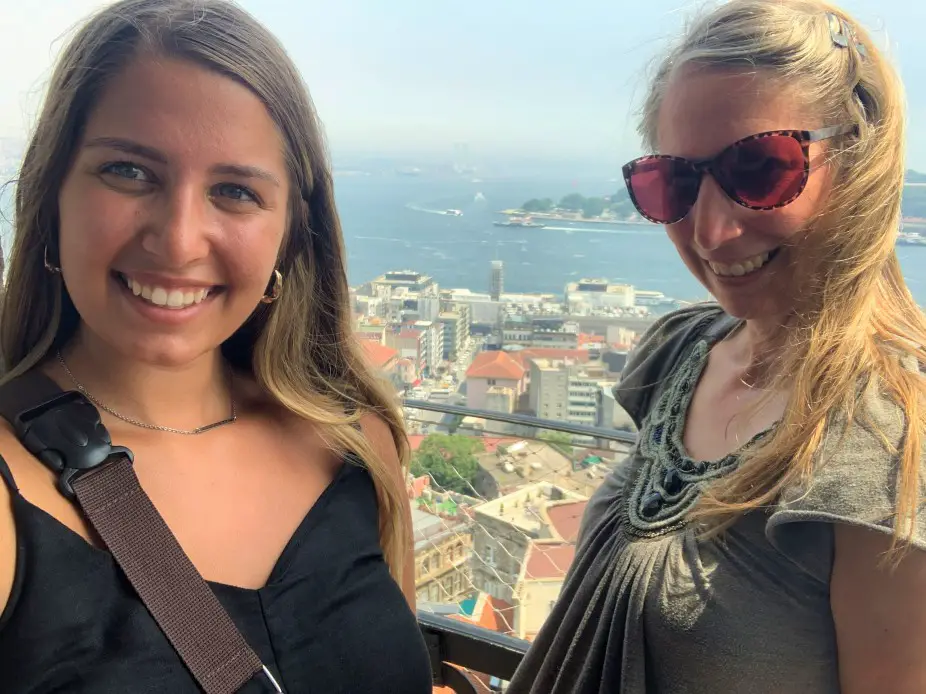 Galata Tower was built in 528 by Emperor Anastasius.  It has an original wooden staircase which was rebuilt in stone in 1348.  It is 216 feet off the ground and 460 feet above sea level.
The Galata Tower is located in Karakoy and you will see it looming in the sky as you approach from any direction.  It is close to the Karakoy shore and Galata Bridge. From the Asian side in Kadikoy, you can take the ferry to Karakoy and from there it is only a short walk to the tower for the best view in Istanbul.
Here is a handy map to help you find your way to one of the best views in Istanbul!
Galata Tower is open 9am – 7pm and the entrance fee is 100 TL which is less than $7 USD.  They sell tickets on-site and there is usually at least a 1/2 hour wait in line, so plan accordingly. Floors 1 – 7 can be reached by elevator, but the top 2 floors are reached by stairs only.
In addition to the great photo opportunities in the area around Galata Tower, there is also great shopping.  We found a lot of cute little souvenirs in the shops around Galata Tower.
Other ways to see Galata Tower on a tour:
Umbrella Street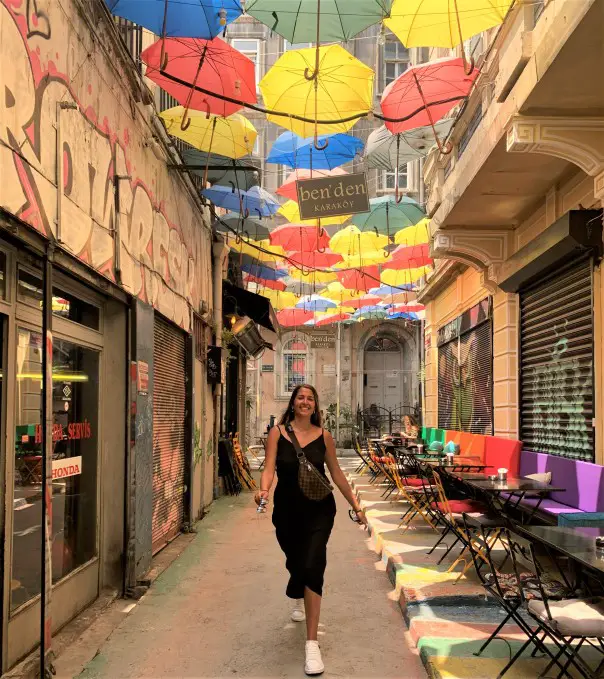 Make sure to stop at the Umbrella Street for a great photo stop in Istanbul. It is a small street in Karakoy that is a little difficult to find, but worth the effort.  Many of the local shop owners decided to hang umbrellas over the street to give it a colorful character, making it a popular Istanbul Instagram location.
This makes a great quick stop before or after Galata Tower.
Sultanahmet Square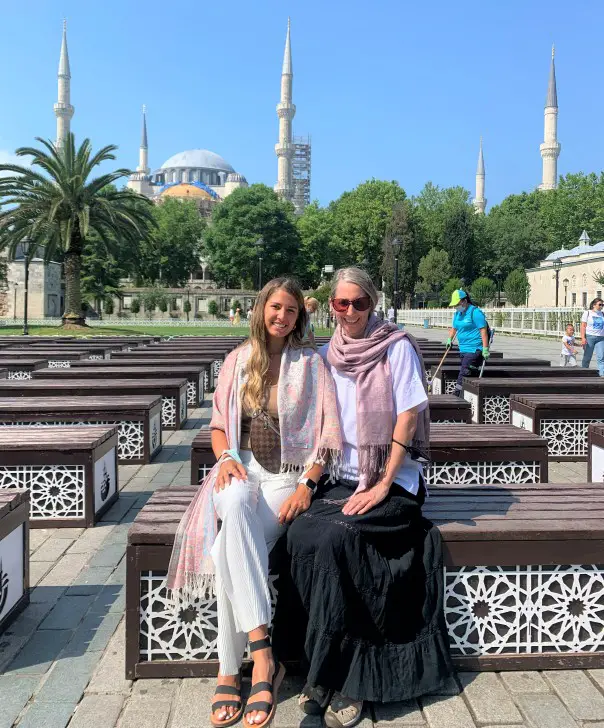 Sultanahmet Square is the number one tourist spot in Istanbul.  There are several tourist sites and photo spots located here.
The two famous mosques, Hagia Sophia and the Blue Mosque are across the square from each other and both present some of the best photo views in Istanbul! If you are in the square during the call to prayer it is interesting to hear the call from each mosque, almost chanting back and forth to each other in a musical chorus round.
 Each mosque is beautiful on the outside from every angle, but they are also spectacular inside so make sure that you allow enough time in your itinerary to visit both of these mosques and tour inside in order to take in the views of some of the best Istanbul photo spots.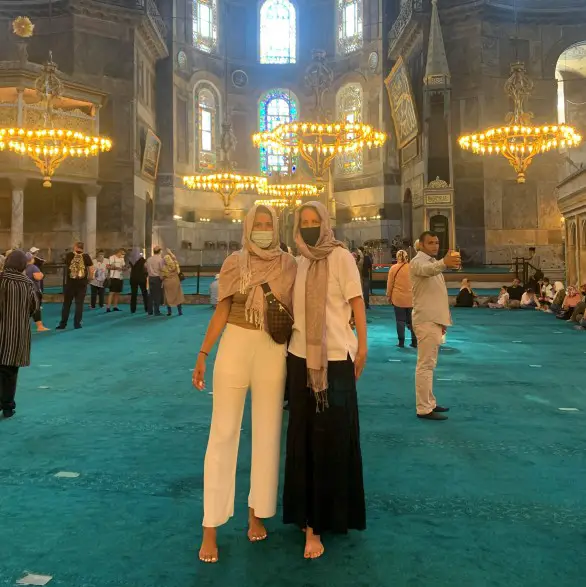 PRO TIP:  Make sure you dress appropriately to enter the mosques.
This Square gets really busy, so the best time to get pictures in any area of Sultanahmet Square will be earlier in the morning before the hordes of tourists arrive.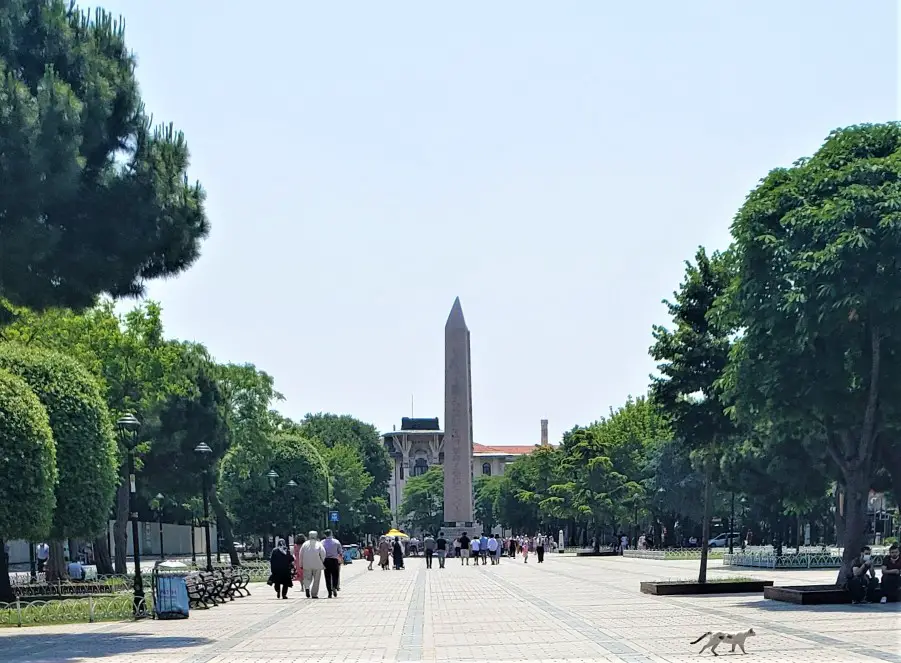 Leave time to explore the open-air museum area around Sultanahmet Square.  The former Hippodrome of Constantinople, the Egyptian Obelisk, and the Serpentine Column are important monuments of the history of the city and great photo sites in Istanbul.  They are particularly photogenic in the spring when the nearby trees are budding with flowers.
PRO TIP:  Sultanahmet Square is one of the free things to do in Istanbul!  No money will be required for you to take some of the best photos in Istanbul!
---
If you want a guided tour for easy planning in order to see all the best views in Istanbul, try one of these popular tours:
Hagia Sophia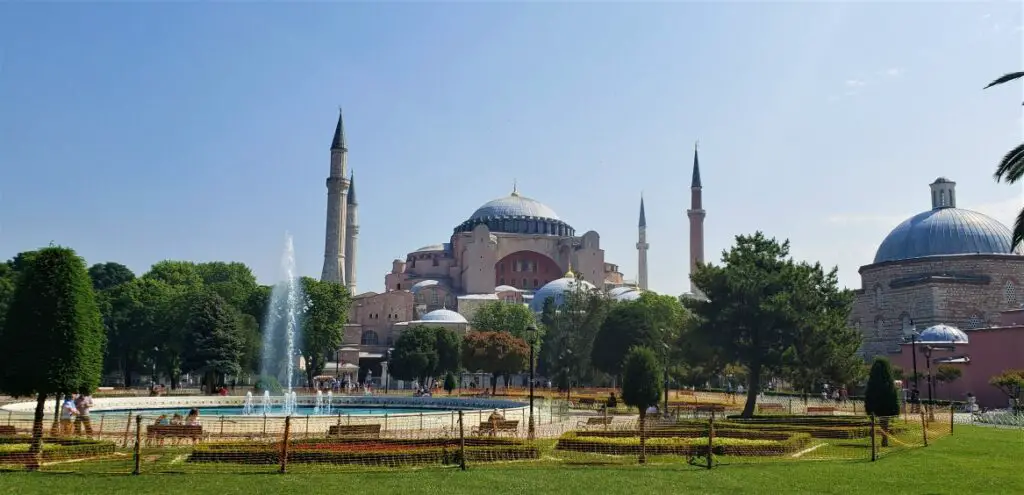 Hagia Sophia is not only a mosque but an architectural marvel and a great photo opportunity in Istanbul.  It was originally built as an enormous Christian church nearly 1,500 years ago and still stands today in the city of Istanbul.  Since being built as a Christian church, it has been reinstated to a catholic cathedral to a mosque and then a museum.  In 2020 it was reconverted back into a mosque that is frequented by many locals. 
Outside of prayer time, it is open free of charge to visitors wishing to appreciate this work of art and religious icon.
Blue Mosque (Sultan Ahmed Mosque)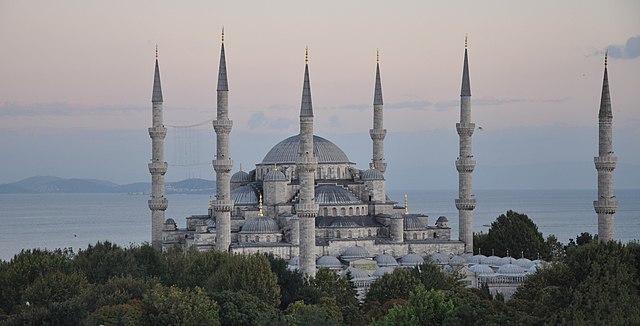 Most of the Blue Mosque was under construction when we visited.  We were able to see only a little bit on the inside.
Hand-painted blue tiles are on the mosque's interior walls and therefore the mosque because affectionately known by its nickname as the Blue Mosque in addition to its official name of Sultan Ahmed Mosque.  At night there is a blue light that illuminates the mosque, its five domes, and its six minarets.
The Blue Mosque was declared a UNESCO World Heritage Site in 1985.
It is an active mosque and is closed to non-worshippers for its five daily prayer times, but is open to visitors as a tourist attraction during non-prayer hours.
Galata Bridge

The Galata Bridge connects the Sultanahmet area (with its collection of mosques and historical landmarks) with the Karakoy neighborhood and Galata Tower.  Galata Bridge has two levels over its 1/3-mile stretch over the Bosphorous Channel.  Pedestrians can walk along the top level of the bridge which is crowded with fishermen earning the day's catches as they throw their lines into the Bosphorous from high above. The bottom level of the Galata Bridge is full of restaurants offering their iconic fish sandwiches.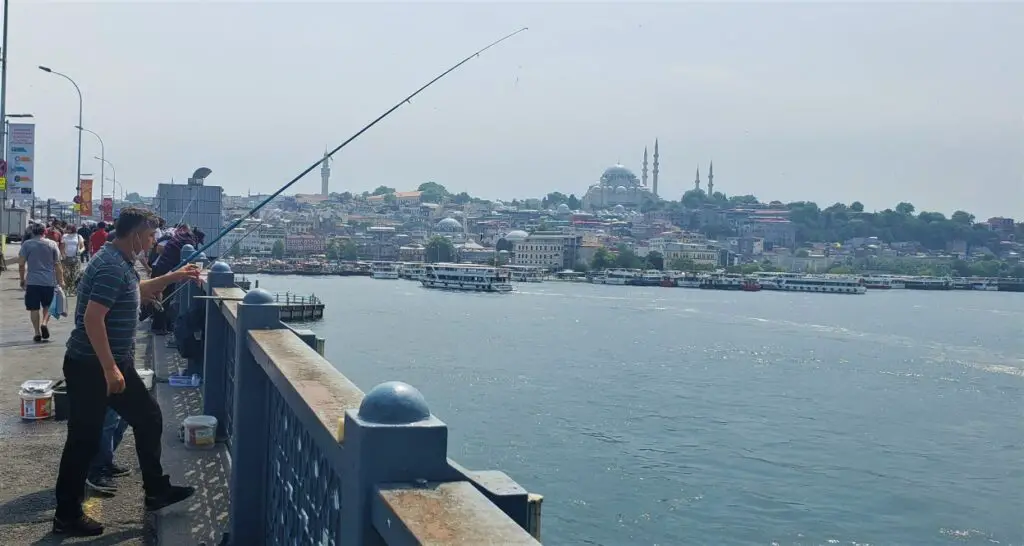 Galata Bridge is a great photo opportunity in Istanbul to take a picture of all the fishermen lining up with their fishing rods in the morning or of the view of the Old City of Istanbul from the middle of the bridge. The bridge itself is also one of the best photos in Istanbul if you can capture its two levels and perhaps a ferry in the background!
---
Try this WELCOME CARD to save on tours and transportation tickets in Istanbul!
Bosphorus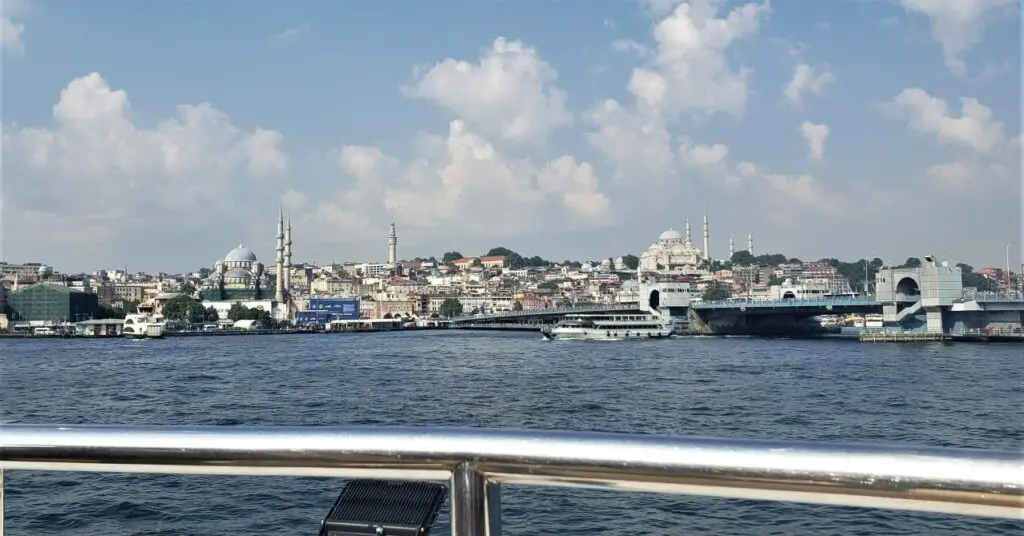 The Bosphorus Channel is a busy waterway in Istanbul that separates the Europe part from the Asia part of Istanbul.  Istanbul's 2 continents are connected by 3 suspension bridges, 2 tunnels, and efficient service from the ferry system. 
The Istanbul ferry system is not only an extremely affordable method of public transportation, but it is also a great way to capture some of the best views in Istanbul while you are sailing across the Bosphorus.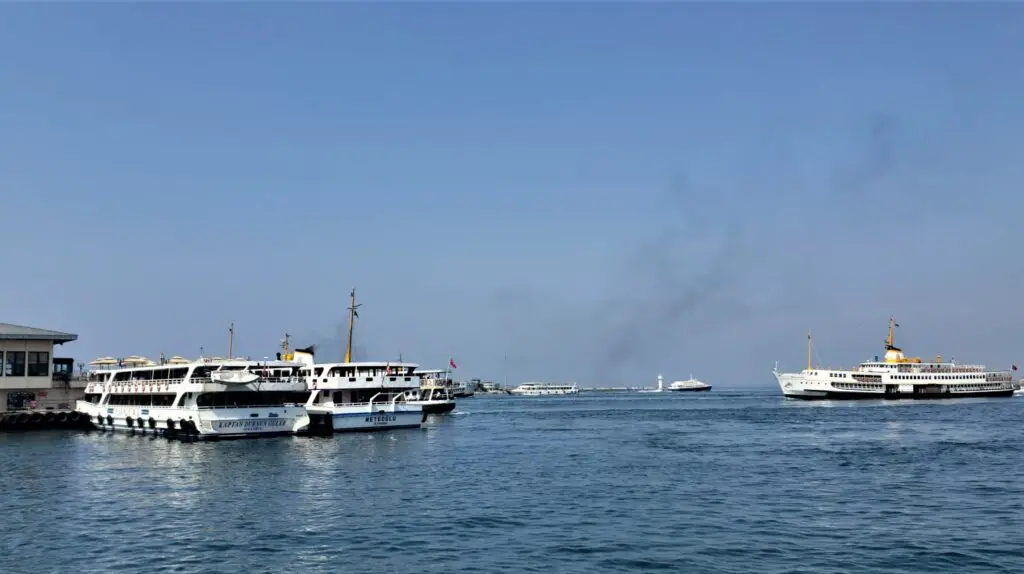 We took the ferry from Karakoy across to the Asia side of Istanbul to do some exploring. The ferry ride was calm and relaxing. The view from the ferry was a perfect, uncrowded opportunity to capture the city of Istanbul and the Bosphorus in all their glory.
PRO TIP: The dock on the Asian side of Istanbul was the best Bosphorus view in Istanbul with the whole city in the background and the ferries zipping back and forth! We captured many photographs right there! 
The tickets for the ferries are cheap and definitely worth it for the pictures that you will get!  It is 1.50 TL – 7.50 TL depending on which route you choose (less than $1 USD total!)
There are also Bosphorus Cruises that provide not only ample opportunities for daytime and evening photos of the city when it is lit up and the best views of the Bosphorus, but also dinner and entertainment too!
Camlica Hill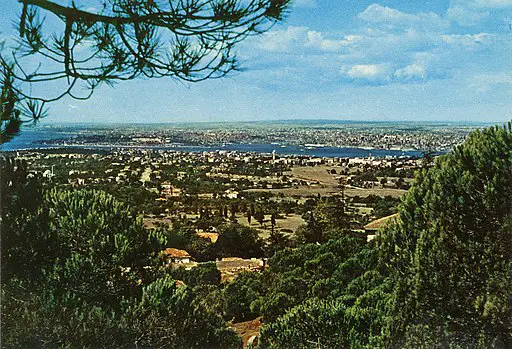 We walked around a lot on the Asian side of Istanbul and enjoyed all the shops near the ferry dock, but we didn't make it to Camlica Hill.  We missed out on great panoramic views of Istanbul from its summit at the highest point in Istanbul.
Topkapi Palace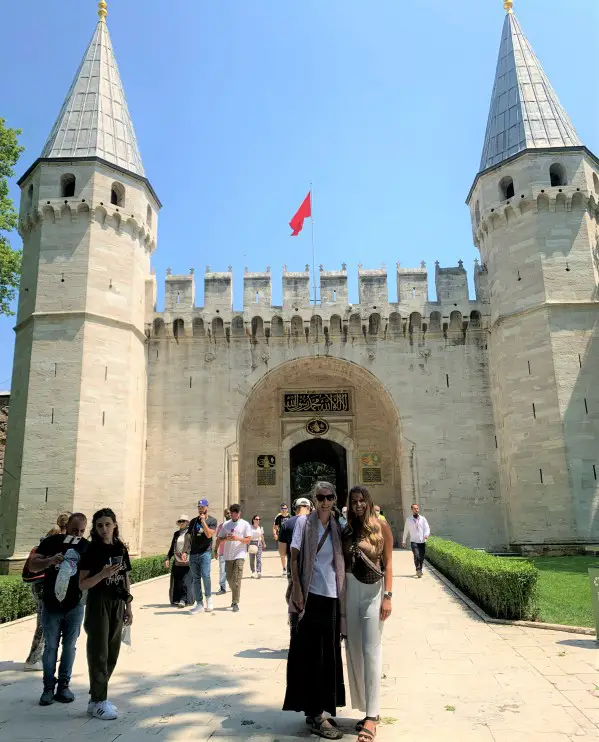 Set high up on a hill in a prominent visual location on the European side of Istanbul, the Topkapi Palace is the former residence of the Ottoman Emperors and is now one of the world's richest museums.  It is one of the main tourist attractions in the city and is one of the best photo spots in Istanbul due to the multiple courtyards, astonishing views from the terraces, and unbelievable extravagance of the Palace itself. The courtyards are one of the best photography spots in Istanbul because you can get a view of the city in the background.
The entrance fee is 200 TL, or less than $15 USD, for the main buildings.  It can take many hours to go through all the precious collections, and the palace gardens, as well as stopping for the best views of Istanbul in places like the outer walls of the courtyards.  Topkapi Palace is definitely a great place to include on your itinerary for your photos from Istanbul.
Spice Bazaar and Grand Bazaar of Istanbul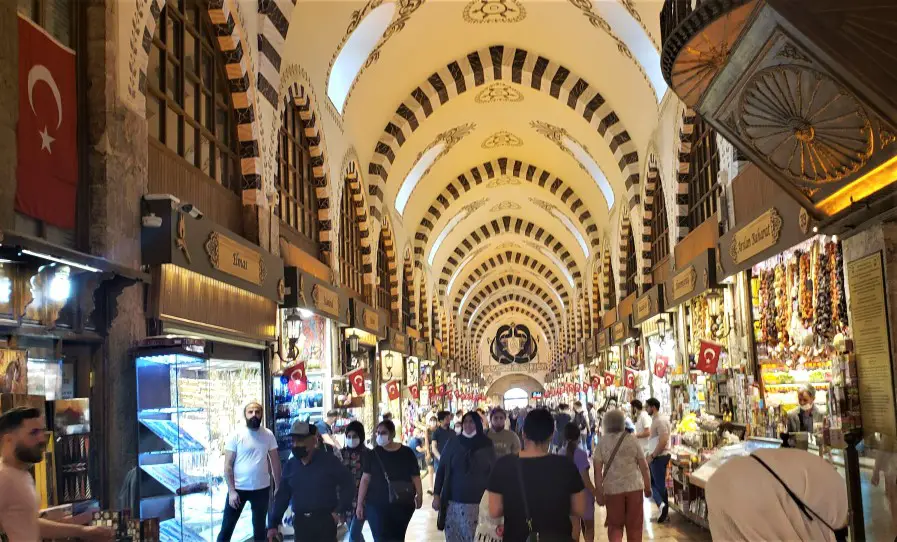 Shopping is the ultimate vacation activity for me!  I love finding souvenirs to bring home as memories of the fun times we had while traveling.  If you need inspiration on what souvenirs to bring home from Turkey, take a look at my handy list of Turkish souvenir ideas!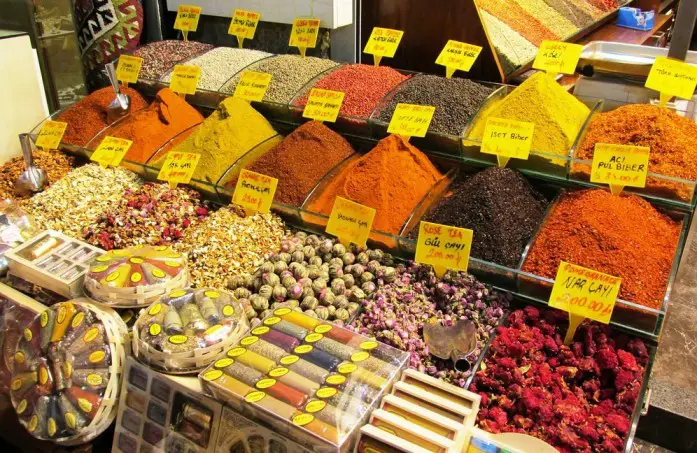 Turkish Souvenirs: Ideas for Turkish Gifts & what to buy in Turkey
Turkey is known for many unique & interesting items. Learn the top 22 Turkish souvenirs & what to buy in Turkey when taking a vacation to this beautiful country.
---
The Spice Bazaar and the Grand Bazaar are located in Istanbul and are an overload for the senses.  There are sights, sounds, and smells all around you as vendors beckon you into their stalls to show you their wares.  These will be the most vibrant and colorful photos in Istanbul with all the Turkish lamps, Turkish rugs, Turkish Delight, and Turkish SHOPPERS all making the bazaars quite crowded and full of energy and excitement!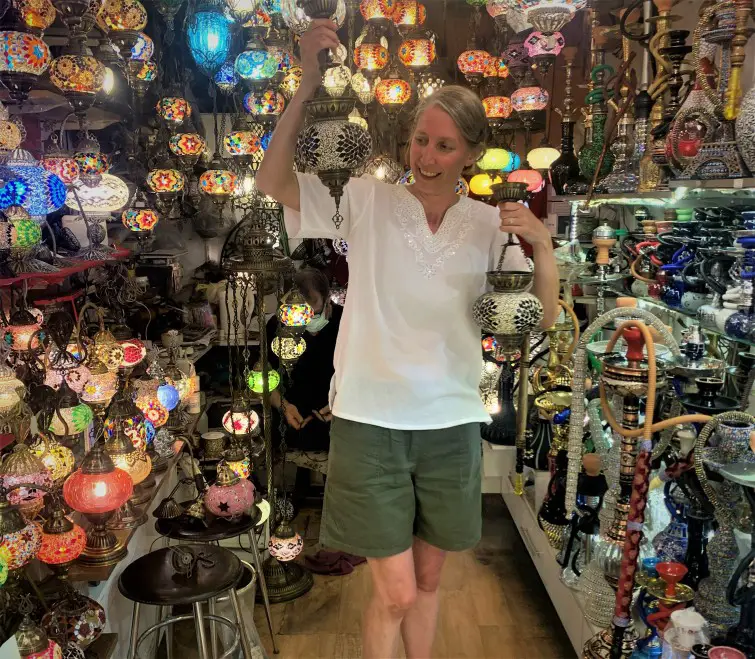 Make sure to snap a photo at each of these stalls –just be sure to ask the vendor first.  Some shops charge a small fee for photos since they know that they are one of the top Instagram places in Istanbul!!  I was already interested in buying Turkish lamps so the vendor had NO PROBLEM letting me take photos before he wrapped up his sales.
Such colors definitely shoot those shops to the top of the list of best photo spots in Istanbul!
Rainbow Stairs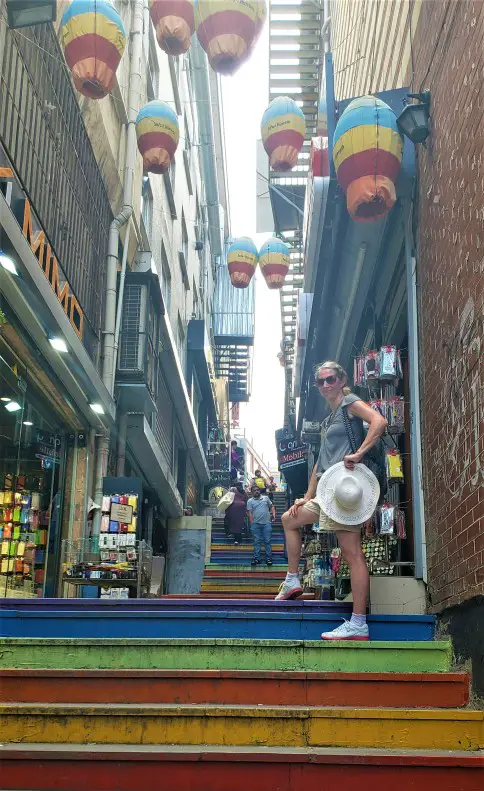 We have seen our fair share of rainbow stairs but wanted to try out the Istanbul version.  These stairs were a little run-down, but still fun for a great photo stop in Istanbul.  A stop at the Rainbow Stairs might lead to some cute Instagram posts since there were other rainbow-colored balloons outside all the shops that were lined up along the stairway, making it one of the great Instagram spots in Istanbul.
Rooftop of Kubbe
We never managed to find the rooftop of Kubbe which supposedly had the best rooftop view in Istanbul.  We were there during the pandemic and I think their Instagram spots in Istanbul might have closed.
We looked long and hard and walked back and forth using Google Maps.    We found an area that looked very familiar.  Maybe one day they will be open again.  We asked someone for directions and they took us for a long walk and we ended up at Taht Istanbul (see the next entry!!!).  No complaints I guess because we still ended up with the very best rooftop views of Istanbul from there!
Taht Istanbul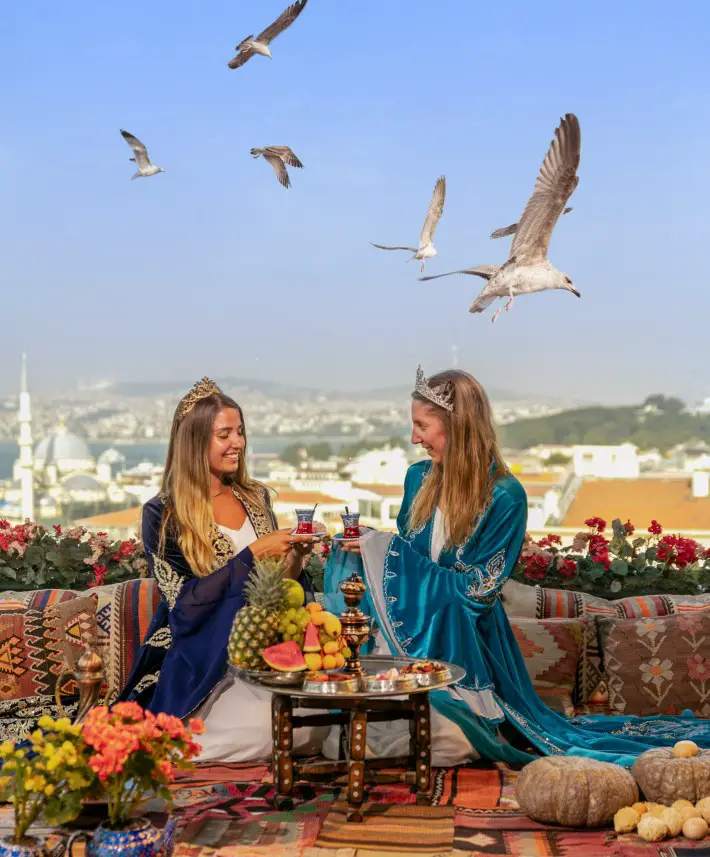 After a LOT of walking around the old city of Istanbul, we ended up at Taht Istanbul for our rooftop photoshoot in Istanbul.  This wasn't on our itinerary, and by that time of the day we were hot and sweaty from site-seeing, but we definitely wanted some nice rooftop photos of Istanbul.  Taht Istanbul said they would not disappoint. 
They took great care of us, dressed us up in traditional gowns, gave us refreshments, and took fabulous souvenir photos in their rooftop photo studio.  These are some of the memories that I will treasure forever; the last-minute photoshoot over the city of Istanbul with my daughter, laughing and giggling while we posed with our sparkling tiaras while countless photos snapped away.
For more info on how to get these great rooftop photos read my detailed post about our experience at Taht Istanbul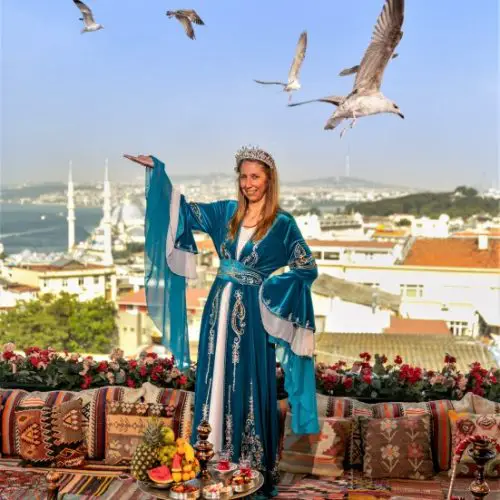 Fun Mother-Daughter Photoshoot in Istanbul for Rooftop Pictures
Let us tell you about the most unique photographic location in Istanbul & where we got our rooftop pictures in Istanbul during our photoshoot in Istanbul Turkey.
---
Where to get rooftop photos in Istanbul:
I recommend this fun photography event at Taht Istanbul as a way to get great rooftop views of Istanbul if you have time in your itinerary.  It is more expensive than most things in the city, but the fun you will have with the best views in Istanbul will be worth it!
It was difficult to find, but there was a sign out in front to guide us.  We needed to go through some doors, down an alley, and up some stairs, but we succeeded in finding our way to one of the secret spots in Istanbul that will definitely make the list of most Instagrammable places in Istanbul!
Nostalgic Red Trams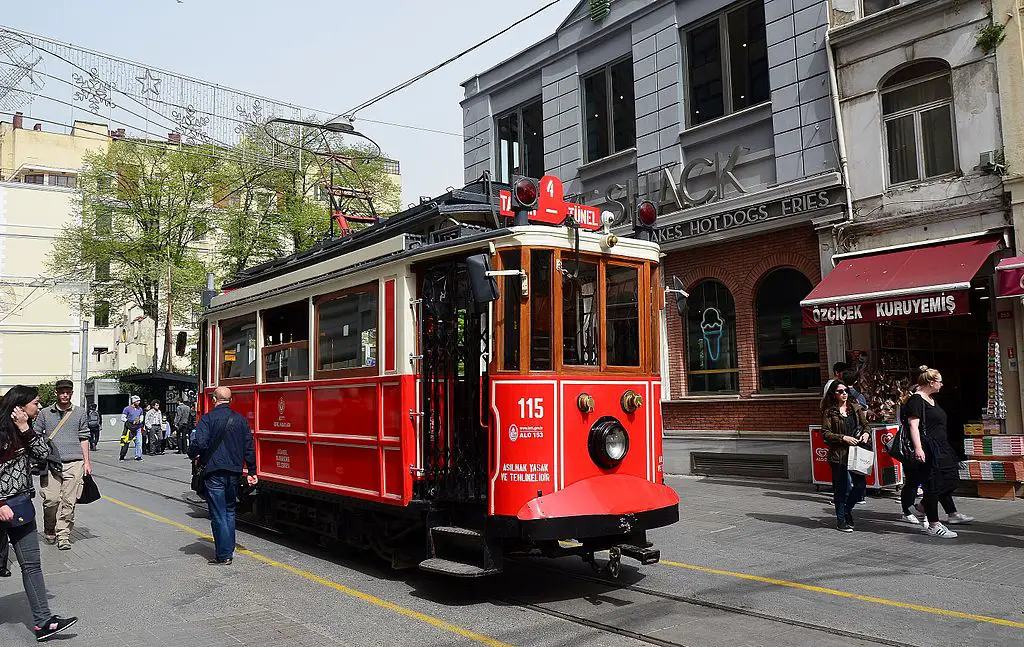 The nostalgic trams in Istanbul are an affordable way to get around and a cute photo opportunity too!  They run through the main areas of the city and are also on the Asia side of Istanbul.  We were able to take the tram on both continents and it saved LOADS of walking time as we traveled between the photo spots in Istanbul.
PRO TIP:  Definitely use the Istanbulkart for discounts on each tram ride.  Use the exact Turkish Lira change at the Istanbulkart machines that are found throughout the city. 

Istanbulkart – Istanbul Public Transport Card
The Istanbulkart is a card that can be used on all the means of transport in Istanbul. It provides discounts and is extremely convenient.
Sapphire Shopping Mall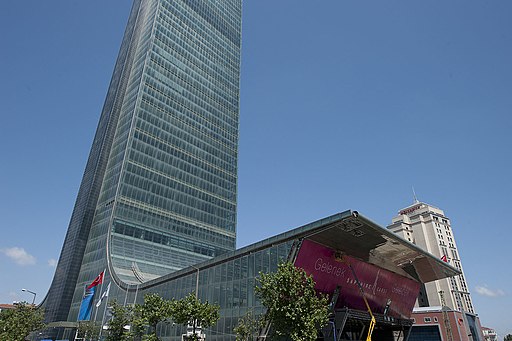 Sapphire is a mega-mall skyscraper and a gigantic shopping plaza with 360-degree panoramic views of Istanbul.  There is also an observation platform where you can enjoy the best views in Istanbul!
Cats of Turkey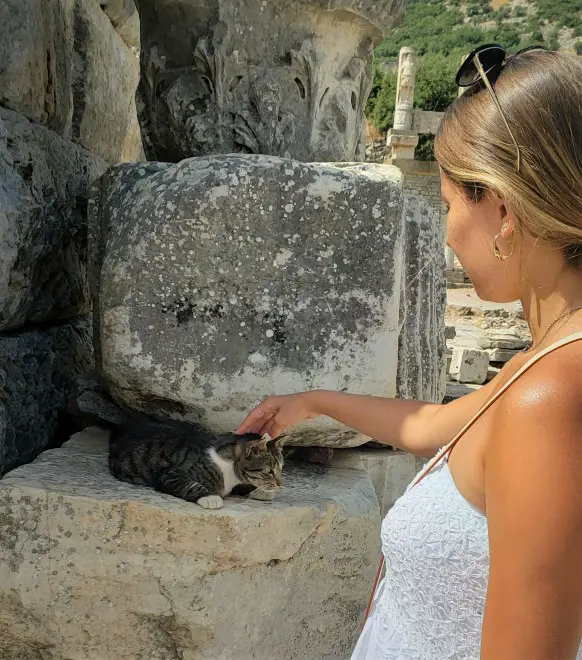 There are cats roaming everywhere around Istanbul and are a part of the city. They are commonly found wandering the streets throughout ALL of Turkey and have been adapted into Turkish culture.  They belong to no one and are looked after and cared for by everyone.  The streets are their homes and everyone is their collective family. 
Most of them are friendly, well-fed, clean, and affectionate.  They are sunbathing on cars, laying about in the alleys, perching on windowsills, fraternizing with each other, and eating with the street-food vendors.  Large and small, calico and tiger, fluffy and …not so fluffy!  You can take some cool photos of the stray cats and their cathouses no matter which section of the city you are in. 
More Fun Tours to make your Istanbul trip enjoyable!
CONCLUSION OF THE VIEWS OF ISTANBUL
So there you have the short list of the best views in Istanbul.  The best places for pictures in Istanbul are located all throughout the city!  Including every single best view of Istanbul is impossible and there are some beauties that didn't make this list.  Which one is your favorite and which Istanbul panoramic view gives you the best sense of the heart of the city?  Is there an Istanbul city view that I missed? 
Like this post? Pin it for later!