DISCLOSURE: I may link to relevant products, companies or helpful info which may be affiliate links, meaning I may earn a small commission. As an Amazon Associate & other affiliates, I earn from qualifying purchases at no extra charge to you. The views & opinions are my own. Please see the disclaimer and privacy policy.
Last Updated on March 16, 2023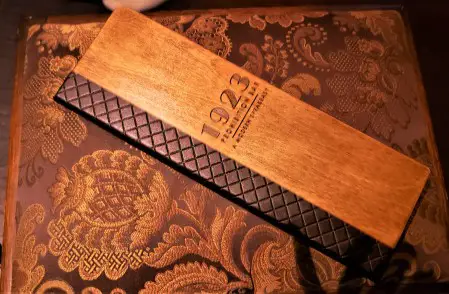 Las Vegas is a foodie paradise.  With chef-owned restaurants and unlimited buffet choices are there really places to eat in Las Vegas that are more unique? 
WHY YES THERE ARE!!
There is a new kind of eatery gaining popularity.  They are Las Vegas speakeasies, secret lounges, and HIDDEN restaurants.  You might think that it is bad business to HIDE the entrance to a public bar, but no, that makes it even more fun for us travelers!
We like the thrill of the hunt and the taste of victory while sipping a cocktail!
Whether you are visiting Las Vegas for the first time, or a frequent Vegas traveler, these hidden restaurants are sure to be a fun time.
Take a look at these hidden food gems in Las Vegas and see if you can remember the secret to their entrance for your next visit.
Fun Las Vegas Speakeasies and Hidden Restaurants
Click on the list below to find all the speakeasy bars in Las Vegas!
Need a quick link to other helpful Las Vegas Guides :
What is a Speakeasy?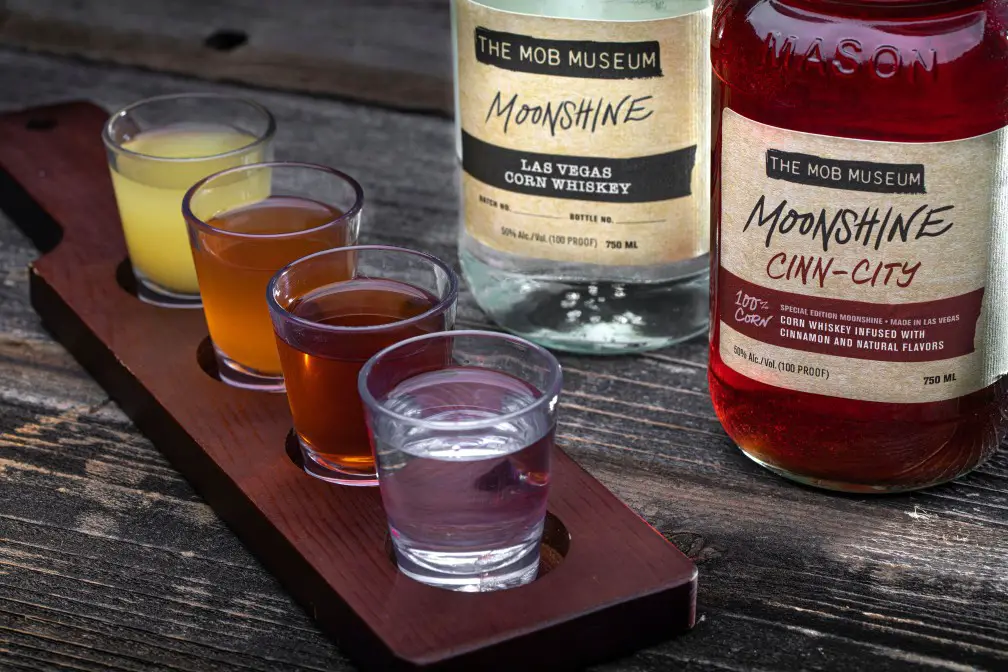 It is a safe bet to say that you probably weren't around during Prohibition (we are talking about 1920 – 1933 ish).  This was a time period in the US when alcohol was PROHIBITED, both the selling, the making, and the consuming of alcohol.
A Speakeasy was where these rules were broken!  Alcoholic beverages were illegally sold and CONSUMED at a speakeasy. The speakeasy bars and their entrances were hidden so that the cops couldn't catch those naughty law-breakers.
AND most commonly, the big bad guys of the area, like the mob, were involved in the running of the speakeasy…after all, illegal activities were their forte!
When Prohibition ended, speakeasies were no longer needed since alcohol consumption was legalized and allowed in the open public.  The fascination with establishments and the whole decade of the 1920s lives on in the hidden speakeasies in Las Vegas.
Sneak in and check them all out!
Knowing the secrets of the Las Vegas speakeasies is like being on the inside of a great, big secret.  It feels like a big accomplishment to make it into the hidden cocktail lounges in Las Vegas and take part in the 'illegal' consumption of alcohol.  Although NOT illegal anymore, the theming and décor of the speakeasies take you deep into the illusion that you have traveled back in time to the Prohibition era! 
Shhhhh, don't alert the FUZZ and spoil the good time!
While many Speakeasies require a password and have a hidden entrance, there is never a worry that you won't find your way inside. You will always make your way into the Las Vegas hidden bars so that the alcohol can start flowing. When in doubt, ask the person nearby –they are probably already keeping an eye on you anyway!
-or ask for a hint for the password that you forgot!!
---
Visit a Speakeasy!!
What does Speakeasy mean?
"Speak Easy" means keep your voice down so you don't attract the cops' attention to the illegal activities that are happening! 
"Speak Easy" means don't attract attention to the selling of this illegal alcohol!
Las Vegas Hidden Speakeasies on the Strip
Find out which Las Vegas hidden speakeasy fits your style!
1923 Prohibition Bar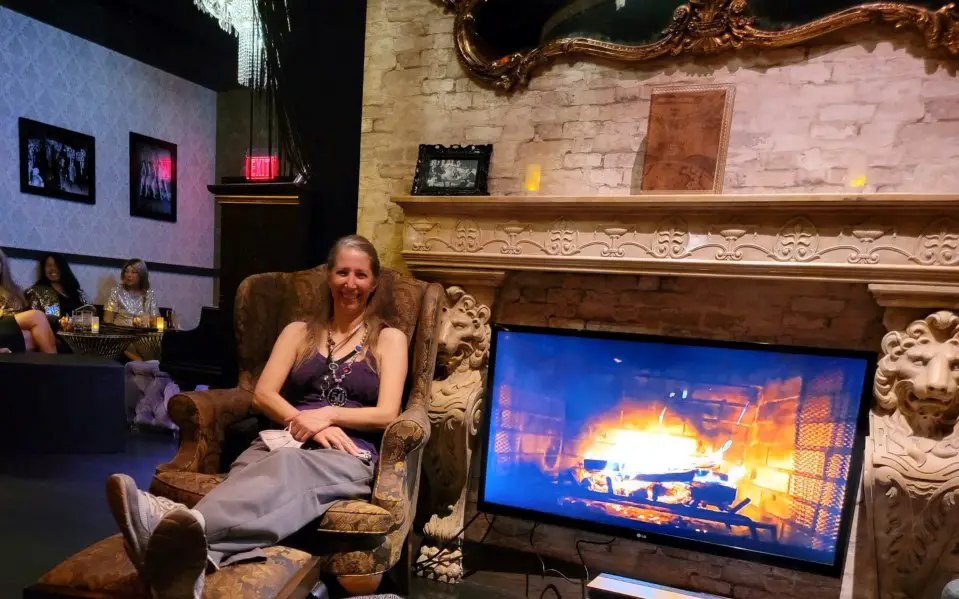 Location / Casino: Mandalay Bay MAP
Address: 3930 S Las Vegas Blvd, Ste 101, Las Vegas, NV 89119
Hidden Entrance: Movable Bookcase with the entrance hidden behind it
Theme: Swanky Prohibition Bar
Signature Cocktail: Bourbon spirits
We stopped at the 1923 Prohibition Bar before our day of fun and frolic on the Las Vegas strip.  It was a hoot!  We figured out how to sneak into the speakeasy pretty quickly (there are instructions on the hidden bookcase) and were transported back to the bygone era of 1923.  I think this is one of the classiest hidden bars in Las Vegas.
Once inside, we were seated in our own little secluded parlor area next to the brightly lit 'fireplace' and given a drinks menu.  Our order was taken by the flapper waitress and our drinks were brought out asap while we chatted with each other while lounging on the sofa surrounded by illuminated candles.
They serve premium drinks and specialty cocktails here seven nights a week.  Live entertainment is an added feature on Friday and Saturday nights.
The 1923 Prohibition Bar was definitely an unforgettable experience for us while we celebrated my 50th birthday in Las Vegas!
---
Use my handy guide for even more tips for vacationing in Las Vegas!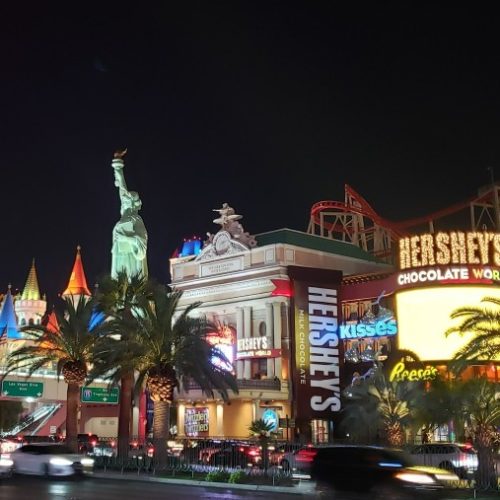 Las Vegas Tips for First Timers: Plan Ahead for a Stress-free Vacation
First trip to Vegas? Looking for Las Vegas tips for first timers? Get these Vegas planning tips before you go. Make this Guide for First-Timers to Las Vegas your handy reference!
Here Kitty Kitty Vice Den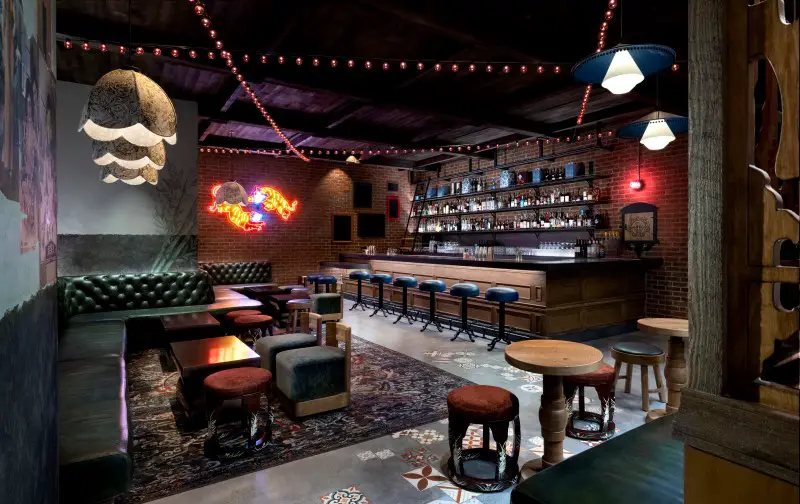 Location / Casino: Resorts World MAP
Address: 3000 South Las Vegas Boulevard Las Vegas, Nevada 89109
Hidden Entrance: Famous Foods Street Eats, inside the Fuhu Cha Chaan Teng stall
Theme: Asian Vibe
This relatively new speakeasy is hidden in Resort World near the casino floor.  The secret entrance is located within Famous Foods Street Eats, inside the Fuhu Cha Chaan Teng stall and it even has a secret password. 
PRO TIP:  The password is related to the Here Kitty Kitty name!!
The atmosphere in this speakeasy is upbeat and guests can enjoy a laidback lounge with over-the-top service to make for an enjoyable experience at this 'World of Sin.'
Ghost Donkey
Location / Casino: The Cosmopolitan of Las Vegas MAP
Address: 3708 Las Vegas Blvd S, Boulevard Tower, Las Vegas, NV 89109
Hidden Entrance: Level 2, Block 16 Urban Food Hall
Theme: Mexican
Signature Cocktail: Mezcal (and truffle nachos!)
Ghost Donkey is a unique cocktail lounge that serves up a New York City vibe and an extensive menu of mezcal, specialty cocktails made with Mexican spirits, tequila, and, of course, Cerveza.
Also on the menu is a large selection of snacks like guacamole and chips with their specialty being truffle nachos with white cheddar sauce that are to-die-for! 
To get to this hidden cocktail lounge in Las Vegas, you will head to the back of the food court on the second floor of the Cosmopolitan.  There are no signs for this speakeasy, just a small white 'Ghost' Donkey.  Go through the door to be taken to experience the flavors of Mexico!
The Barbershop Cuts & Cocktails
Location / Casino: The Cosmopolitan of Las Vegas MAP
Address: 3708 Las Vegas Blvd S, Boulevard Tower, Las Vegas, NV 89109
Hidden Entrance: Floor 1, just off the casino floor, enter through the janitor door
Theme: Vintage 1920's
Signature Cocktail: Spiked Juice, and check out the IV Pusher, complete with IV bag and signed note from your doc!
The Barbershop Cuts and Cocktails speakeasy is another of the Cosmopolitan Las Vegas hidden bars.  The secret entrance to this speakeasy is through the working vintage barbershop located near the front of the casino.  After you get yourself looking all snazzy from the old-time barbers, sneak in the janitor door at the back of the shop. …Although a cut and a shave are not required for visiting this hidden bar in Las Vegas!
Beyond the janitor's door, and behind a second metallic door is a swanky joint furnished with couches and serving up fine cocktails from the bar, definitely a classy place reminiscent of the nostalgic 1920s.  Stay for awhile and enjoy the live music provided every night.
Speakeasy Barbershop LV
Location / Casino: El Cortez Hotel and Casino MAP
Address: 600 E. Fremont St., Las Vegas, NV 89101
Hidden Entrance: end of second-floor hallway under the rotating barber shop pole
Theme: Quality barbershop services.
Signature Treatment: Speakeasy (royal treatment for cut, style, trim, head massage & much more!)
This is not one of the Las Vegas hidden cocktail bars, but it is so unique that I had to include it.  The Speakeasy Barbershop is a hidden Barbershop in the El Cortez Hotel and Casino in Downtown Las Vegas.  You can find the entrance under a barber pole and through the secret door!
It is a full-on time machine back to the twenties offering services such as hot towels, straight razor shaves.
Make an appointment HERE for one of the most nostalgic Las Vegas hidden attractions.
Speakeasies are just one of the many activities you can do to celebrate a birthday in Las Vegas! Find more fun ideas at this detailed post!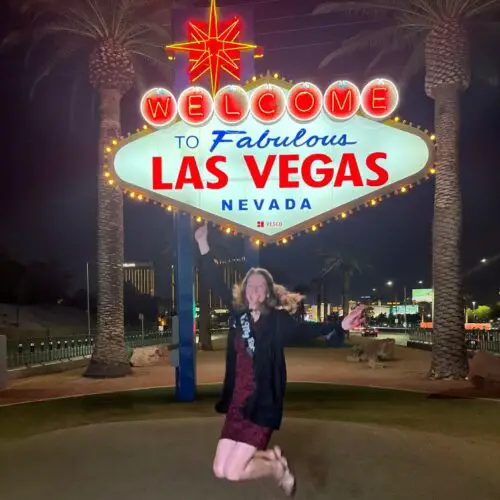 25 FUN Birthday Ideas in Las Vegas
Las Vegas annually ranks as one of the most visited tourist destinations in the world so there are many ideas for celebrating 50th birthday in Las Vegas.  There are so many activities to choose from that everyone at your party will be entertained from morning until night…. And even into the wee hours of the morning.
---
Add these fun activities to your list in between your Las Vegas speakeasy visits!
Best Speakeasy Bars Downtown Las Vegas
Keep reading for the best Las Vegas speakeasies near Fremont Street!
The Laundry Room
Location / Casino: Commonwealth Bar MAP
Address: 525 E Fremont St, Las Vegas, NV 89101
Hidden Entrance: entry found near the wooden Laundry Sign on Fremont Street
Theme: repurposed laundry room with nostalgic flaire
Signature Drink: can;t name just one of their 27 signature drinks!
The Laundry Room is an exclusive hideaway in the Commonwealth Bar that is strictly reservation-only.  The clientele for one of the most posh hidden bars in Vegas must follow some stringent rules including no loud talking and no photography while a strict business casual dress code is enforced.
To find this hidden speakeasy in Las Vegas, look for the wood laundry sign out on Fremont Street across from the El Cortez Hotel. Inside you will often find a piano player and many internationally acclaimed cocktails.
This Downtown Las Vegas speakeasy promises "not to air your dirty laundry!"
The Underground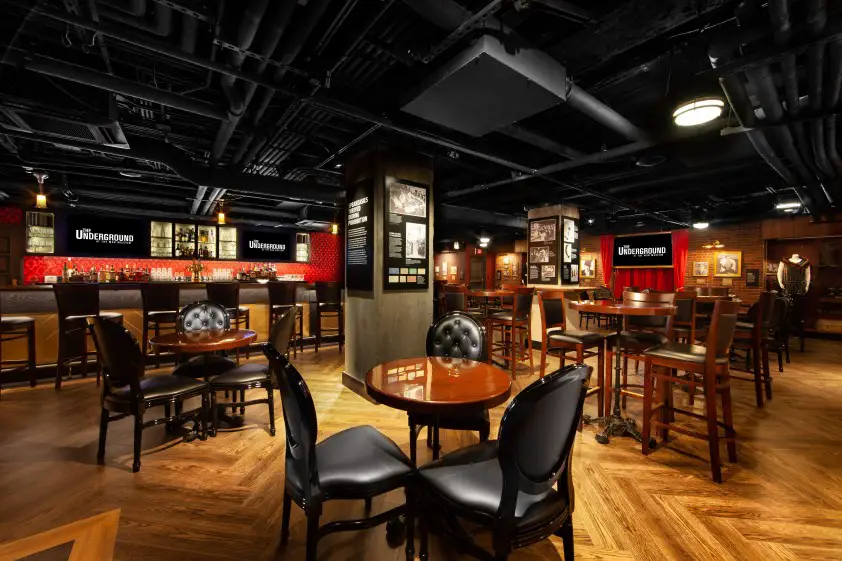 Location / Casino: The Mob Museum MAP
Address: 300 Stewart Ave, Las Vegas, NV 89101
Hidden Entrance: unmarked green door down the stairway at the back corner of the building
Theme: Organized Crime
Signature Drink: Bathtub Fizz (Hide the Alchohol!)
The Underground is the hidden speakeasy in the basement of the Mob Museum in downtown Las Vegas and probably one of the best hidden bars in Las Vegas.
The Mob Museum is the National Museum of Organized Crime housed in a 1933 former courthouse.  How ironic!  The history of organized crime in Las Vegas and around the world is depicted in one-of-a-kind mob artifacts.
BOOK TICKETS TO VISIT THE MOB MUSEUM
After you hit up the history of the mob and learn all there is to know about John Gotti, head Underground to the best speakeasy in Las Vegas! –although admission to the Mob Museum isn't required to visit the secret bar.
The Underground will not only serve you up a great cocktail, but they will continue your Mob Education with even more infographics and displays about the time period scattered through the lounge, including Flapper clothing that was worn in the 1920s.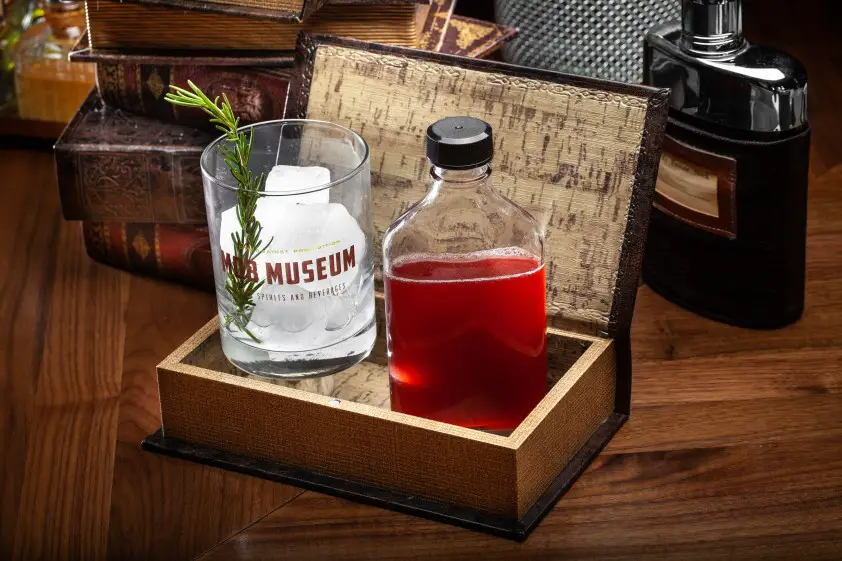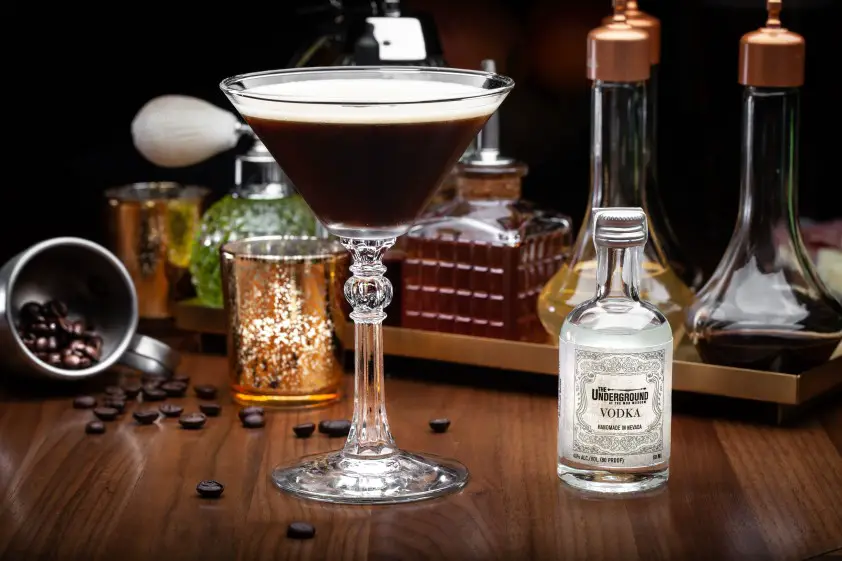 The Underground has two entrances, one inside the museum and one –more hidden and authentic- outside on the street near the wooden barrel.
After knocking on the unmarked green door, access is granted to those that know the secret password for the Underground in order to not alert the cops of this location where smuggled alcohol is consumed!
Cocktails and high-quality drinks are served in unique ways to help conceal their true alcoholic identities!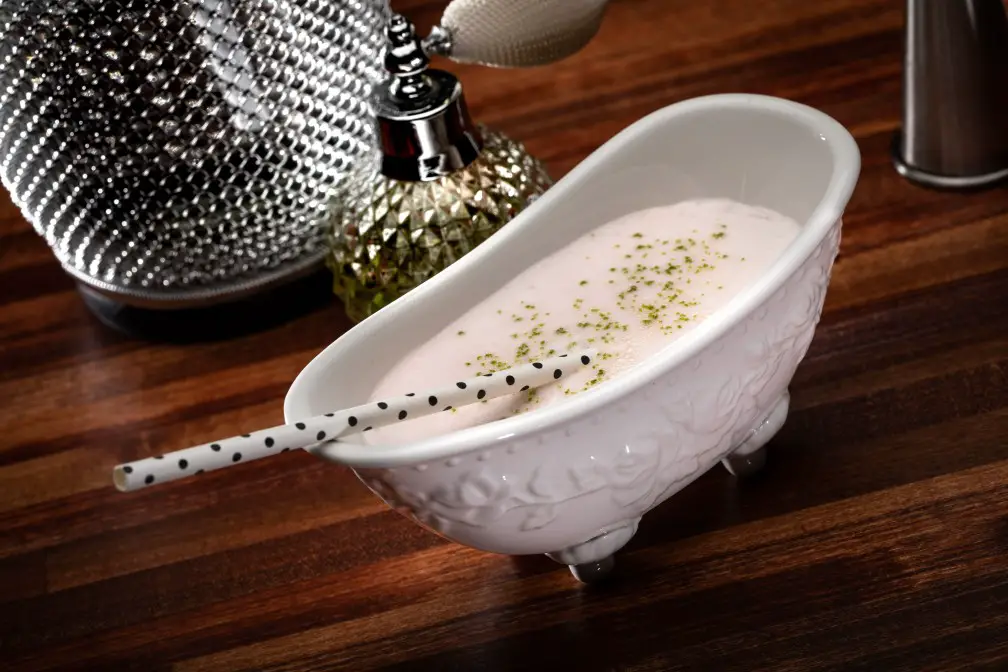 Secret Restaurants in Las Vegas
In addition to all of the Las Vegas speakeasies, there are also HIDDEN restaurants in Las Vegas!! Find out where they are!
Secret Pizza
Location / Casino: Cosmopolitan Casino MAP
Address: 300 Stewart Ave, Las Vegas, NV 89101
Hidden Entrance: Long, album covered hallway on the 3rd floor
Signature: PIZZA
For this secret restaurant in Las Vegas we are back at the Cosmopolitan Casino.  In addition to its 2 hidden speakeasy lounges, there is also a hidden restaurant in this hotel and casino!!
Secret Pizza is a hidden eatery with no signs directing patrons to its entrance, yet somehow it is always crowded and full of satisfied customers with bellies full of their delicious pizza slices.  The budget-conscious seek out this joint and are quite happy with their quick and frugal meals.
In order to find this hidden Las Vegas food gem, go to the back of the Cosmopolitan, and go up to the third floor.  Make sure you arrive after 11 am when the pizza joint opens, otherwise the secret entrance will not be revealed. On the third floor, you will find an unmarked hallway between Jaleo and Blue Ribbon that is filled from floor to ceiling with record album covers.  Follow that secret hallway and you will be led to the Pizzeria and their freshly made Secret Pizza pies!
Other Hidden Restaurant Gems in Las Vegas
Flights
Contributed by Karen from Forever Karen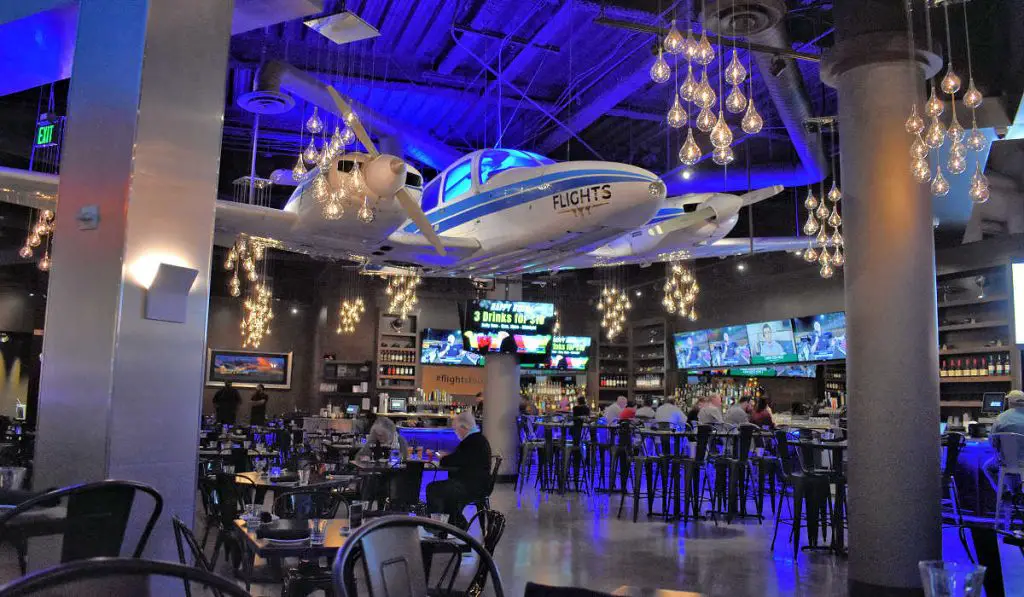 Location / Casino: Miracle Mile Shoes MAP
Address: 3663 S Las Vegas Blvd #350, Las Vegas, NV 89109
Entrance: 1st Floor
Theme: Aviation
Signature Drink: selection of flight drinks, from martinis and beers to mimosas and mojitos
Having celiac disease, I often find it difficult to travel to foreign destinations. Sometimes I need to research gluten-free restaurants, and other times, I find them by accident. I accompanied my husband on a business trip to Las Vegas and pre-planned our dinners together.
However, I'd wander the strip alone when he was in convention during the day. When needing to eat gluten-free in Las Vegas, I stumbled upon "Flights" in the back of Miracle Mile Shops. A mall might seem like an odd place to eat compared to the trendy restaurants on the strip. 
However, its captivating aviation décor and its gluten-free choices enticed me to eat lunch there. Inside the restaurant, an airplane hangs from the ceiling, and flight attendants in uniform deliver the food.
To find Flights, enter the Miracle Mile Shops by the Sephora entrance (on the strip) and walk to the very back. You'll find the restaurant and bar on the left-hand side. Flights restaurant opens from 9 am to 11 pm. Due to its obscure location, Flights was relatively empty the day I enjoyed lunch.
With an aviation theme, the eatery markets "Signature Flights" on its menu, offering a first-class upgrade with a complimentary glass of champagne. Alternatively, they sell a selection of flight drinks, from martinis and beers to mimosas and mojitos.
On the Flights' menu, gluten-free options included beef sliders, BBQ ribs, skewers, chicken wings, and tacos. Being a meat eater, I chose the chicken wings consisting of nine wings in three flavors. All tasted great, but my preference was the spicy buffalo.
SkyBar
Contributed by Jess of Uprooted Traveler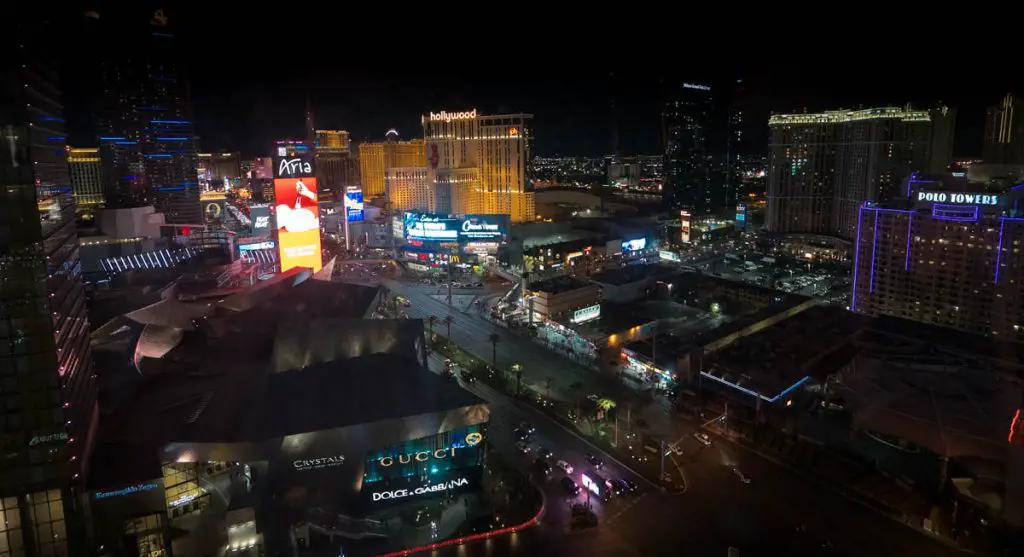 Location / Casino: Waldorf Astoria MAP
Address: 3752 Las Vegas Blvd S, Las Vegas, NV 89158
Entrance: 1st Floor
Theme: sexy and exclusive
Signature Drink: the Stardust, with Japanese gin, oleo Saccharum, pineapple juice, and aperol
Skybar is one of Las Vegas's best hidden food gems, providing one of the most stellar views of the lights of the Vegas Strip, all while tucked away in a sexy, secluded lounge. The lounge is accessed through the main lobby of the swanky Waldorf Astoria, which can be found in the heart of the Strip- simply take the elevator to the 23rd floor.
While this bar generally flies under the radar, I always try to come around dusk to snag one of the cocktail tables right against the floor-to-ceiling windows. From here, I love the jaw-dropping views of the chaos of the Strip below, including Aria, Paris, the Bellagio, and the other iconic Las Vegas hotels, as their lights flicker to life. 
Skybar feels a lot sleeker and upscale than some of the over-the-top casinos found along Las Vegas Boulevard and the drink menu reflects that, with expertly hand-crafted cocktails, fine wines, and even some more playful options, like an ultra-premium tequila flight. I always pick one of their Vegas-themed cocktails, like the Atomic, which used to be drunk by viewers of the mushroom clouds at the nearby atomic bomb testing facility, as I take in the lights of the city below.
The Las Vegas Speakeasies are hidden treasures serving fine cocktails and fun theming. Take on this scavenger hunt adventure in Las Vegas and see how many hidden gems you can find!
Did I miss your favorite hidden eatery or secret lounge in Las Vegas? Let me know in the comments!
Like this post?
PIN IT to visit a speakeasy in Las Vegas!