DISCLOSURE: I may link to relevant products, companies or helpful info which may be affiliate links, meaning I may earn a small commission. As an Amazon Associate & other affiliates, I earn from qualifying purchases at no extra charge to you. The views & opinions are my own. Please see the disclaimer and privacy policy.
Last Updated on February 3, 2023
MSC Cruise line Reviews – European Cruise 
Cruise:  MSC Meriviglia, November, leaving from Genoa. Ports: Rome, Palermo, Cagliari, Palma de Mallorca, Valencia, Marseille.  Cabin # 13258, Bella Experience
Let me preface this review of Meriviglia by saying that we absolutely enjoyed our cruise.  We knew that this European cruise line would be a lot different than what we were used to, but one of our goals was to experience new things.  Differences from American cruise lines aren't necessarily better or worse, they are just differences and we did take note of them and found them very interesting.
If you are a first-time cruiser, please make sure to read these tips in order to be prepared for your first cruise.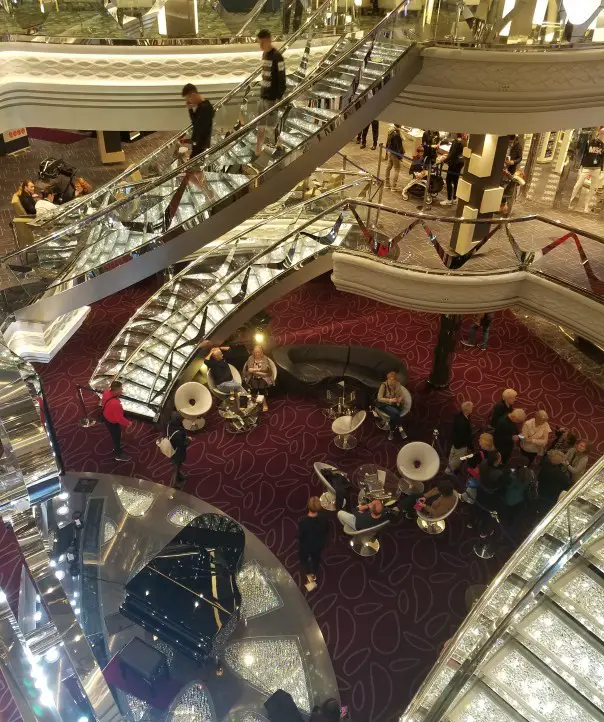 Our Cruising History: 
My husband and I have taken 2 family cruises on Disney (one through the Panama Canal) when the kids were young.  After they moved out to college, we took a Halloween cruise on Carnival.  This year we are celebrating our 25th wedding anniversary. We had never been to Europe and never been on MSC.  Our key factor in choosing this cruise was the timing.  We needed to go in November and get home before thanksgiving when the kids came back from college.  We wanted a European cruise with a stop in Rome, so this itinerary fit perfectly.
Winner of the largest cruise ship in the world at one time
Experience: Bella.  We don't drink, so anything with a drink package would have been a wasted investment for us.  We received a bottle of water with our meals and this was sufficient along with the drinks available in the buffet area.
Cabin: Balcony Cabin 13258.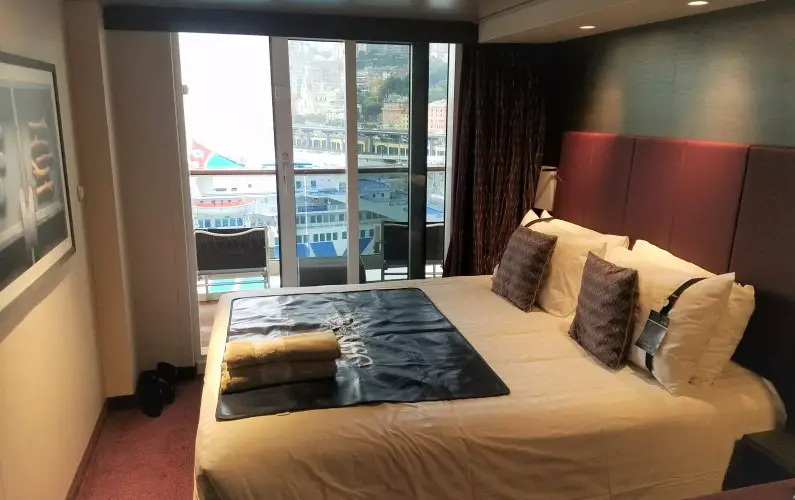 The cabin had a masculine feel to it, without any frills.  The lighting was terrible near the mirrors, so application of makeup and earrings, was nearly impossible.  The bed was firm with 2 different types of pillows for each guest.  The balcony was lovely and we enjoyed watching our arrival at port each day as well as watching it drift away in the sunset.  There was space enough for the both of us in the closet, but more storage drawers would have been nice since we had to fight and keep moving the closet doors back and forth.  There was plenty of storage space in the bathroom. In fact, we didn't even use all the shelves in there and we discovered a hidden cabinet on one of the last days!  Our suitcases fit under the bed nicely, so this is where we stashed all our souvenirs.  There is a safe in the closet that is easy to use.  The fridge is filled with snacks that you can purchase, so it was difficult to put our own stuff in it.  We really didn't need it much anyway, so it was not a problem.
Ship:  The MSC Meriviglia ship was huge and beautiful.  We just loved walking around looking at all the sparkles.  On formal night there was not a shortage of good picture spots since it was beautiful everywhere.  Our favorite picture spots were on the atrium staircases and in the mirror by the atrium dome.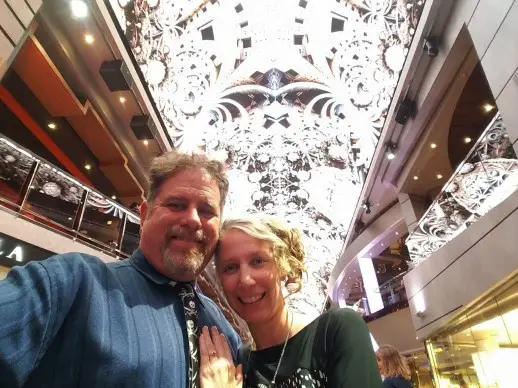 Pools:  did not use them because it was too cold outside for my taste, but they looked nice.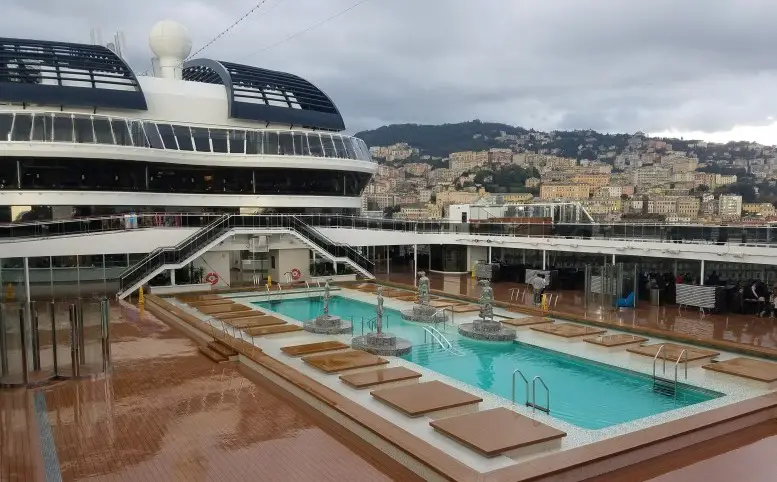 Spa:  We pre-booked the spa package and went about 3 times.  It was pretty empty each time we went. It was smaller than I expected.  Very clean.  Staff was friendly and helpful.  There was a locker room to store personal belongings.  Many hot areas and 2 hot tubs.  Many different showers, that all felt cold to me even when they were supposed to be hot.
Extras:  We didn't pay for any extras like bowling or the race car or any specialty dining. With a new port each day, we really didn't have time for the extras.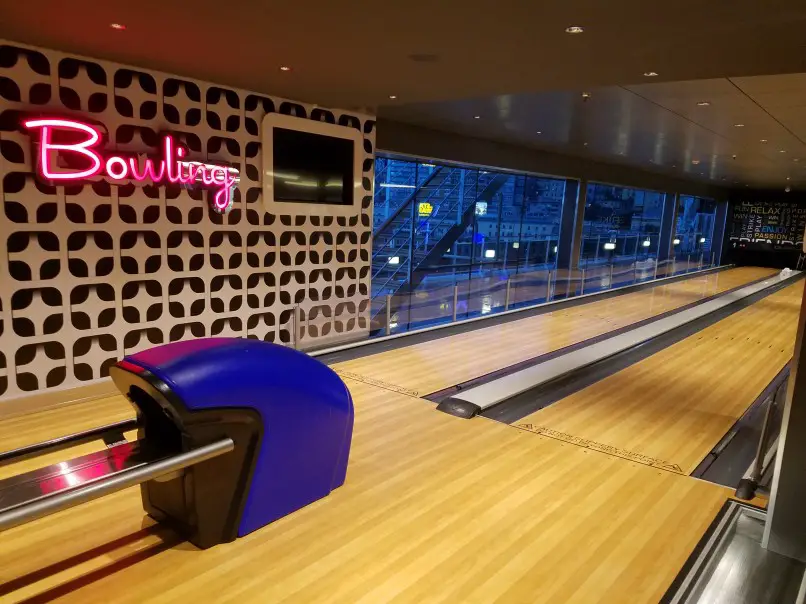 Service:  This is where we noticed the biggest differences from the American cruiselines, and especially Disney. 
Our housekeeper did his job.  He even provided us with extra hangars and robe, slippers and an extra blanket when we asked for it.  But he was basically invisible.  We had to leave him notes.  We did see other housekeeping in the hallways, but never our guy.  On American lines, housekeepers were always lurking around and there to wish you a GOOD MORNING and to see if you needed anything else!  I don't think this is really a complaint, just a difference that we noticed and I know that this is the European style.
The dining staff was our biggest complaint. There was one meal that my dinner was forgotten completely. Hubby was done with his second main course and our server asked if we were ready for dessert.  NO, I would like my MAIN COURSE Please!  Water was forgotten and we had to ask for butter and olive oil every day. Comparing this to what we are used to is night and day.  Servers on the America cruiselines got to know the people at their tables and were able to cater to their likes and make sure that they had everything they wanted at dinner each night without even having to ask and sometimes before we even arrived for dinner, all while calling us by our names.   This might be due to the large number of people that they are serving, so maybe they need to hire some more employees?  Hubby is more of a foodie than I am and he enjoyed the buffet more than the main dining room.  Perhaps we would have had to pay more for specialty dining to enjoy better food experiences.
We do not drink any alcohol, but here is a list of drink packages on MSC cruises so that you can get an idea of what they have to offer.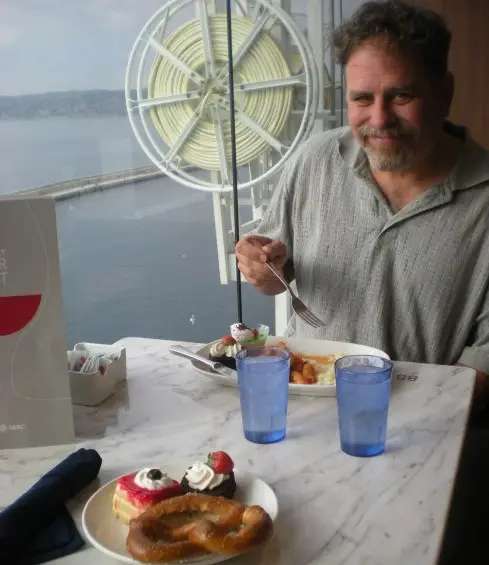 We did manage to blow a fuse the first day using an old alarm clock, so then we had no power in the cabin.  We tried customer service, but no one answered, so we had to walk to the desk.  There was a big line, but there was someone pre-screening everyone to see why they were waiting in line and I guess we were a priority issue because they took our information right away and said they were calling someone.  It was fixed in about an hour.
Entertainment:  I think this might be the biggest difference for me.  The big shows in the theater were very European.  By this I mean they were very artistic and refined instead of flamboyant and frilly.  The dancers were strictly dancers and singers were singers which I felt meant that their talent was at a high level.  The costumes were very creative.  There was even an opera show for me to enjoy as a new experience!  Introductions were done in several languages.  There was not much talking during the shows.  Music seemed to be mostly American songs. –well, except the opera.  But that was translated on screens on the side of the stage.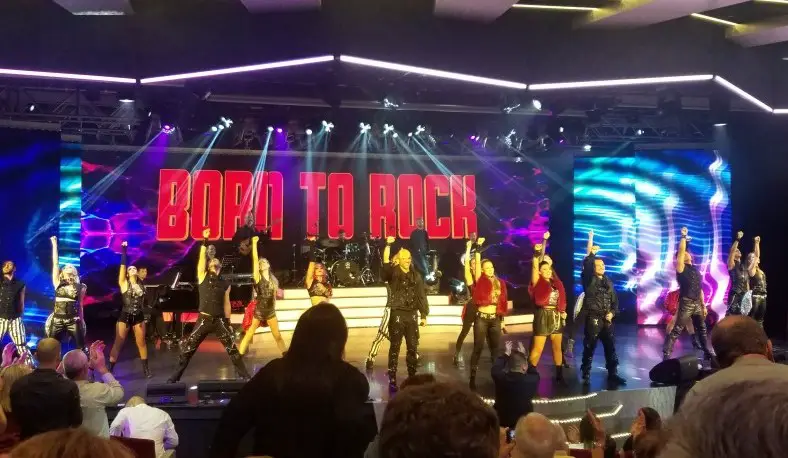 There was no movie theater, which we were used to, so we missed it a bit, but there really wasn't much sea time on the ship anyway.
The deck parties were poorly attended with not much guest participation.  The white party was in the atrium.  They played music and the staff tried very hard to encourage guests to dance along with them with not much success.  There was another party in the pool area.  We waited for about an hour after it was supposed to start and there was still only about a handful of guests with about 5 staff members that were not very enthusiastic about it.  There was a thriller party.  Michael Jackson did a performance on the atrium balcony that was stunning and then freaky dead people wandered among the guests down below. It was cool to see.
In conclusion, we really enjoyed our MSC Meriviglia European cruise. Would I do it again? There are too many other cruise lines and different ships for me to try so I probably won't do the same one, but if I had to do it all over again, I would not change this choice. It was definitely the perfect European cruise setting for our 25th Anniversary Celebration.
---
Hope you enjoyed the reviews for MSC Meriviglia and the MSC cruise line. Did I miss anything? Please add it to the comments!
---
---
and here is OUR experience sailing during this time!
---
---
Like this post? Pin it for later!
---
Learn more about the different cruise lines as I compare them from the cruises that I have taken by visiting the CRUISE PAGE.