DISCLOSURE: I may link to relevant products, companies or helpful info which may be affiliate links, meaning I may earn a small commission. As an Amazon Associate & other affiliates, I earn from qualifying purchases at no extra charge to you. The views & opinions are my own. Please see the disclaimer and privacy policy.
Last Updated on August 6, 2022
Warm and Sandy Beaches in Tobago West Indies
Trinidad and Tobago beaches are known for their Caribbean charm and warm waters. The smaller island of Tobago seems to be surrounded on all sides by sandy beaches of paradise! Some of the Tobago beaches are secluded and some are hopping with amenities and water sports. Whatever your interests are there is sure to be a perfect fit for your vacation to the beaches of Tobago West Indies!
Follow along as we take a tour of these tropical Caribbean island beaches.
Map of Tobago Beaches
Here is a handy Tobago beaches map so that you can see which side of the island these beautiful beaches are located on.
….and now let's see all the pictures of beaches in Tobago and all around the Caribbean Island….
Beginning with one of the most popular beaches on Tobago….
Pigeon Point
Pigeon Point is the most popular beach in Tobago and the most picturesque.  If you are looking for the perfect Instagram photo, head to this beach first and snap one along the beautiful jetty that reaches into the clear water!  It has white coral sand leading into the calm turquoise water, all surrounded by coconut trees swaying in the gentle breeze.
It is protected by the Bucco Reef which makes the water shallow and great for swimming and snorkeling.  Many other water sports are offered here to make the active beach goer quite busy and happy.  It is also quite populated with restaurants, bars, shops, and craft stalls, as well as restroom amenities to make for a hassle-free beach trip.
Depending on which port your cruise ship docks, Pigeon Point is one of the Tobago beaches that is near the western cruise dock.
LOCATION:  Southwest Coast; one of the Tobago beaches near cruise port
PRICE:  $20 TT (~$3 USD)
TOURS:  Glass Bottom Boat, water sports
FACILITIES: Picnic shelters, restaurants, bars, beach chairs and umbrellas, restrooms, lockers, souvenir shops
Map of Tobago Beaches
Nylon Pool
The Nylon Pool is the Tobago Fountain of Youth!  Not REALLY a beach, but absolutely must be mentioned due to its ultimate BEAUTY! It is a DON'T Miss Site in Tobago!!
It is located near famous beaches in Tobago of Pigeon Point and Bucco Bay and is only accessible by boat in the middle of the Bucco Reef.  It is a shallow natural ocean swimming pool that was created by the off-shore sandbar making it only about 3 feet deep.
Swim here in the crystal clear water and enjoy the peaceful Caribbean serenity.  Welcome to Tobago!
LOCATION:  Southwest Coast – adjacent to Pigeon Point with activities listed below
PRICE:  $20 TT (~ $3 UDS)
TOURS:  Glass Bottom Boat, water sports
FACILITIES: Restrooms, restaurants, and a bar, lots of shops and craft booths, beach chairs, and umbrellas
Tobago Beaches Map
Englishman's Bay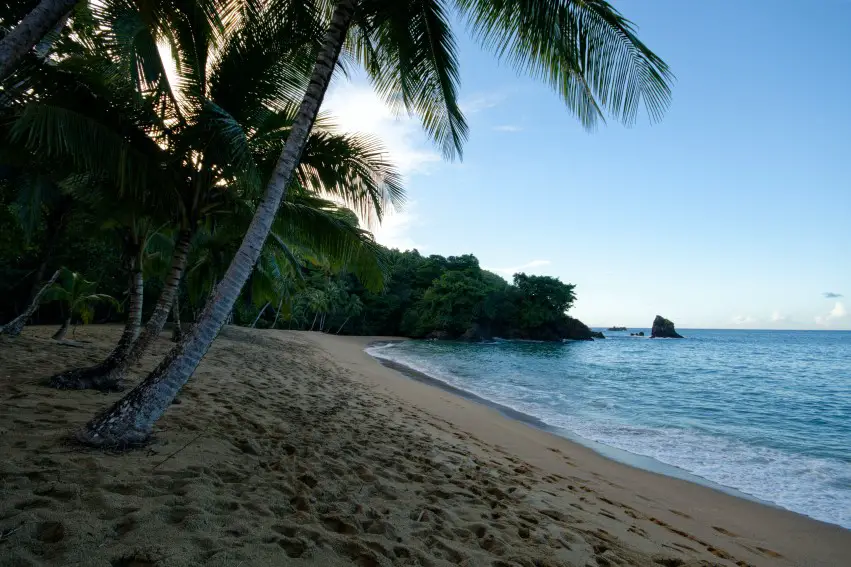 Englishman's Bay is a quiet beach is surrounded by a dense forest and seems completely secluded.  This is the perfect spot to relax in a natural setting away from the hustle and bustle of everyday life.  This is the best beach in Tobago for solitude.
There is a restroom at this tropical beach, but don't expect too many luxuries.  It is close to the Tobago Main Ridge Forest Reserve, so combining a visit to Englishman's Bay with a nature hike to spot wildlife is a great way to plan your day.
LOCATION:  Leeward Coast, Tobago Main Ridge Forest Reserve
PRICE:  Entrance is FREE
TOURS:  None
FACILITIES: Restrooms, food, beach chairs, one small restaurant, two small shops
Tobago Beaches Map
Mount Irvine Beach
---
Mount Irvine Beach Facility is one of the best swimming beaches in Tobago. Surfing is also popular here since the waves are perfect.  Kayak rental is another popular activity that you can do while enjoying this popular beach site in Tobago.
LOCATION:  Western Tobago near the capital of Scarborough
PRICE:  FREE
TOURS:  kayak rental, boat tours
FACILITIES: Restrooms, food, beach chairs, picnic tables
Map of Tobago Beaches
Castara Bay
Castera Bay has a set of two basic beaches in a tiny fishing village.  The choice is Little Bay (aka Heavenly Bay) or Big Bay, but they are both good choices.  The empty white sand beach is worth the drive if seclusion is what you desire.  The water is calm for swimming and snorkeling.  However, there aren't too many amenities located at either location.
LOCATION:  Leeward Coast
RICE:  Entrance is FREE
TOURS:  None
FACILITIES: not much
Map of Tobago Beaches
Store Bay
This beach is located in a convenient location near the Tobago airport.  It is a small beach, but probably the most popular and busiest due to its location.  It has calm, clear water and is patrolled by lifeguards. There are numerous glass-bottom boat tours leaving from this location, as well as dive shops to set you up to see some underwater beauty.  There are a lot of shopping booths with crafts, like handmade jewelry, and food, including local sweets like tamarind balls and sugar cake.
LOCATION:  Crown Point, Tobago beach near AIRPORT
PRICE:  Entrance is FREE
TOURS:  Glass Bottom Boats and Diving
FACILITIES: Restrooms, changing rooms, food, beach chairs / umbrellas, lifeguards
Map of Tobago Beaches
Pirate's Bay Beach
Since Tobago was a favorite stop for 17th-century pirates, of course, there should be a Pirates Bay Beach on the island of Tobago!  This secluded beach can only be reached by boat (or on foot, it is a 15-minute walk from Charlotteville and then down a million steps).  A local fisherman will be thrilled to take you on the 5-minute ride to Pirates Beach.
Once you have found this little piece of heaven with its soft sand and crystal clear water, you are likely to be the only visitor!  This seems like it could be one of the private beaches in Tobago!! In fact, this paradise was used in filming the movie Robinson Crusoe in 1952.
LOCATION:  Northern Coast – furthest from the airport
PRICE:  FREE, except boat transport fee (~40 TTD, $6 USD)
TOURS:  none
FACILITIES: none
Map of Tobago Beaches
Other fun things to do in Trinidad and Tobago
If you are planning to visit Trinidad and Tobago, be sure to bookmark and visit my other page with a big long list of fun activities and things to do in Trinidad and Tobago. The list is long and you won't have time in your itinerary for everything, but there will definitely be something to do every day of your vacation!
Seashells on the beaches of Trinidad and Tobago
If you find any seashells on the Trinidad and Tobago beaches, there are lots of ways to create lasting memories by making seashell souvenirs. Use my handy guide for coastal home decorating ideas that you can make from your seashell souvenirs.
Conclusion of the Beaches in Tobago
Are you heading to this beautiful island for a Tobago beach vacation? Make sure to bookmark each of these amazing beaches in Tobago so that you can relax on the sandy shores of paradise with a coconut drink on one side and your significant other and favorite person on your other side!
No matter where you stay in Tobago, there will be a beach nearby!
---
Did I miss any of the extraordinary or hidden beaches in Tobago?
There are so many beaches on Tobago Island, I couldn't include them all! Are any of these Tobago beach photos enticing you to make the trip? Have you already been to Tobago and have a favorite beach?
Let me know in the comments below!
Like this post? Pin it for later!