DISCLOSURE: I may link to relevant products, companies or helpful info which may be affiliate links, meaning I may earn a small commission. As an Amazon Associate & other affiliates, I earn from qualifying purchases at no extra charge to you. The views & opinions are my own. Please see the disclaimer and privacy policy.
Last Updated on August 6, 2022
Affordable and Luxurious Tobago Guest Houses
Tobago is located in the Southern Caribbean and is a paradise island full of pristine beaches, oceanfront views, tropical vistas, exhilarating hikes through nature, and relaxing with tropical wildlife on one side and soothing waves on the other. Take your pick of these luxurious Tobago guest houses and get ready to book the most relaxing vacation of your lifetime. These Tobago guesthouses come in all shapes and sizes, but have the common denominators of beauty and paradise!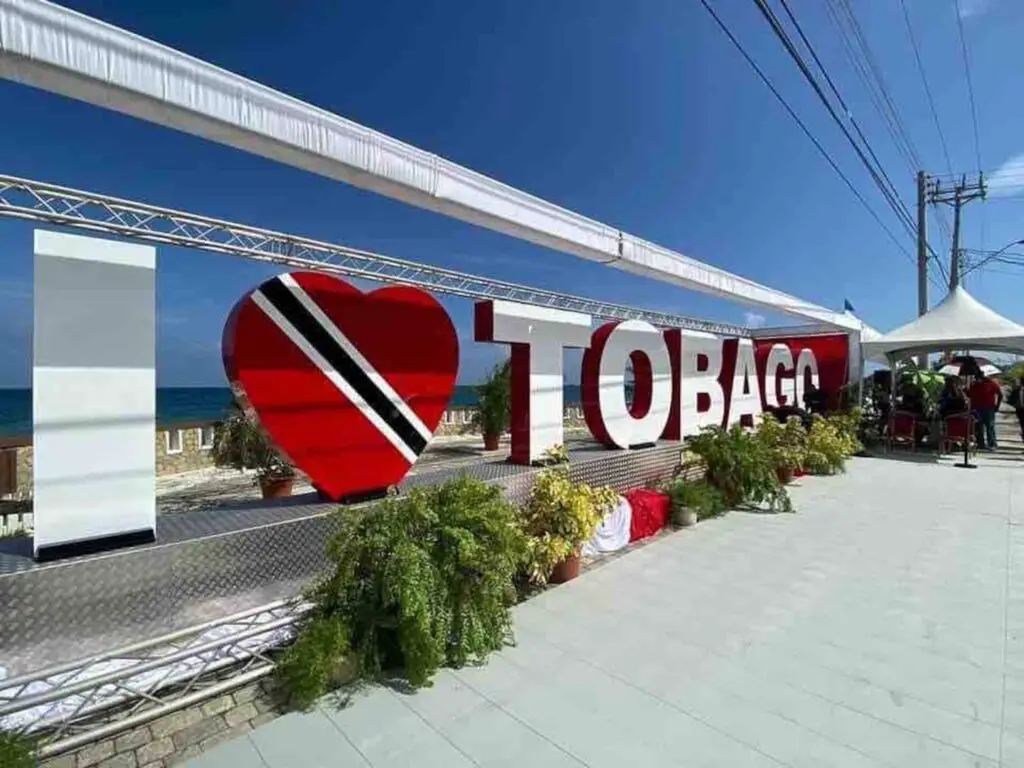 Where to stay in Tobago West Indies
Get ready to BOOK THE BEST GUEST HOUSES IN TOBAGO!!!!
Nirvana Tobago Luxury Villa with Pool & Ocean View
Amenities for 8 guests · 4 bedrooms · 5 beds · 4 baths – $400
Nirvana is the perfect name for this private guest house on the Caribbean coast.  It has an ocean view of Turtle Beach, beautiful outdoor dining, a saltwater pool with a poolside cabana bar, a huge kitchen, and 4 bedrooms with attached bathrooms.
This Tobago guest house is perfect for a relaxing getaway or a quiet staycation.  There is enough room for more, or plenty of space to spread out for the two of you with everything you need for a treasured and memorable vacation in Tobago!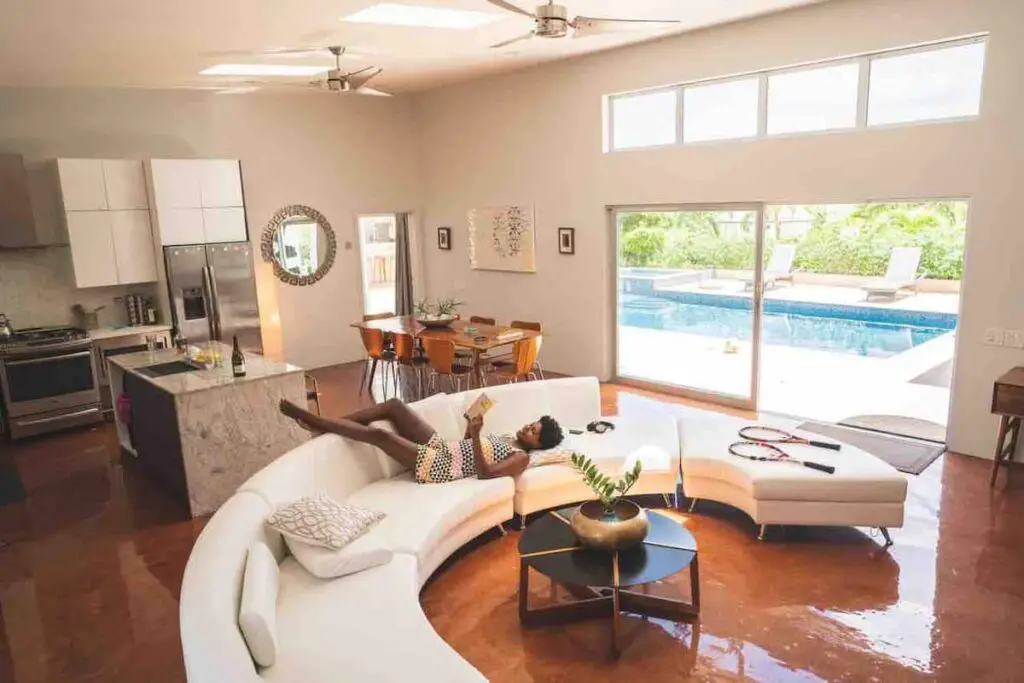 SPECIAL NOTE:  This property participates in the Damage Insurance Protection Program and does not need a security deposit!  What a nice benefit!!
Mock Turtle Enchanting Villa
Location: Tobago, Western Tobago, Trinidad & Tobago
Amenities for 6 guests · 3 bedrooms · 5 beds · 3 baths – $179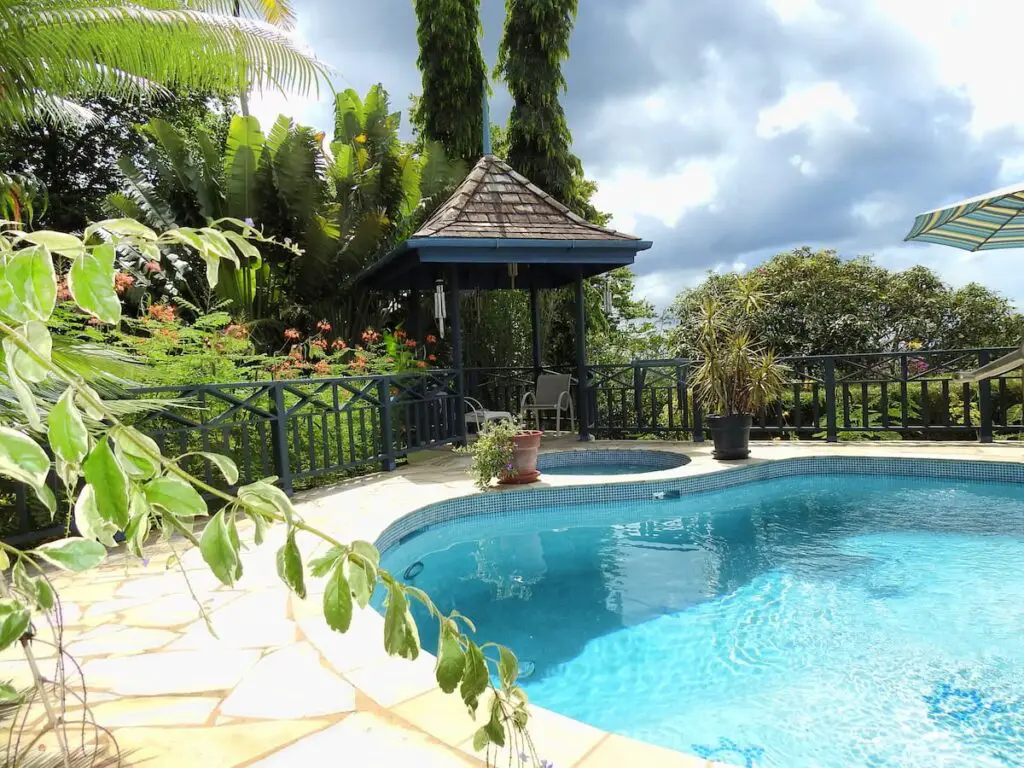 Enjoy this quiet holiday villa that has 3 bedrooms, each with its own bathroom, and a well-furnished kitchen with everything you would need to prepare some good meals.  The living and dining areas lead out to a cozy pool and sun terrace surrounded by a well-maintained landscaped garden. Relax and unwind on the terrace as you listen to the sounds of the wind chimes or take a dip in the pool to refresh yourself after a warm bake in the sun.
This Tobago accommodation is located within walking distance of Turtle Beach so that you can also enjoy the crystal blue Caribbean water or a short drive from Black Rock for restaurants and entertainment.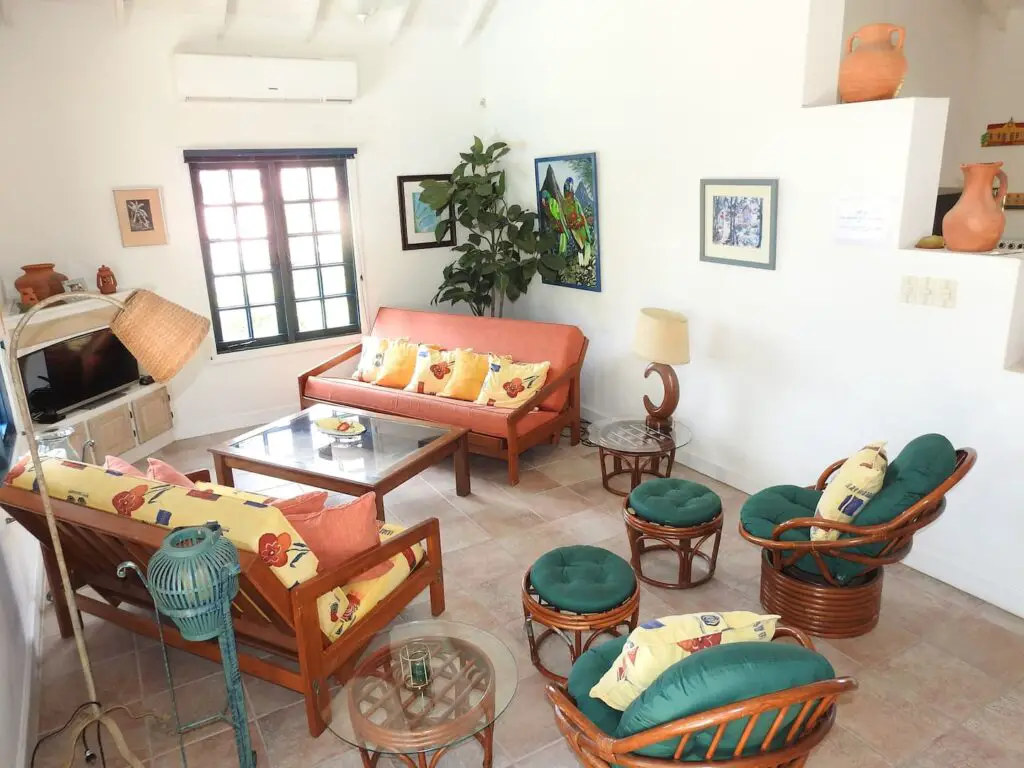 Take note of this!!  This Tobago guesthouse offers complimentary air transfer for stays of 4 nights or more with a personal meet and greet.  They also offer grocery shop services, the use of a local mobile phone, and wifi to stay connected while on holiday.
Best Airbnbs and Guest Houses in SCARBOROUGH Tobago
Mot Mot Caribbean Luxury Lodge
Location: Scarborough, Western Tobago, Trinidad & Tobago – MAP
Amenities for 12 guests · 4 bedrooms · 6 beds · 4 baths – $273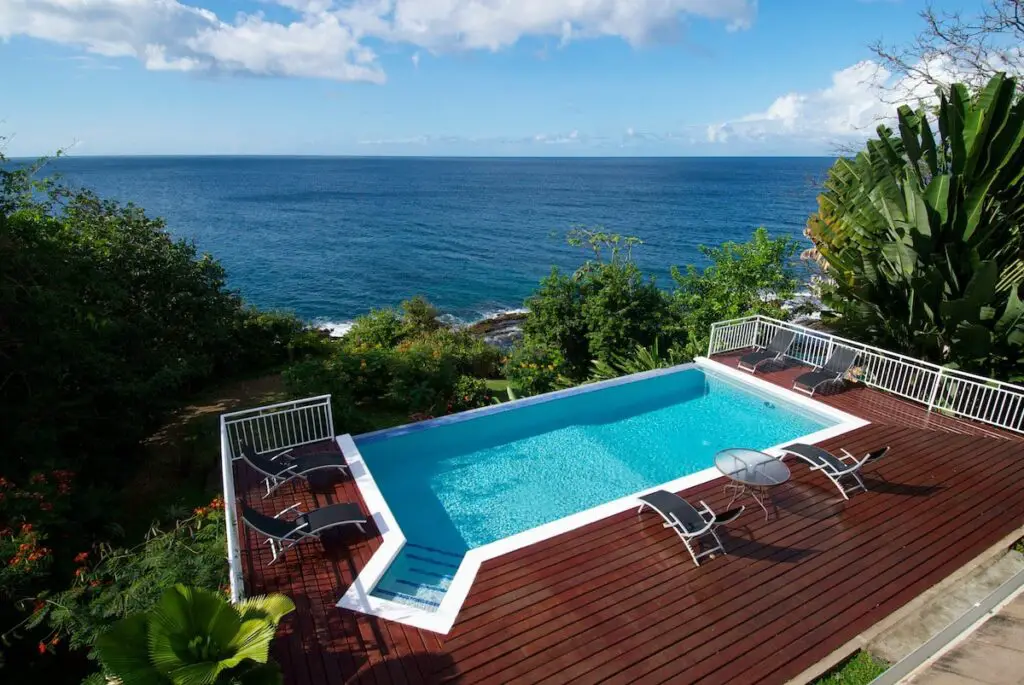 The Mot Mot Lodge is a luxurious villa with great views and the perfect place for a large family to stay in Tobago.  A short walk through the gardens leads to Arnos Vale Bay where you can snorkel with turtles and colorful fish in the Caribbean.
Along with 4 bedrooms, the spacious villa has a pool table to entertain you and your family while you are taking a break from the breathtaking scenery. Enjoy the fresh breeze outside at the gorgeous cliffside pool at this fabulous Tobago guesthouse.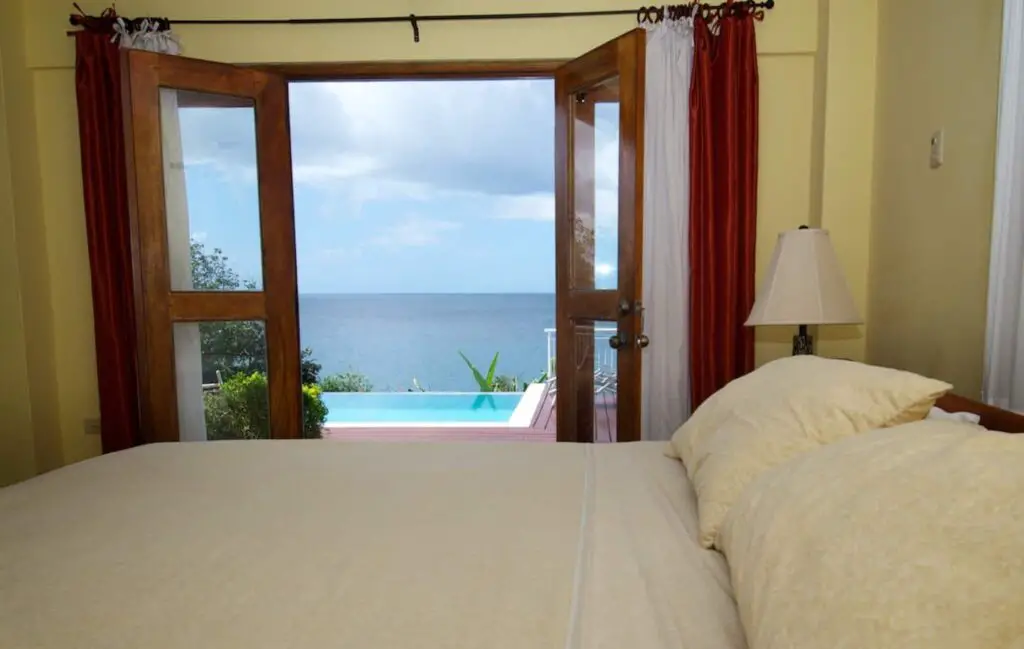 Large Modern Villa
Location: Scarborough, Western Tobago, Trinidad & Tobago – MAP
Amenities for 6 guests · 3 bedrooms · 4 beds · 3.5 baths – $167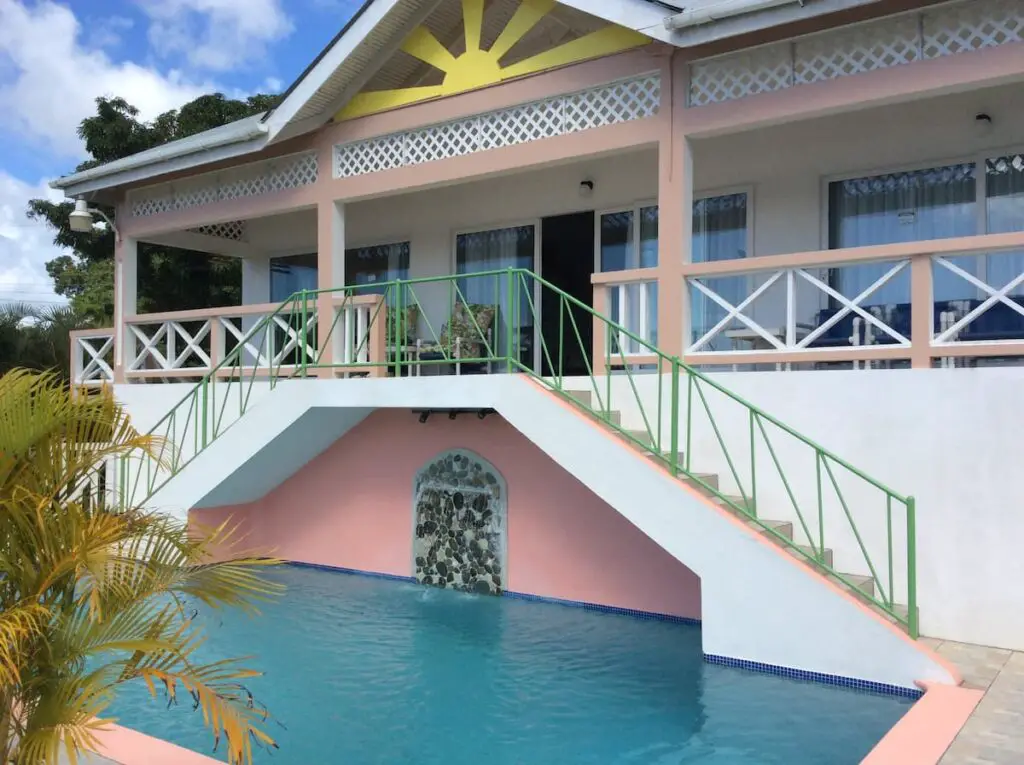 As one of the more affordable guest houses in Tobago, you can book this modern villa to enjoy the huge pool with an ocean view terrace that overlooks the rainforest.  Relax by the gas-fired bbq pit or take a stroll along the nature walkway as you listen to the sounds of the wildlife that you are sharing your Island Vacation with.
The secluded guesthouse has plenty of room for more guests, or enjoy the space and spread out on a romantic vacation for 2!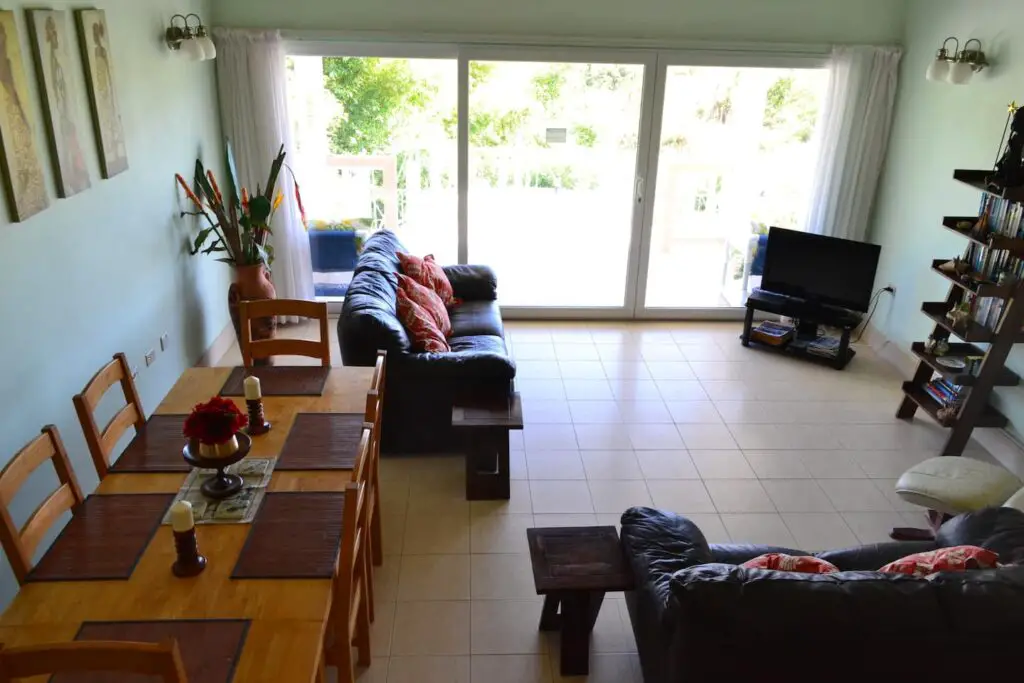 SPECIAL NOTE– This guesthouse has free airport/ferry transportation.
Trinidad and Tobago Itinerary
Need something to add to your Trinidad and Tobago itinerary? Visit my other page for a big long list of fun activities and things to do in Trinidad and Tobago. The list is long & you won't have time in your itinerary for everything, but there will definitely be something to do on every day of your trip!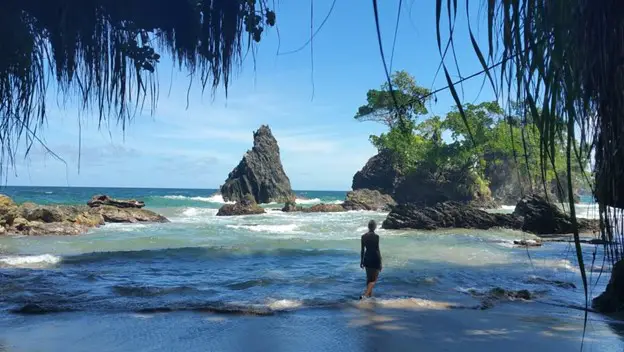 Fun Things to do in Trinidad and Tobago: Sister Islands in the Caribbean
There are many fun things to do in Trinidad and Tobago, a few miles off the Venezuela coast. The islands are one of the Caribbean's most diverse, under-rated, & underexplored travel destinations.
Tobago Guest House Accommodations around the Island
Bago Oceanfront Beach House
Location: Bacolet, Trinidad & Tobago – MAP
Amenities for 8 guests · 3 bedrooms · 4 beds · 3 baths – $193mock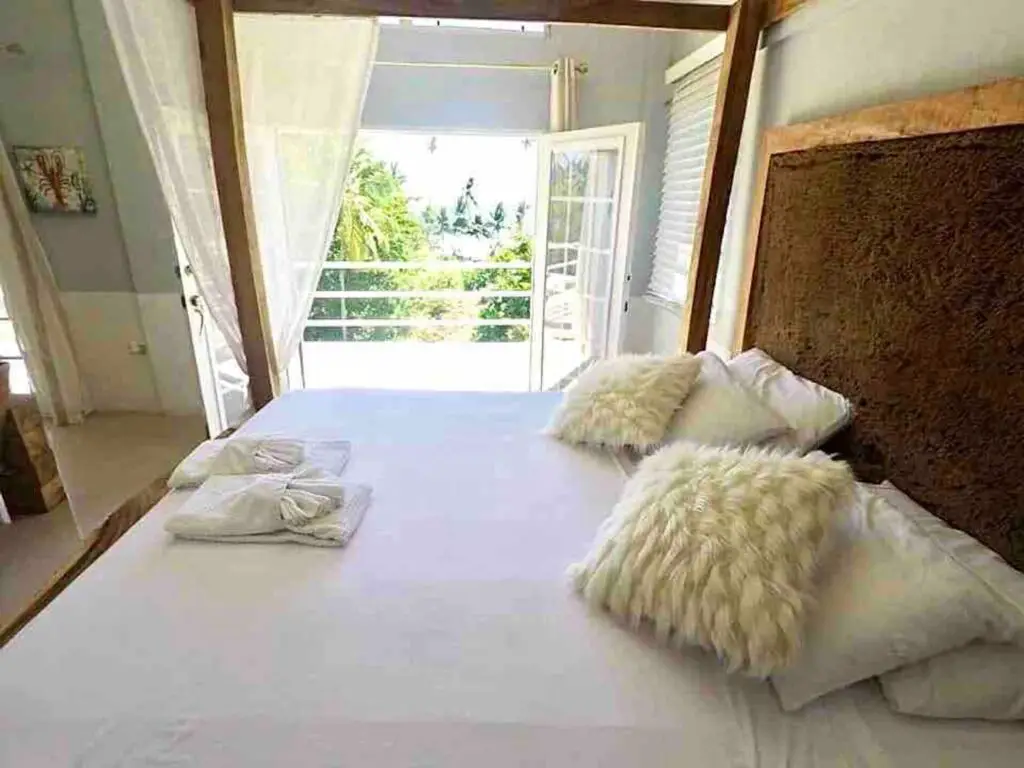 This guest house in Tobago is a beach lover's paradise.  The Caribbean beach theme will entice you into a vacation mode as you relax and listen to the ocean sounds coming through the large windows.
The three spacious bedrooms offer high, spacious ceilings and extreme comfort with an automatic sleep timer of ocean waves right next to you.
Plan your family getaway or relaxing staycation with this beauty for ultimate relaxation and ocean enjoyment.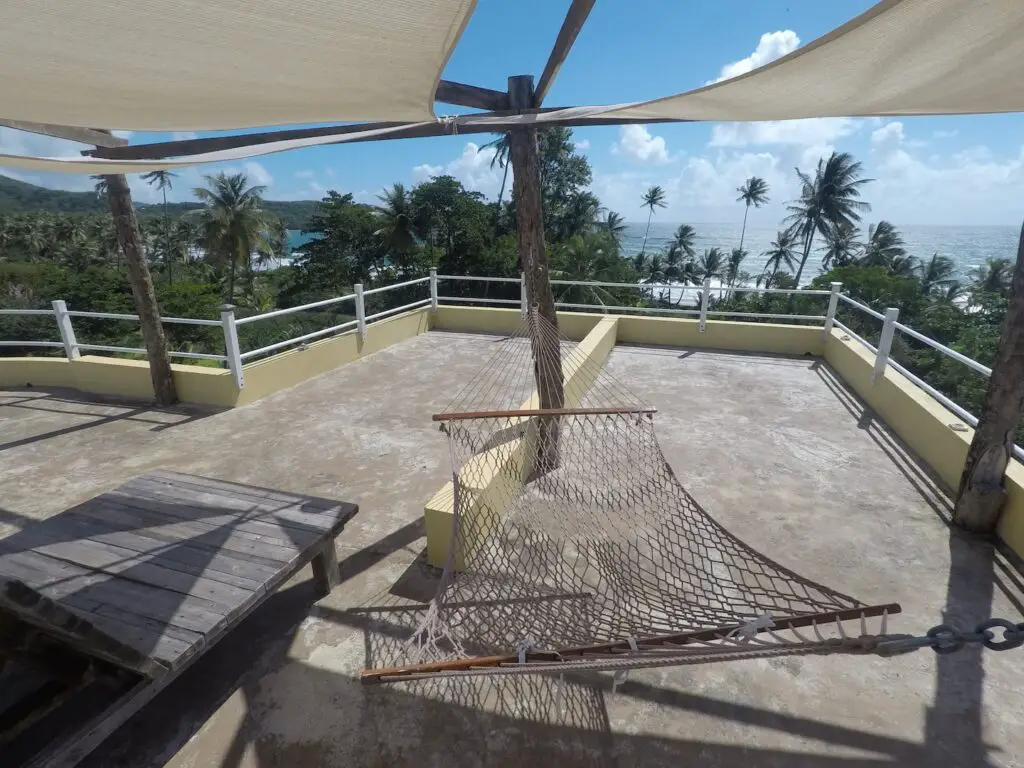 Licorish by the Sea Beach House
Location: Black Rock, Western Tobago, Trinidad & Tobago – MAP
Amenities for 6 guests · 3 bedrooms · 4 beds · 3 baths – $310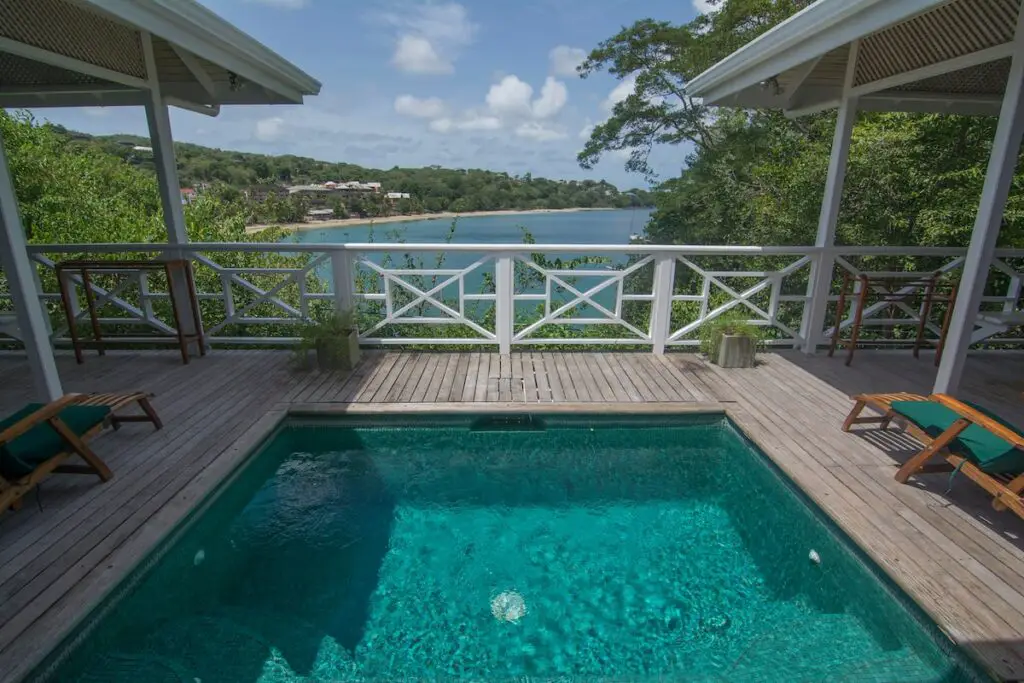 This huge Beach House in Tobago is beautiful and located at the top of a secluded beach with private access to a bay for swimming in the sea.
Enjoy this tropical paradise while enjoying the nearby bird songs, the relaxing pool, and the total escape from your hectic world as you behold the astonishing sunsets in the warm Caribbean breeze.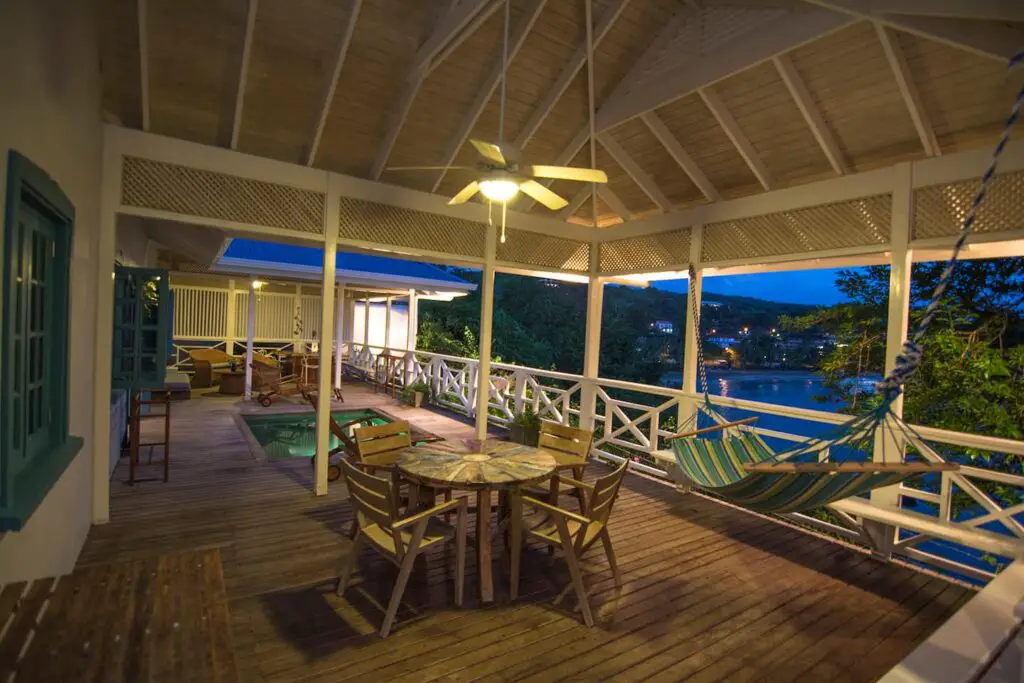 APARTMENTS FOR RENT IN TOBAGO
If you aren't looking for a huge guest house in Tobago, you might want to consider one of these luxury apartments as a place to stay while vacationing in Tobago.  They are just as cute and relaxing with an ocean view and pool access. While being a little cozy and intimate for a romantic getaway they can be the perfect place to stay in Tobago.
Firefly Treetop Villa
Location: Bethel, Western Tobago, Trinidad & Tobago – MAP
Amenities for 4 guests · 2 bedrooms · 3 beds · 2 baths – $150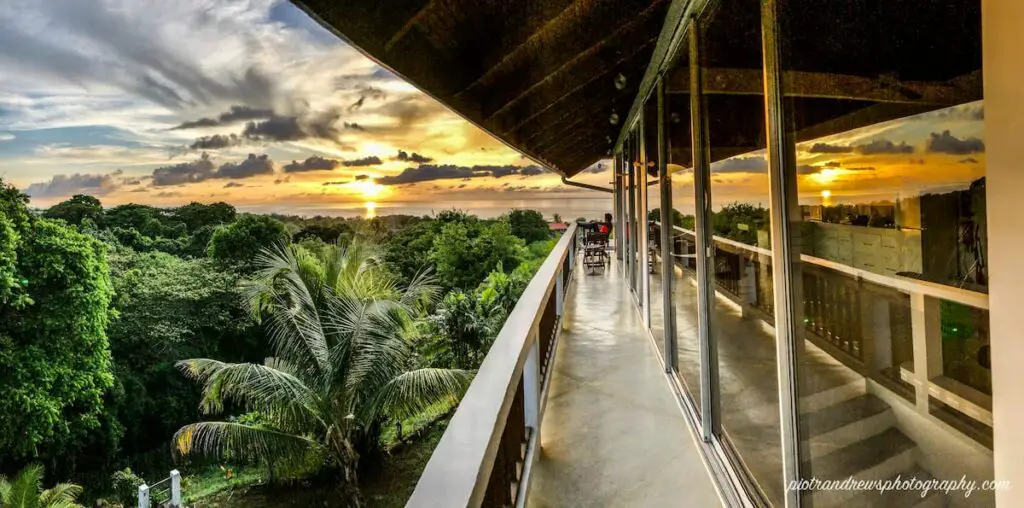 The Firefly Treetop Villa is the perfect romantic getaway in Tobago for couples.  It has stunning ocean views from the wrap-around balcony that also overlooks the treetop canopy.  Sit and listen to the tropical bird song as you relax in this Caribbean paradise.
The infinity pool is the perfect place to admire the sunset, surrounded by the lush greenery, or take it all in on the nearby beaches.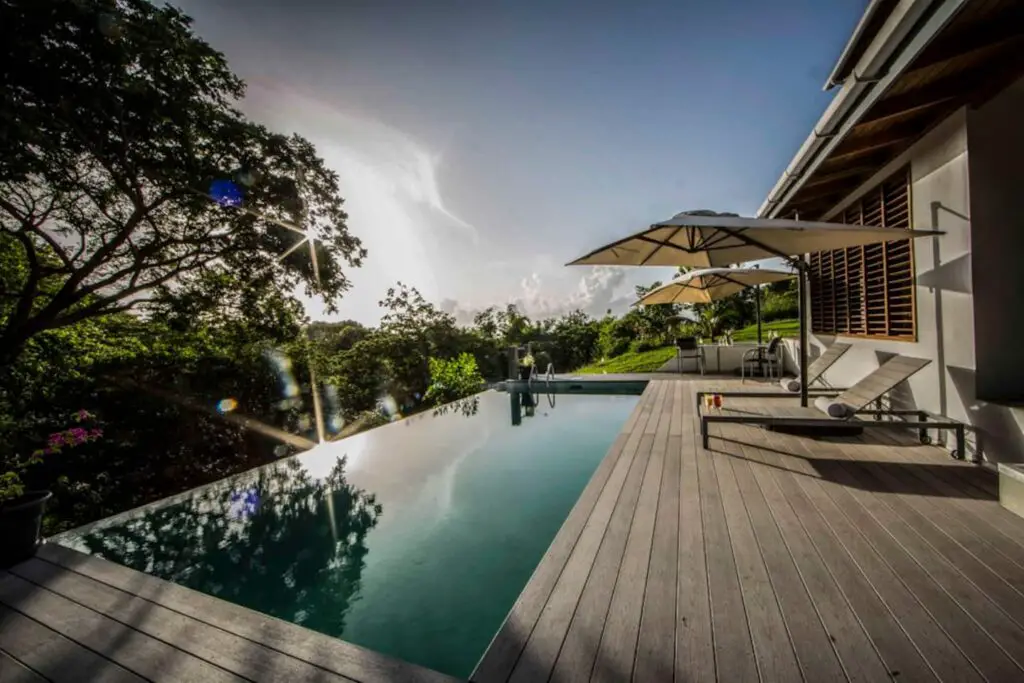 There you have the awesome list of available Tobago guest houses. Did you find one that you love? Did you find the perfect guest house for a relaxing vacation in Tobago? Accommodations are an important part of the vacation planning, so make sure you find the place to stay in Tobago that is the right fit for you!
Have extra vacation time on your hands? Consider extending your vacation on Tobago's sister island, TRINIDAD!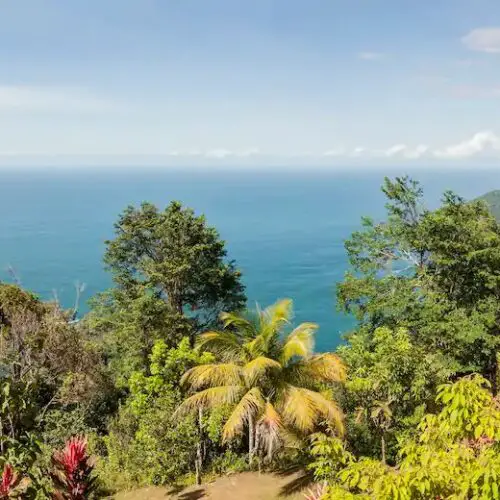 Best AirBNBs & Caribbean Hotels in Trinidad and Tobago
Reserve one of these resort hotels in Trinidad and Tobago surrounded by luxury, beaches, & good food. -or find something more intimate with a top-notch AirBNB
LIKE THESE TOBAGO GUEST HOUSES? Pin it for later!