DISCLOSURE: I may link to relevant products, companies or helpful info which may be affiliate links, meaning I may earn a small commission. As an Amazon Associate & other affiliates, I earn from qualifying purchases at no extra charge to you. The views & opinions are my own. Please see the disclaimer and privacy policy.
Last Updated on April 20, 2023
---
Trinidad & Tobago Guide
Sitting pretty just a few miles off the Venezuelan coast in the Caribbean Sea, the twin-island republic of Trinidad and Tobago is one of the Caribbean's Bucket List Destinations and the most diverse, under-rated, and underexplored tropical travel destination. Tourism is growing, although not as important as in many other Caribbean islands. Keep reading this Guide to Trinidad and Tobago for all you need to know about when you TRAVEL TO TRINIDAD.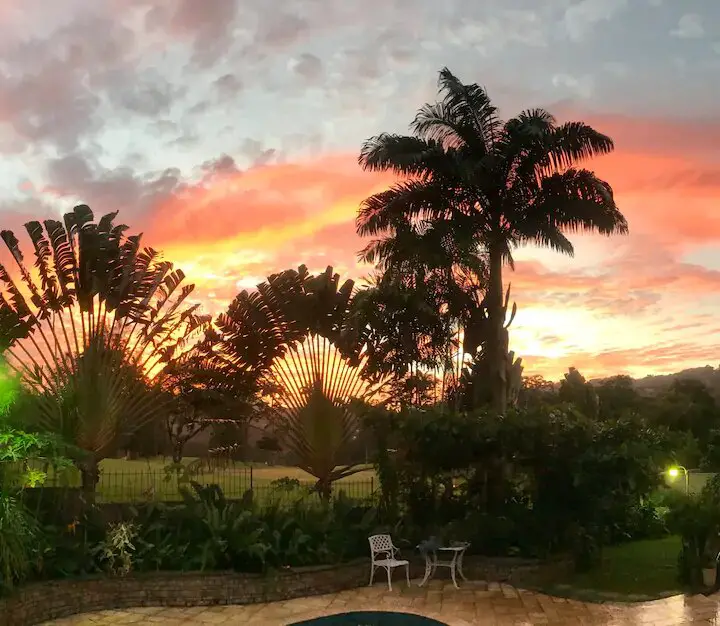 Both islands were once an extension of the South American continent, and the flora and fauna reflect this geographical link. Trinidad is the larger of the two, bustling with commerce and natural resources like gas and oil. It is a diverse oasis of Creole culture and the birthplace of the steel drum and the limbo.
On the other hand, there's a sleepy island of little sister island rich in natural wonders and immaculate white-sand Tobago beaches just off the neighboring shores of Trinidad.
This twin-island republic boasts spectacular rainforests, waterfalls, savannahs, and reefs. The endless undeveloped beaches are some of the prettiest in the region. It is also the home and heart of the West Indian Carnival and the place where calypso, soca, and steel pan music were invented.
On my first southern Caribbean trip, I was a part of a Hindu wedding in Trinidad! That was an incredible experience and enriched my mind and body with the Indian culture that is found throughout Trinidad. There is so much to be explored in glorious TnT (Trinidad and Tobago!!)!
Keep reading for helpful tips if you are planning a trip to Trinidad and Tobago
Plan your trip to the Caribbean with the help of this handy Trinidad and Tobago Guide
General Info to Visit Trinidad and Tobago
FAST TRINIDAD FACTS
Capital: Port of Spain
Geographic situation: Twin island sovereign state that is the southernmost nation in the Caribbean.
Official language(s):  English, but main spoken language is either of two English-based creole languages (Trinidadian Creole or Tobagonian Creole). Also French, Hindi, and Spanish are common
Official religion(s): Roman Catholic
Currency: Trinidad and Tobago Dollar (TTD), US Dollar widely accepted
Economy: High-income economy, a primarily industrial economy with an emphasis on petroleum. Tourism and manufacturing are also important
Climate: Tropical with maximum temperatures between 87°F  and 92° F (31 – 33°C)
Agricultural products: Agricultural products include citrus and cocoa.
Power voltage and socket type(s): 115V, plug types A and B
Safety rating: Trinidad is not known for safety and travelers need to take precautionary measures.
---
Where is Trinidad located?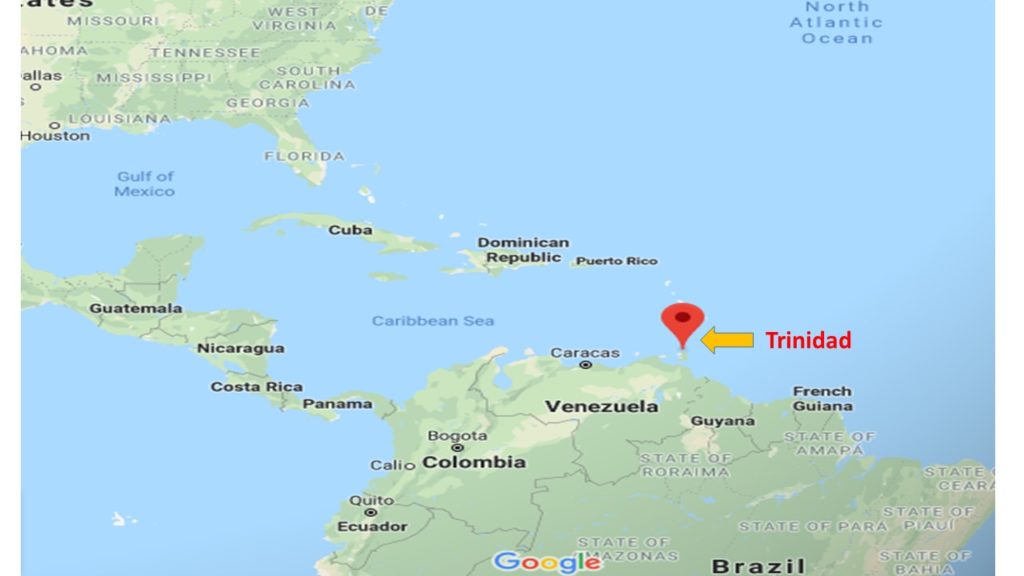 Trinidad is part of the island nation Trinidad and Tobago in the Caribbean. The islands are located 7 miles off the coast of Venezuela.
Do I need a Visa to Travel to Trinidad and Tobago?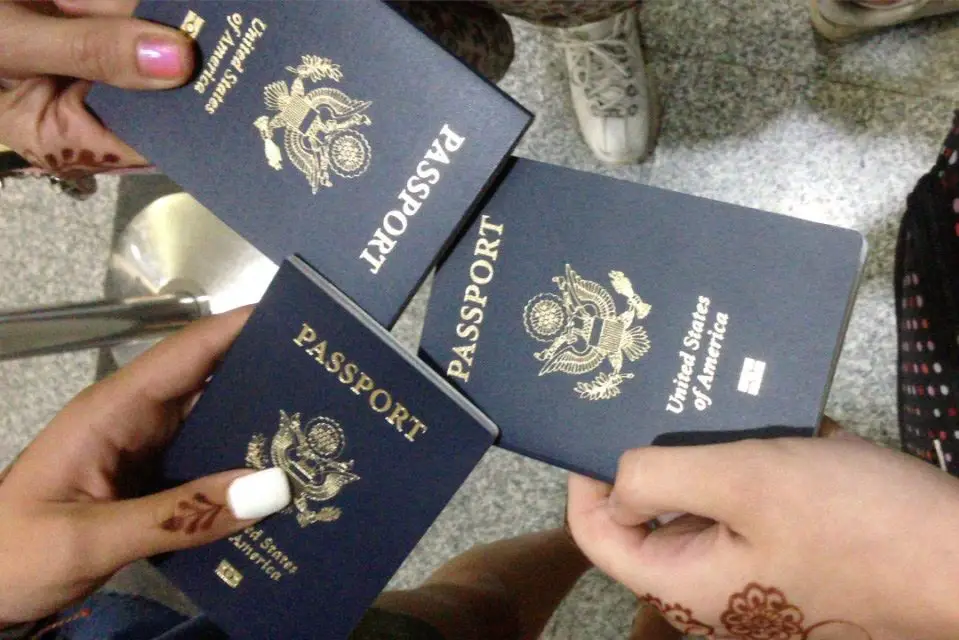 Trinidad and Tobago is a slice of paradise. Located in the Caribbean and just north-east of Venezuela, these two islands are a perfect spot for relaxation and a dreamy vacation. However, before you go and enjoy getting the perfect tan on its white sandy beaches, you need to check whether or not you need a visa to gain entry.
The visa policy of Trinidad and Tobago is lenient and you may not need a visa.
The citizens of 101 countries are exempt from visas to enter the Caribbean twin-islands. The visitors are allowed to stay within the islands for up to 90 days in a 180 day period.
The citizens of visa-exempt countries should have a valid passport for a minimum period of 6 months from the date of entry into Trinidad and Tobago as well as an onward ticket.
People traveling from Australia, New Zealand, and the Philippines are required to obtain a visa to enter, however, they can obtain a Waiver of the Visa on arrival. 
Types and Cost of Trinidad Visa – Single-entry visa costs around $30 USD and multiple-entry visas cost around $60 USD. Both of them are valid for three months.
Go HERE for Trinidad and Tobago Visa Information.
---
How Trinidad is different from Tobago?

What is the difference between Trinidad and Tobago?
The sister islands couldn't be more different!
Trinidad island is all about executive business and the oil industry.
Tobago is famous for its pristine beaches and lush nature.
---
Trinidad island is a real cultural melting pot due to historical upbringings and heritages. One-third of its population is Hindu. You'll find hundreds of Hindu temples, like the Temple in the Sea in South Trinidad, and mosques along the roads, right next to churches for its Christian population.
Tobago is mostly Christian.
---
English is the official language of Trinidad and Tobago, but Hindustani, Spanish, Tamil, and Chinese are prevalent. The main spoken language is an English-based creole language, but this varies between the 2 islands: Trinidadian Creole or Tobagonian Creole. These creole variations both incorporate African influences, but each island reflects its multi-cultural heritage. Trinidad Creole, for example, was strongly influenced by the French.
---
There are also many other islands near Trinidad, so if you have time, why not go island hopping?
---
Why are Trinidad and Tobago called a twin island republic?
Trinidad and Tobago are part of the same nation but are also very different and separate. There is both a president and a prime minister of Trinidad and Tobago, and a democratically elected parliament. Trinidad has more control and elects more parliamentary members, but both share control of the government, while still remaining separate.
Accommodations in Trinidad and Tobago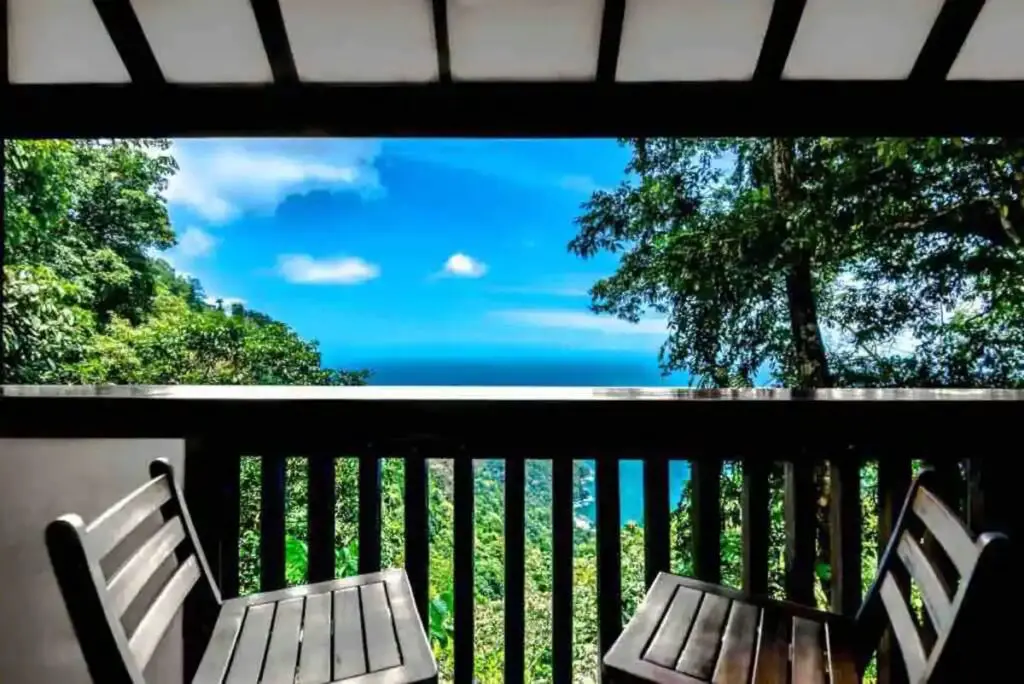 Trinidad and Tobago are not the most tourist-oriented Caribbean islands, but there is no shortage of places to stay. There are choices on each of the sister islands that will make for a relaxing vacation in paradise!
Accommodations on Trinidad Island
Trinidad has plenty of accommodations in Port of Spain mostly due to the annual Carnival and regular business travelers. It also has guesthouses and hostels near the beaches along the north coast.
The center and south of Trinidad have a lot of sites to see, however, there are not many places to stay. The options present here are expensive and geared towards oil workers and business travelers.
The price of a basic room with a fan in Port of Spain ranges from as little as $30 per night to $60-80 for an air-conditioned room with cable TV. The top-notch places rate can go up to $200 plus.
Accommodation rates in Trinidad change at Carnival time.
Business-oriented hotels charge more during the week than on weekends.
Check hotel prices in Trinidad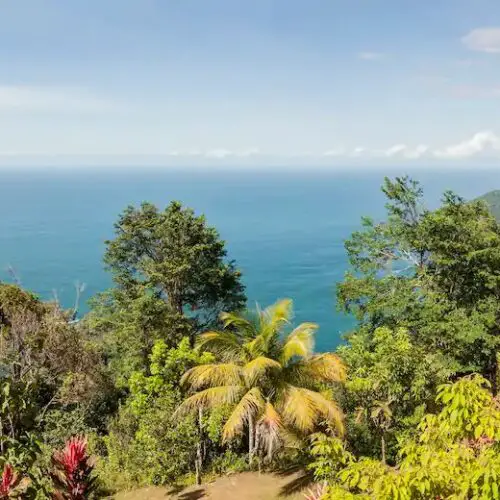 Best AirBNBs & Caribbean Hotels in Trinidad and Tobago
Reserve one of these resort hotels in Trinidad and Tobago surrounded by luxury, beaches, & good food. -or find something more intimate with a top-notch AirBNB
Accommodations on Tobago Island
In Tobago, accommodation rates are of two types, one for the summer which is a low season (mid-April to mid-Dec) and another for the winter which is a high season (mid-Dec to mid-April).
Tobago has various luxury resorts, cozy guesthouses, and private villas, the maximum of which can be found in the Crown Point area. 
The guesthouses are great value for money and friendly places to stay while the private host homes and B&Bs are inexpensive and generally excellent.
They do not charge room tax and you get more insight into local lifestyles and attitudes than you would experience anywhere else on the islands.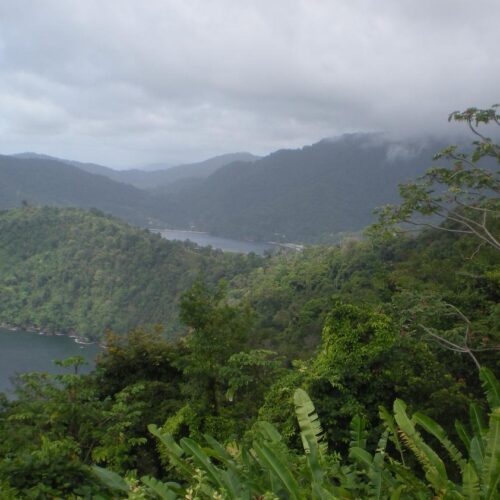 Best AirBNBs and Affordable Tobago Guest Houses
Take your pick of these luxurious guest houses in Tobago and get ready to book the most relaxing vacation of your lifetime in paradise!
---
Best Time to Visit Trinidad and Tobago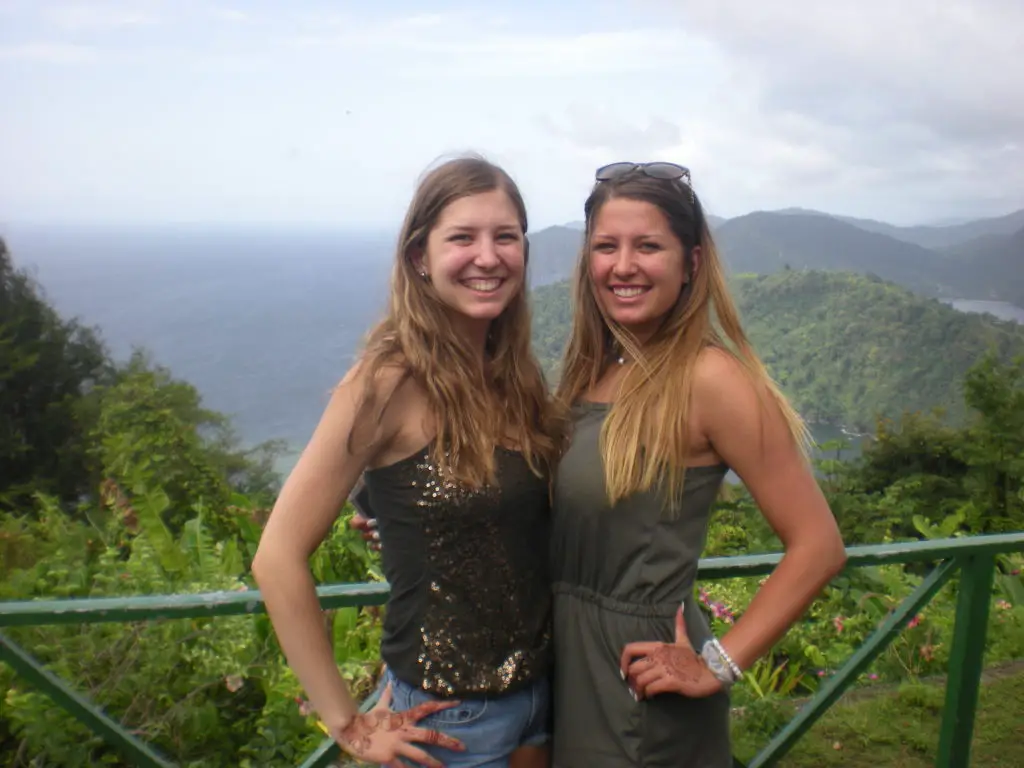 Trinidad and Tobago's temperatures remain tropical year-round with a daily average temperature of 27° C, but the best time to visit is between January and May, since the weather is perfect, not too hot and little rain. January is also the start of Carnival season, which is definitely worth experiencing.
During this time, the trees are in bloom, the climate is at its best with clear skies, rain is rare, and nights are cool.
Around the end of May, the rainy season begins which lasts up until November. However, this does mean hotel and flight rates are cheaper.  Fortunately, despite any rain you might face, every night in the Trinidad and Tobago islands is warm all year round.
There is a respite from the downpours in September so this is also an excellent time to plan your trip. This is the 'petit carem' – a period of clear blue skies and bright sunshine. So if September is when you are planning your Trinidad and Tobago visit, there should still be a pleasant period.
---
More great Caribbean Bucket List Destinations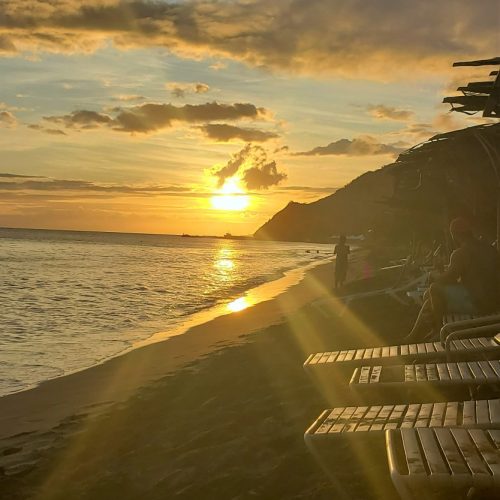 Top Caribbean Bucket List Trip Ideas
The Caribbean is one of the most attractive tourist destinations in the world with many islands that should be on your Caribbean Bucket List. They boast marine life, pristine beaches surrounded by bright swaying coral reefs, and rich flora and fauna.
Read all the Trinidad and Tobago Travel Blogs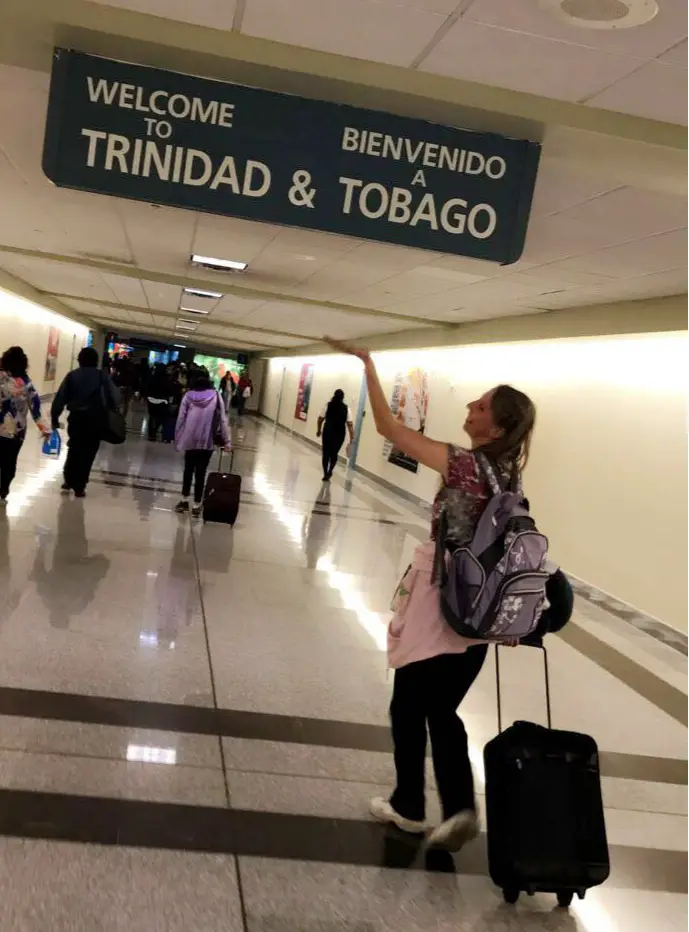 Trinidad and Tobago Travel Tips – Moyer Memoirs
Plan your itinerary to explore this amazing destination with these helpful Puerto Rico travel tips from someone who has been there!
Transportation in Trinidad and Tobago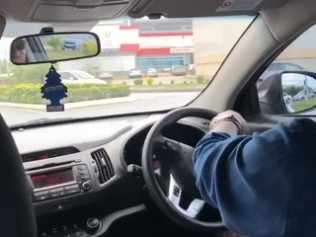 Getting There – The main international airports are A.N.R. Robinson International Airport in Tobago and Piarco International Airport in Trinidad. Direct flights come in from the UK, US, Canada, South and Central America, and the rest of the Caribbean.
Getting Around – Getting around on the two islands is relatively straightforward. Buses, maxi taxis, and route taxis are all over the islands which are divided into large public buses and private services called maxi taxis, however, these are usually crowded.
A convenient mode of travel is the ferry and also through air. Caribbean Airlines runs flights between Piarco and Crown Point.
---
Food in Trinidad and Tobago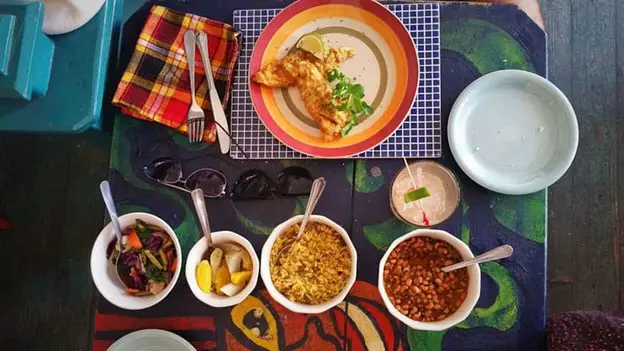 Trinidad and Tobago have a unique blend of African, Indian, Chinese, European, and Latin American influences offering a fantastic cuisine.
You can find a vast array of local food from Indian curry and roti to Creole coo-coo or Spanish and South American style pastelles.
You can find various restaurants in Trinidad's urban areas offering Indian, Creole, Chinese, and International cuisine.
For breakfast, you can munch on fried fish, smoked herring cooked with onions and peppers or buljol, a delectable blend of flaked saltfish with onions, tomatoes, lime juice, and sweet peppers served with avocado and airy rolls called hops. A mug of sweet chocolate tea with fresh cocoa, spiced up with nutmeg and cinnamon is a must-try.
Trinidad and Tobago offer the best street food in the Caribbean. You can find Indian specialties to gyro wraps, fried chicken, and roti. The vendors practice stringent hygiene and eating out won't constitute health risks.
The most popular street foods in Trinidad and Tobago are Doubles, Corn Soup, Pholourie, Coconut Jelly, Aloo Pie and Saheena, Chicken Roti and Buss-up Shot, Souse, Bake and Shark, and Chow.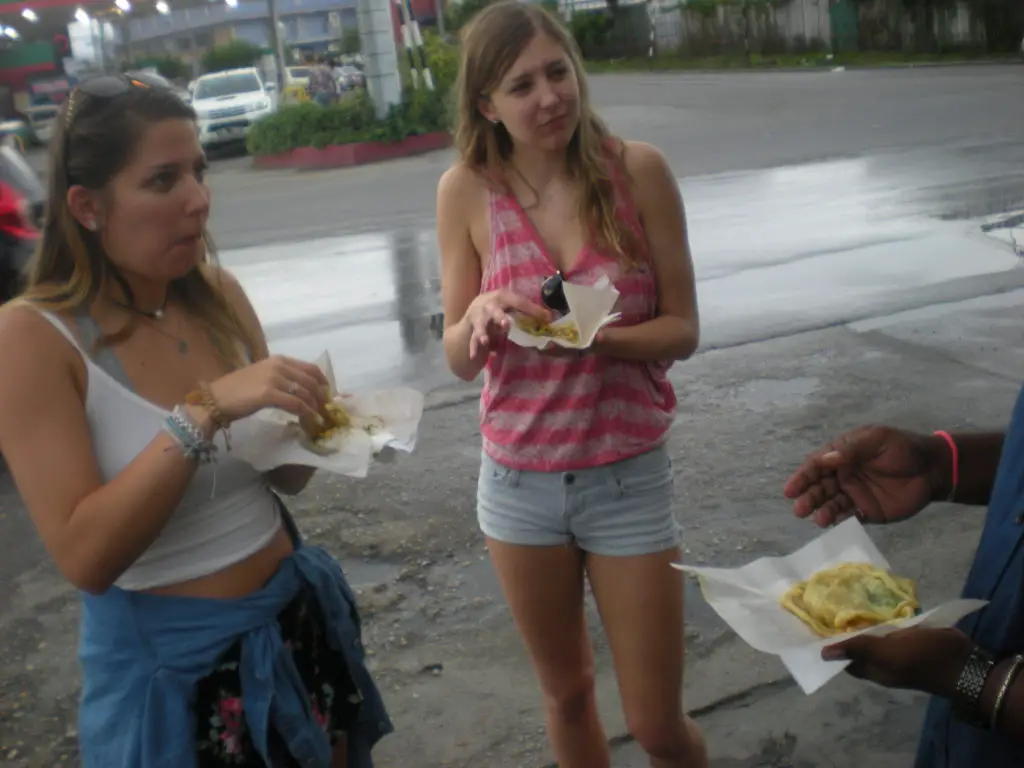 ---
The food of Trinidad and Tobago should have a full post on its own! Trini food is so varied and delicious.
Part of the richness of Trini's rich food culture are numerous cultural influences. The Indian and Pakistan people, as well as the Africans and Europeans (mostly French & Spanish) brought the best of their very own gastronomy, blending it all into a firework of tastes.
Trini food is very affordable, uses a lot of fresh products, and is the best at the numerous food stalls that you can find along the road.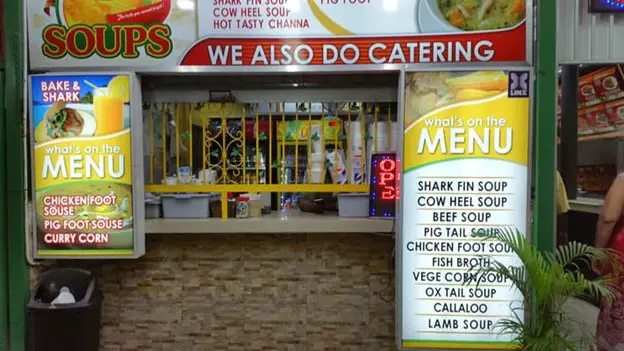 Here is some of the food that you MUST try when visiting Trinidad Island:
Doubles: Doubles have light bara bread sandwiching tender curried channa (chickpeas) finished with tamarind and a variety of chutneys, including coconut or mango, and some pepper. It's usually eaten for breakfast and is probably the most famous Trini food.
Chow: Chow is composed of chunks of fresh fruit mixed with lime juice, hot pepper, salt, garlic, and cilantro. It is a highly addictive and healthy snack. One of the most popular kinds is mango!
Saheena: A roll-up of callaloo (similar to spinach) and split-pea batter, deep-fried, with a spoon of tamarind or mango chutney on top
Bake'n Shark Sandwich:  This sandwich can mostly be found at Maracas Beach. It consists of a fried flatbread ("bake") filled with fried pieces of shark meat and various other ingredients and sauces. Before frying, the shark meat is either seasoned with a herb blend or breaded. You can optionally add some toppings like lettuce, coleslaw, tomatoes, or pineapple. Nowadays shark meat is often replaced by more sustainable alternatives such as kingfish or flying fish.
Chicken Roti: Roti is an Indian flat bread brought over by the Indian workers in the 1880s. It is very light and is wrapped around all kinds of food like beef, chicken, potatoes, and pumpkin. Dip it in delicious chutneys for added bonus!
Soups: If you are a huge soup lover, you'll be spoiled in Trinidad when it comes to soups. Cowheel soup, corn soup, dumpling soup, and of course the traditional, mouth-watering callaloo soup are all excellent choices.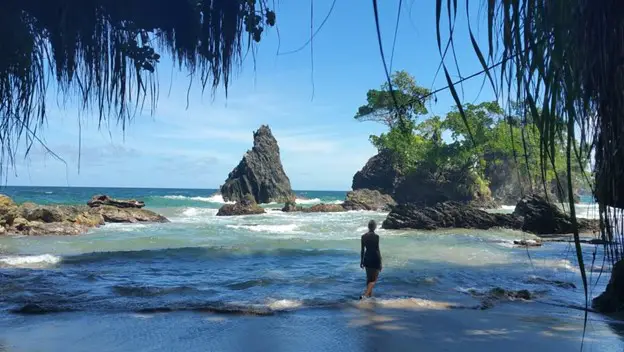 Trinidad has no shortage of things to do and places to visit to make your Trinidad itinerary PACKED FULL of fun activities. No matter where your interests lie or what sort of activity level you desire, there will be something perfect for you!
Stop by a roadside vendor and grab a refreshing coconut. Sip on the coconut water as you soak up the Caribbean sun on one of the many relaxing beaches on the island.
Start making your itinerary with this helpful guide to things to do in Trinidad and Tobago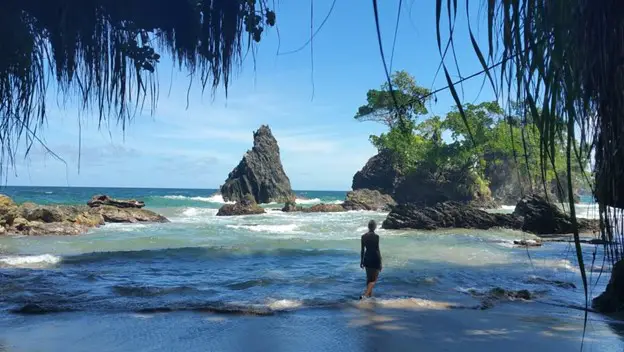 Fun Things to do in Trinidad and Tobago: Sister Islands in the Caribbean
There are many fun things to do in Trinidad and Tobago, a few miles off the Venezuela coast. The islands are one of the Caribbean's most diverse, under-rated, & underexplored travel destinations.
The Perfect Guide to Trinidad and Tobago
This guide to Trinidad and Tobago is just an introduction to these two beautiful islands. Take a trip to explore them yourself and explore how different they are from each other. This Trinidad Travel Blog only scratches the surface!!
Read the rest of the Moyer Memoirs Trinidad and Tobago travel blogs for more helpful information about traveling to this beautiful Caribbean destination.
Like this post?
Save it for your TRINIDAD VACATION