DISCLOSURE: I may link to relevant products, companies or helpful info which may be affiliate links, meaning I may earn a small commission. As an Amazon Associate & other affiliates, I earn from qualifying purchases at no extra charge to you. The views & opinions are my own. Please see the disclaimer and privacy policy.
Last Updated on February 3, 2023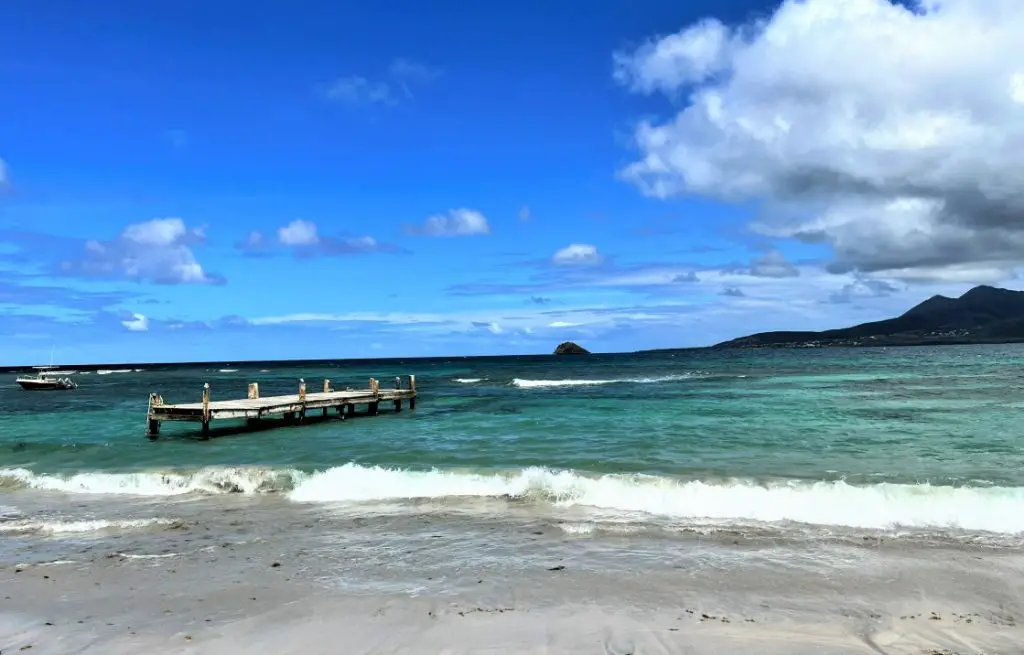 St Kitts Island is located in the Caribbean and is a popular destination for beach-lovers. There are a few popular St Kitts beaches near cruise port, making them popular shore excursions. However, the island is small and all the beautiful beaches in St Kitts are public and free…and always just a short drive away.
St Kitts is only 5 miles from north to south and 18 miles wide. Even though the island is so small, the beaches are quite different, especially if you compare the northern versus the southern St Kitts beaches. The southern beaches face the calmer, warmer waters of the Caribbean Sea, while the northern St Kitts beaches face the colder, rougher waves of the Atlantic Ocean.
The St Kitts Beaches listed below are found all around the island, so make sure that you use caution if you choose to swim or snorkel. They are all great for sunbathing and enjoying the warm Caribbean sun rays on the beaches of St Kitts Island Paradise!
List of the Best Beaches in St Kitts
DIEPPE BAY
Location – north end of St Kitts Island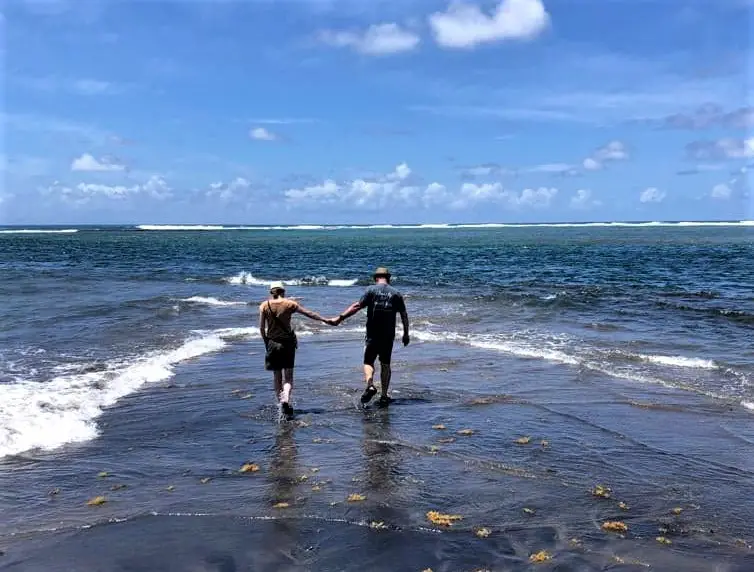 This beach is the only beach on this list on the north end of the island of St Kitts.  Definitely make sure you include Dieppe Bay on your Saint Kitts Beach itinerary!  This one is a DON'T MISS!
The sand here is darker volcanic sand but that is not the best part of this beach!
In my opinion, this is one of the coolest beaches on St Kitts and I had the most fun here!
There is a point at the tip of this beach where the Caribbean Sea meets the Atlantic Ocean and you can see the waves come in from both sides and crash into each other.  It is so interesting and wild to see!  There is even a small sandbar so that you can walk out and stand between the two oceans and let the waves hit your feet from each side!
SHIPWRECK BEACH
Location:  South of Timothy Hill and 15 minutes from cruise port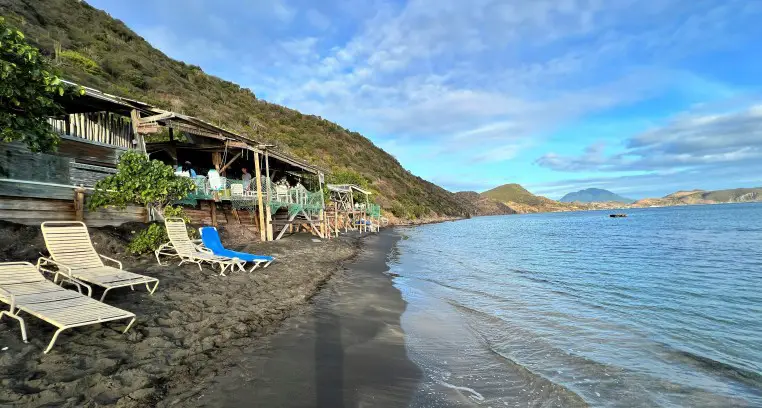 I think Shipwreck Beach has the most amenities and facilities! There is cornhole and Jenga as well as a large supply of umbrellas and chairs.  There is also foot wash station so that you can leave the beach sand behind. We spent a relaxing afternoon on this beach and then watched the sun sink into the water.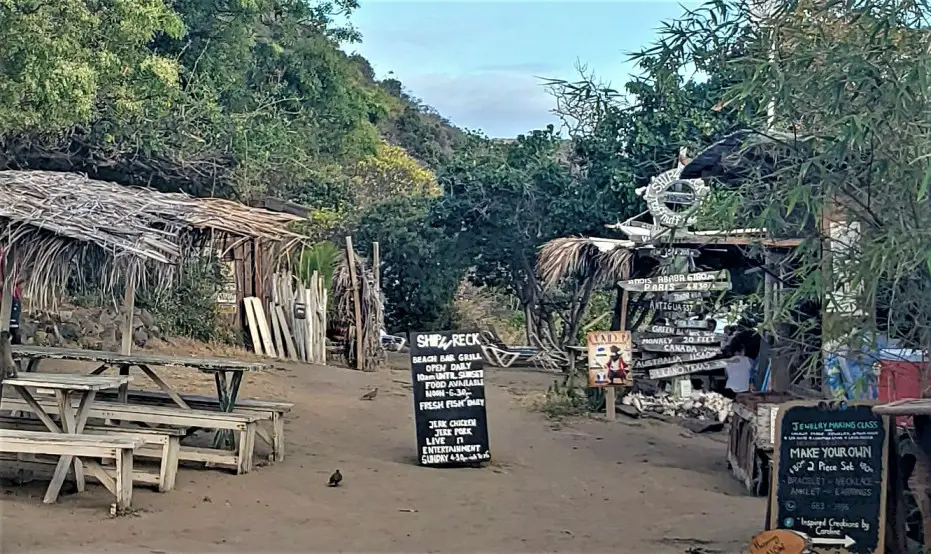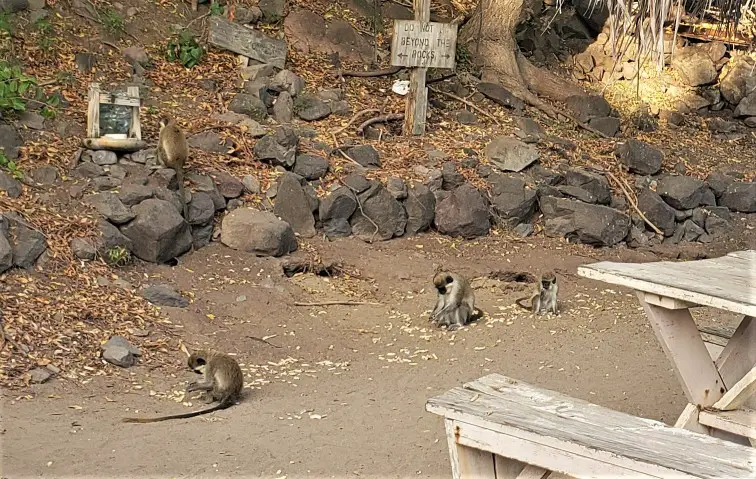 There is a beach bar shack right in the parking lot and adjacent to the beach.  The restaurant leaves their leftovers for the monkeys and there are always a few munching on the goodies near the picnic area.
Sunset pic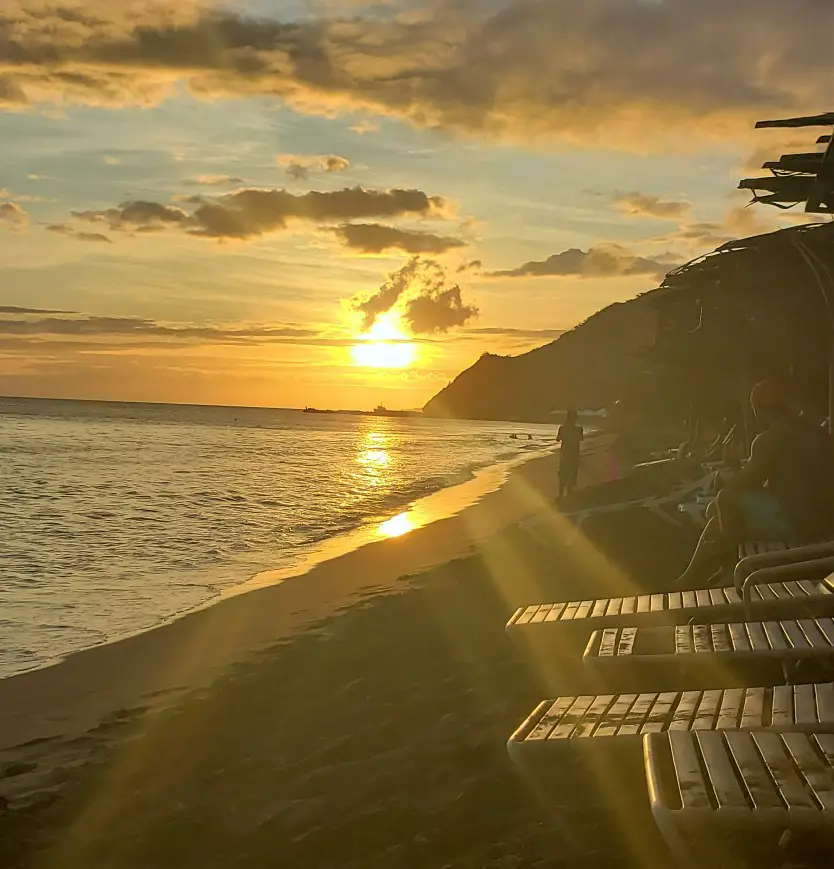 There are a lot of trees lining the beach, so plenty of shade during the hot sunny days.  When the sun goes down, this is also a great beach to relax and enjoy the sunset.
SEAGLASS BEACH
Location:  Adjacent to Ross University Veterinary School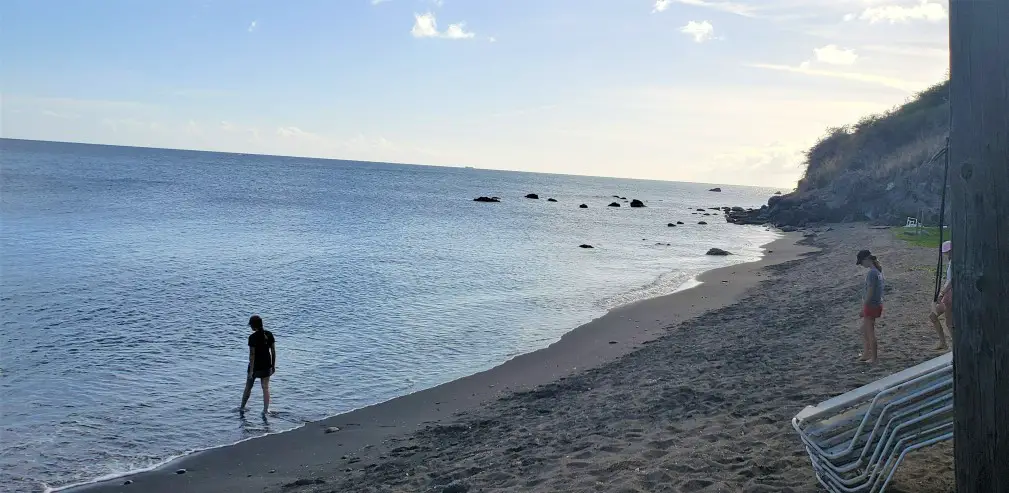 This is a hidden gem beach on St Kitts that is frequented by the Ross veterinary school students.  Since we were staying with our daughter, who was a student, she and her friends took us to their hideaway for seaglass hunting and later for a relaxing campfire on the beach.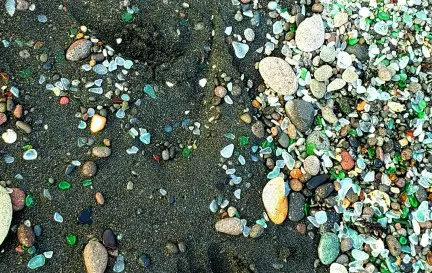 There is soooo much seaglass here it is amazing.  It piles up on the shore and mixes with the fine sand with it in a variety of shiny colors.
We were the only ones there both times we visited, well, except for a lone local who was bathing his dog.
REGGAE BEACH
Location:  South Peninsula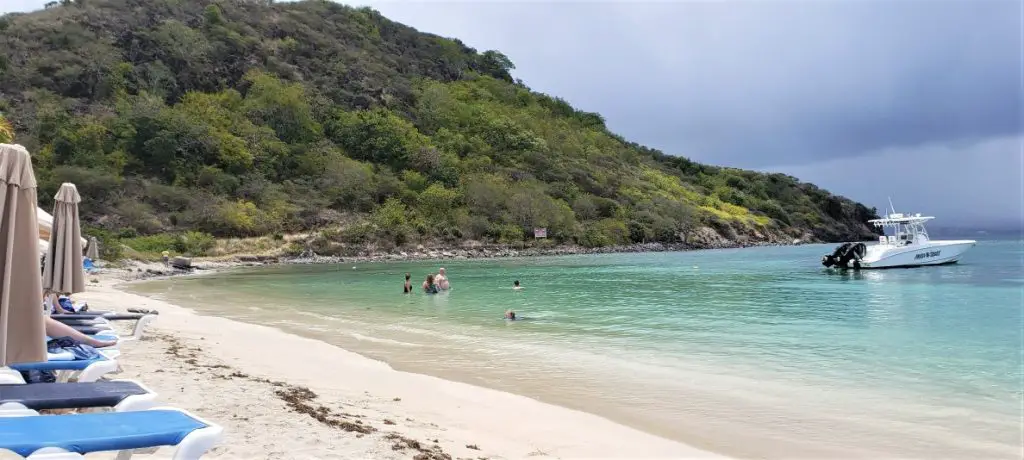 Reggae Beach is probably the most popular beach on St Kitts and we definitely spent the MOST time on this beach.  The gorgeous white sand beach has tons of beach chairs and umbrellas to relax on or even enjoy a massage in paradise. 
The crystal-clear Caribbean water is great for snorkeling.  If you didn't bring your snorkel gear, there are places to rent it.  We snorkeled around the reef for about an hour and saw a lot of sea life!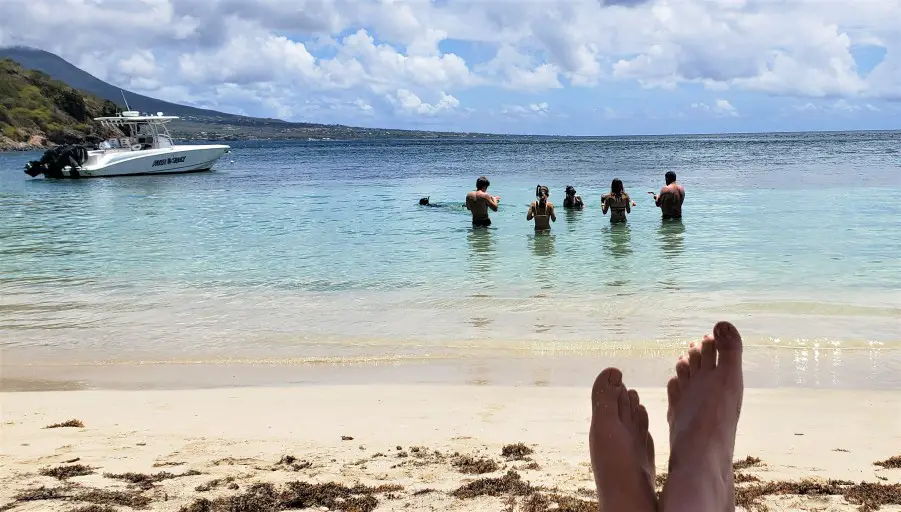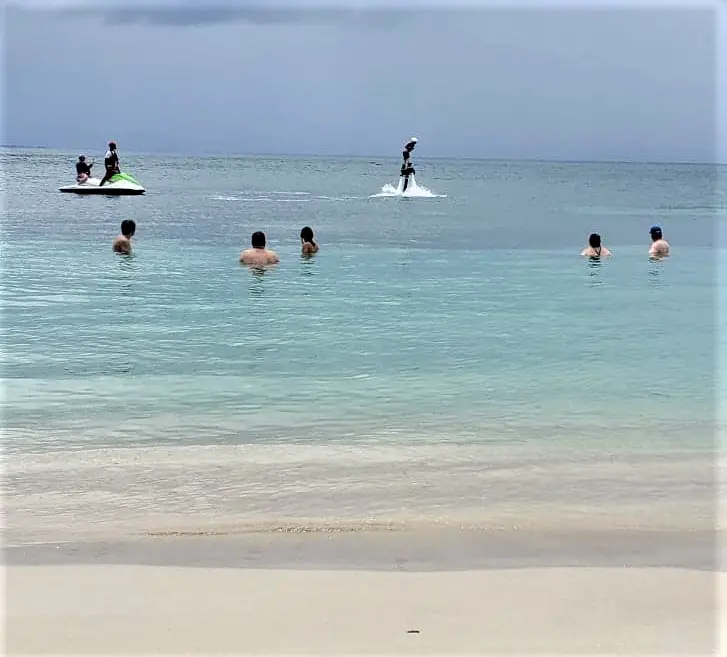 There are so many beach activities that you can try here including jet skis, flyboarding, kayaking, and standup paddle boarding.  Whether you are into adventure or just enjoying the sun, this beach will have what you want.
TURTLE BEACH
Location:  In the Turtle Beach Community, Southeast Peninsula, end of a long dirt road.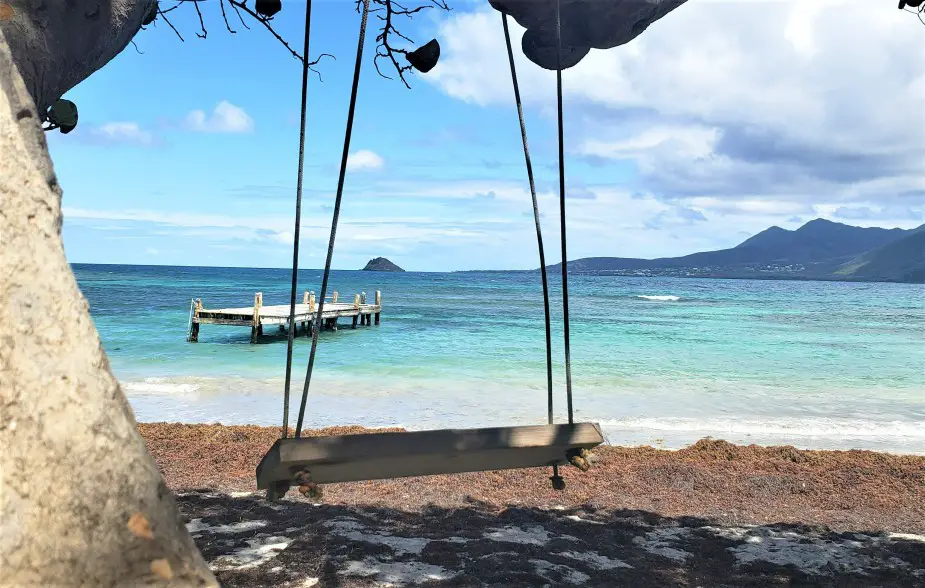 We absolutely loved this quiet beach and wished we had more time to spend here.
There are nice reefs with great snorkeling, but since this is the Atlantic side of the island, the waves can get a bit choppy.  The view here is gorgeous, making Turtle Beach a MUST-DO on your trip to Saint Kitts and earning Turtle Beach a top spot on your itinerary of beaches in St Kitts.
MAJORS BAY
Location – South Peninsula Road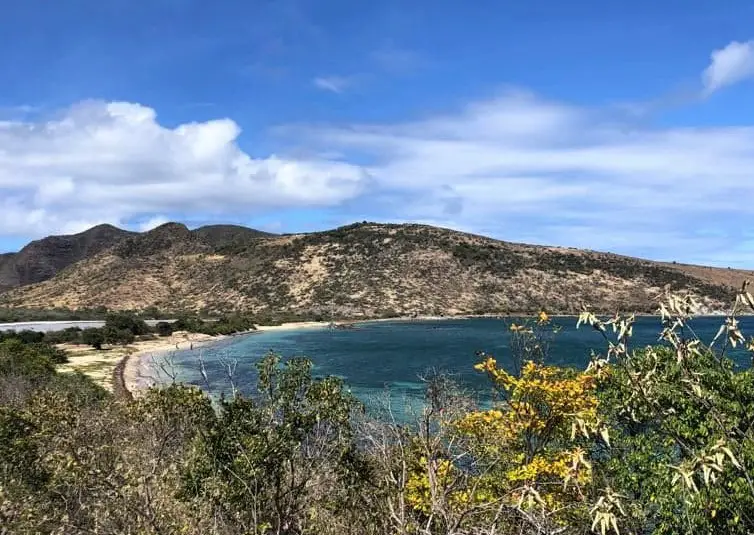 This beach is a fairly secluded island beach.  It has no facilities, no amenities, and no beach bars. It DOES have a nice shipwreck barge to explore which makes for good snorkeling on this St Kitts beach!
The car ferry to Nevis Island leaves from this location and the hike to Shipwreck Beach starts here, making it a popular starting point for a St Kitts beach itinerary!
FRIGATE BAY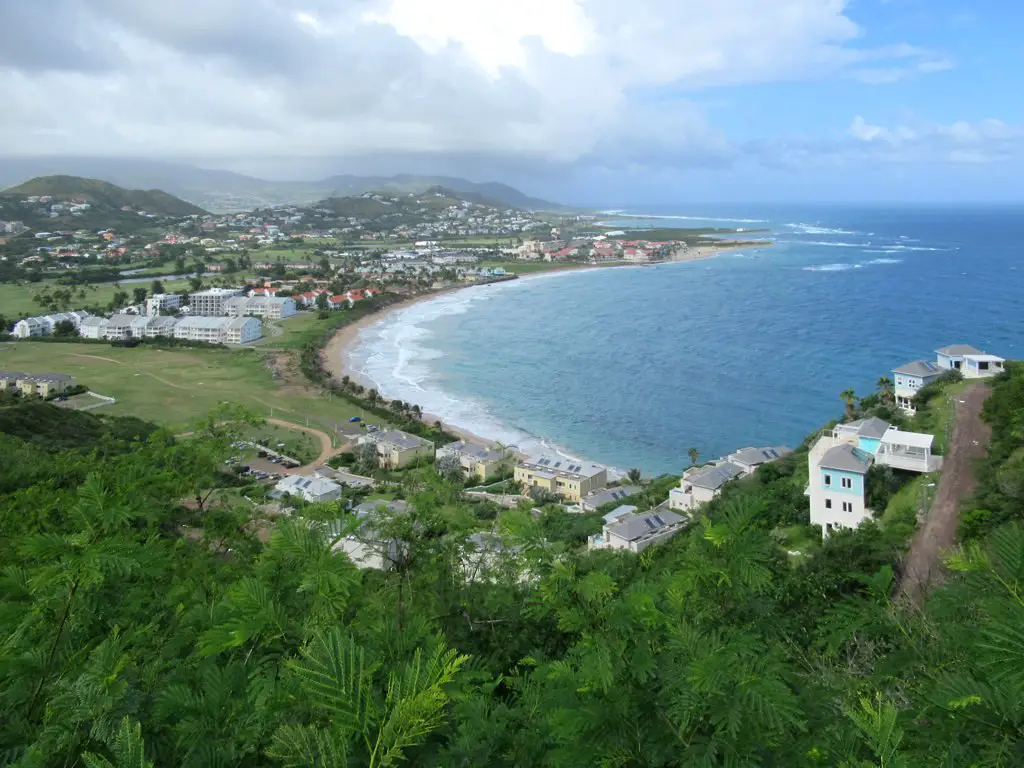 Frigate Bay is the closest beach to the cruise ship port in St Kitts.  It is only a 10-minute taxi drive (and approximately $10 USD) and a great option for a beach-day shore excursion in St Kitts.
Frigate Bay is divided into north and south sections.
Frigate Bay South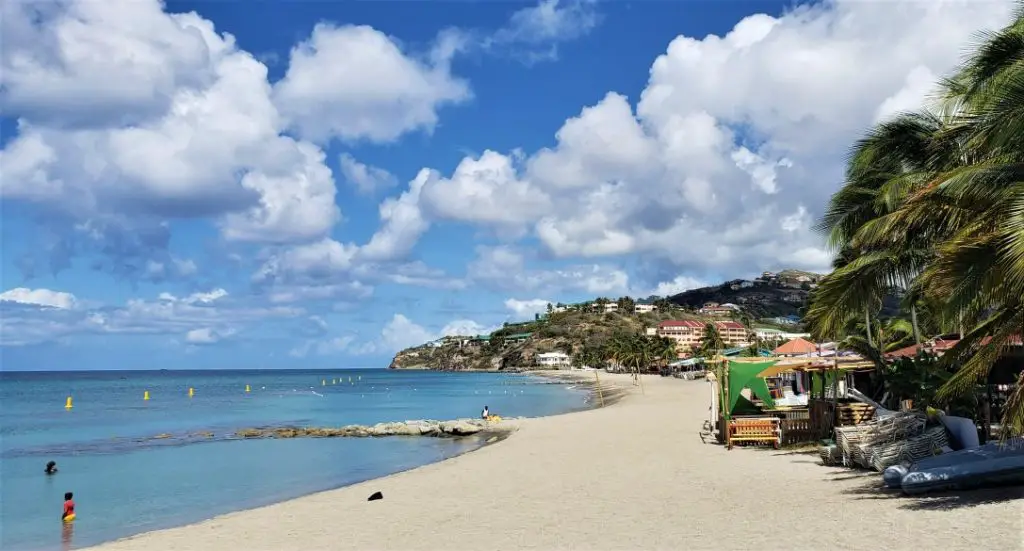 Frigate Bay South was our first stop on our tour of the beaches in St Kitts.  It seemed small and not many people were there.  It comes alive later in the day!
South Frigate Bay Beach is a quarter-mile Caribbean beach that is highlighted by the 'STRIP.'  The Strip is a plentiful row of bars and restaurants that all line the beach with a party vibe and party lights strung up all around for some of the best nightlife in St Kitts.
Timothy Beach Resort holds the prominent spot on this beach and all the rooms have beautiful sunset views of the crystal-clear water.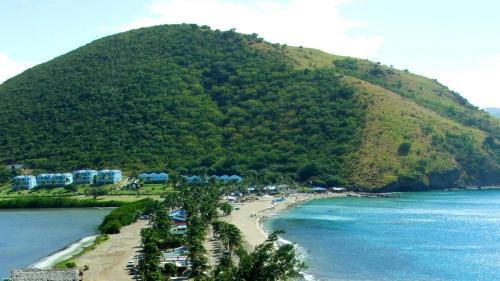 Timothy Beach Resort, Frigate Bay – Updated 2022 Prices
This beachfront hotel is located on Frigate Bay, on St Kitts and Nevis' Caribbean coast.
The beach sand is light and well-maintained at Frigate Bay. The water activities, like jet skis and kayaks, are abundant.  There are chairs and umbrellas available for rent.
The calm Caribbean water at South Frigate Bay Beach is great for snorkeling and spotting turtles.  There is a nice jetty in front of one of the hotels.  If you didn't bring your own snorkel gear as we did, it is available for a daily rental of around $10.
Frigate Bay North
North Frigate Bay is on the Atlantic side. There are rougher waves and stronger currents on these beaches.  St Kitts beaches on the north side are colder too. On a calm day it may be possible to snorkel from Frigate Bay to the rows of coral formations nearest to the shore but always use caution.
FRIARS BAY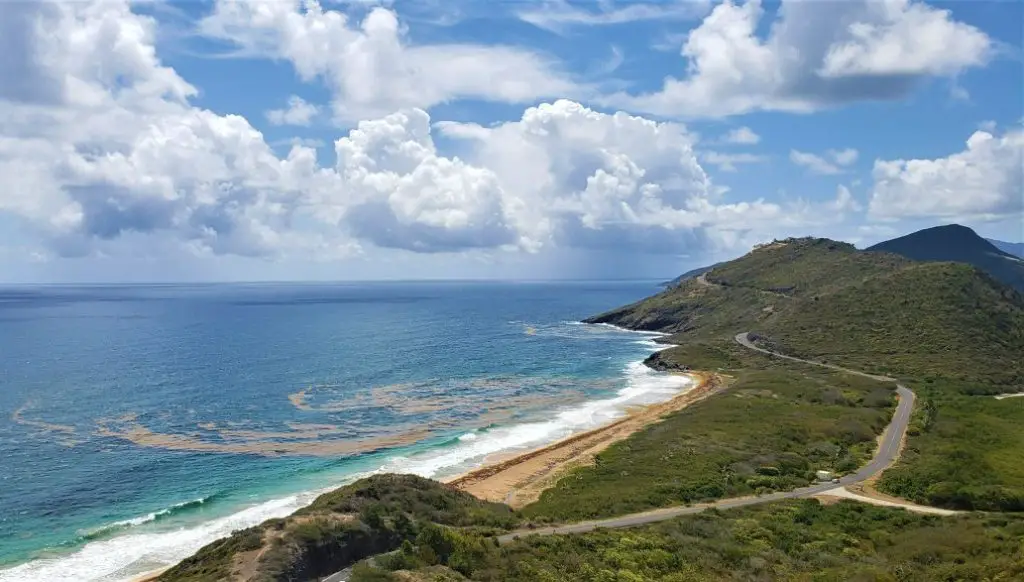 Friars Bay is very close to Basseterre, the capital city, the largest city on the island, as well as the location of the port, making Friars Bay a great shore excursion for those that cruise to St Kitts. 
There are two beach sections of Friars Bay: north and south, and they couldn't be more different from each other!
North Friars Bay
Just over Timothy Hill, the photographic outlook point, is North Friars Bay.  There are no facilities located here and the Atlantic waves and currents are strong, so swimming is not recommended. 
---
Book these other fun activities on your St Kitts Trip!
 South Friars Bay
On the south side of Timothy Hill is South Friars Bay.  This is a much friendlier beach which is great for swimming and snorkeling near the reefs that run along the shore.  There are a lot of facilities located here including some beach bars.
Conclusion of Beaches in St Kitts
So there you have the top beaches in St Kitts. Did I miss one of your favorites? In addition to having great hiking in St Kitts, even a hike up a volcano, there are other great beaches all over the island and I am sure that I missed some good ones! Which ones have you been to? Let me know in the comments.
Save this post to bookmark all these great beaches in St Kitts!