DISCLOSURE: I may link to relevant products, companies or helpful info which may be affiliate links, meaning I may earn a small commission. As an Amazon Associate & other affiliates, I earn from qualifying purchases at no extra charge to you. The views & opinions are my own. Please see the disclaimer and privacy policy.
Last Updated on April 27, 2023
St Kitts Volcano Hike Review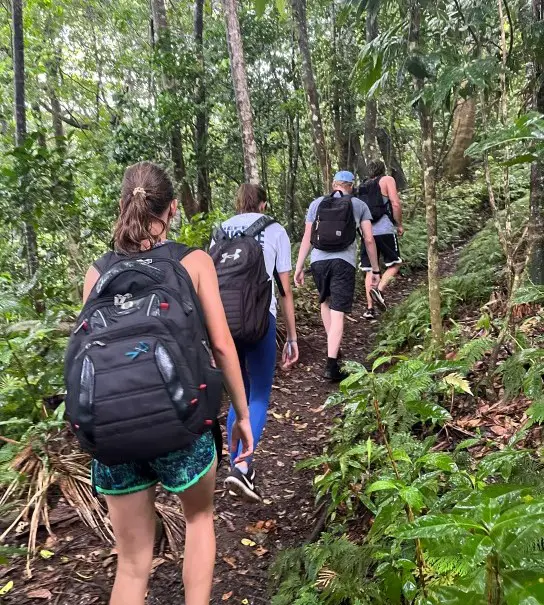 If you are looking for a challenging, long hike with beautiful rainforest scenery, the 6-hour Mt. Liamuiga volcano hike will no doubt exceed your expectations. This day trip in St Kitts in the Caribbean takes about 6 hours for a round trip!
According to your pace, hiking Mt Liamuiga volcano can be done in about 3 hours.  After you reach the top and enjoy the view, the hike back down the mountain is another 3 hours.  When I visited my twin on St. Kitts in the Caribbean, we decided to hike to the Mt Liamuiga volcano in a group trip of 8 hikers and we finished within 5 ½ hours. 
To be completely honest, this was one of the hardest hikes I've ever done – and I am a retired college athlete. It is doable for all ages, but we definitely made frequent stops to catch our breath and drink from our water bottles. My best advice is to take your time going up to rest frequently and stop to admire the 360 degrees rainforest views surrounding you.
ABOUT MT. LIAMUIGA, ST KITTS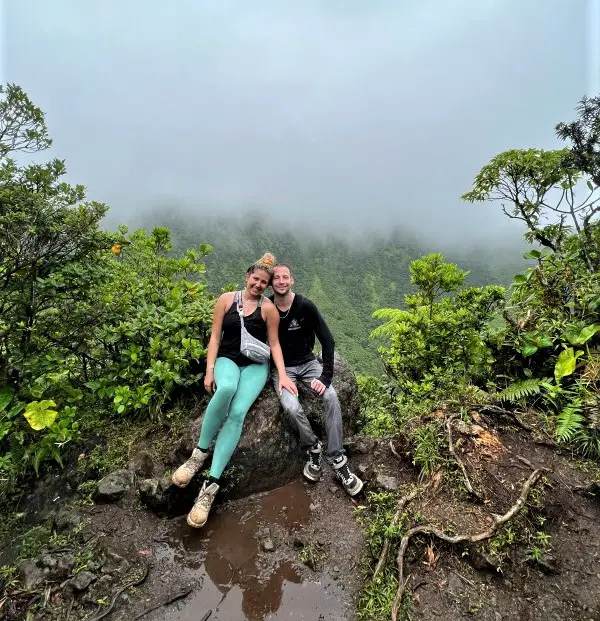 This dormant volcano reaches up to touch the sky at 3,792 feet and is covered in lush rainforest trees, tropical plants, and jungle bugs that I don't even want to think about.  It is located in the western area of St Kitts island and is sometimes called Mount Misery by the older generation since that was its first name.
The 3.8-mile one-way out-and-back trail to the summit is open all year, so you can enjoy the beauty of the hike no matter when you are visiting. At the top of Mt. Liamuiga, you will be able to see the huge crater that has formed, and even the small lake that formed in the crater.
How to take a St Kitts Volcano Tour
Take one of these fun group tours to explore the volcano and have your own hiking Mt Liamuiga experience on St Kitts!
---
Leave time in your St Kitts itinerary for more fun activities in St Kitts!
The island is not only full of beautiful St Kitts beaches but has many excellent St Kitts hiking trails too! Try them all and let me know if you like them as much as I did!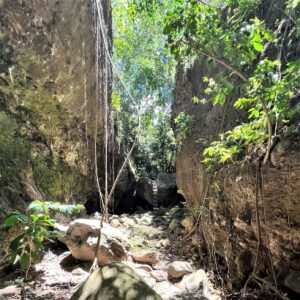 Best Trails for Hiking in St Kitts and Nevis Islands
There are a lot of natural trails & hiking in St Kitts. We took a trip to St Kitts and decided that this little island has some of the best hiking in the Caribbean based on our experience with these fun hikes!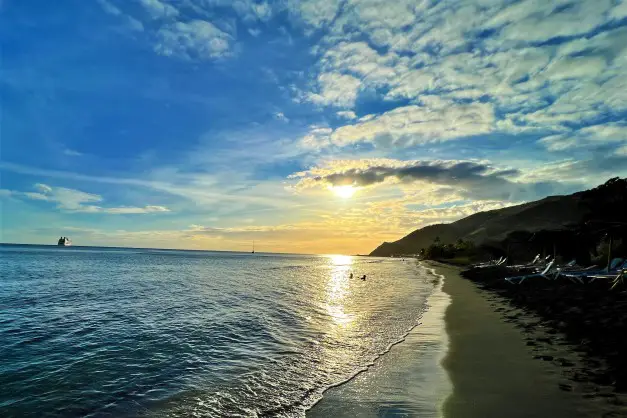 Best Beaches in St Kitts in the Caribbean
St Kitts Island is a small island in the Caribbean & the beautiful beaches in St Kitts are always just a short drive away. Find out the best beach in St Kitts!
WHAT TO BRING FOR THE HIKE TO MT LIAMUIGA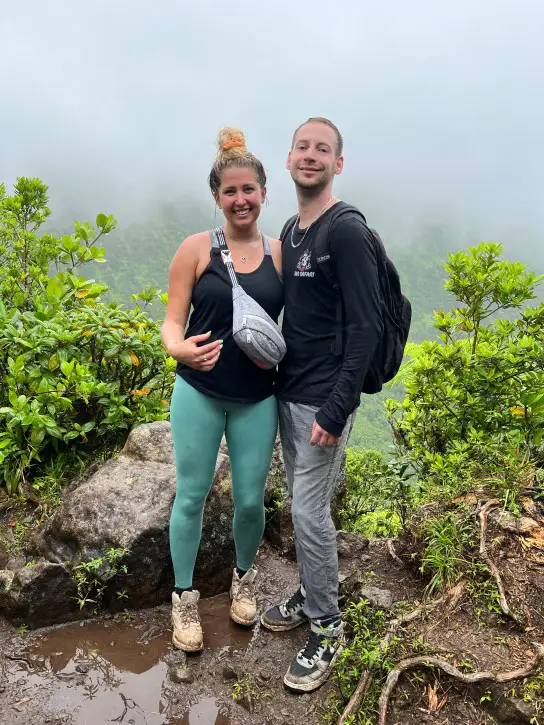 Preparing for the Mt Liamuiga hike
A few people in my group had already hiked Mt. Liamuiga so we had a good idea of what we needed to bring.
The MOST important item to bring is water! Everyone in our group filled up their water bottles and packed a bunch of extras. 
Some hikers had just a fanny pack, including myself, while others packed a backpack. If you can, I would suggest a backpack for at least a few people in your group so that you can pack snacks and lots of water in it. I attached my water bottle to my fanny pack and kept my phone in it so I could have easy access to take photos of the amazing views up and down the mountain. I was also able to keep some granola bars for energy in my fanny pack.
We all packed a small lunch to eat once we reached the top of Mt. Liamuiga. We made a couple of ham and turkey sandwiches to bring. My boyfriend kept our packed lunches in his backpack along with extra water bottles. 
PRO TIP:  A good idea to keep your water bottle cold is to freeze the water bottles overnight and in the morning pack them frozen.  The water will gradually melt along your hike so you will have ice-cold water for the entire hike!  —AND it will feel cold and refreshing on your back while you carry it in your backpack!
WHAT TO WEAR FOR HIKING MT LIAMUIGA VOLCANO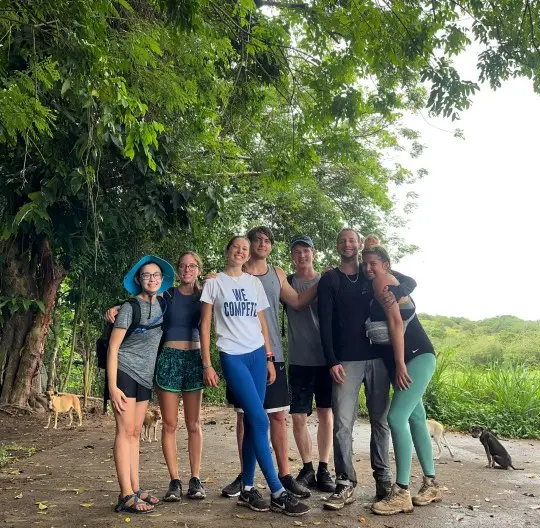 The temperature on St. Kitts is always high and often rainy.  After all, it IS A RAINFOREST!  We were expecting hot and humid conditions for our volcano hike. 
It would be a good idea to get a pair of hiking boots for difficult terrain. Prepare for a rocky and slippery hike, so get some good hiking boots to aid in keeping you on your feet and on the trail!
I would suggest wearing hiking pants, leggings, or any type of pants that cover your legs because you need to kneel on rocks and crawl over fallen trees. Some of the other girls in our group wore athletic shorts and they were just fine, but got a little dirtier. I wore a tank top and most of our group wore either a tank top or short sleeve shirt. 
Even though it was raining for the majority of our hike, we did not bring a raincoat or umbrella because the rain actually felt good and cooled us down. 
I personally would not recommend a hat because you won't have to worry about the sun shining in your face. The trees keep you in a shaded area during the entire hike.
PACKING LIST FOR MT LIAMUIGA VOLCANO HIKE
Good Hiking Shoes
Water bottle 
EXTRA water
Fanny pack or backpack 
Lunch 
Snacks (granola bars) 
Small first aid kit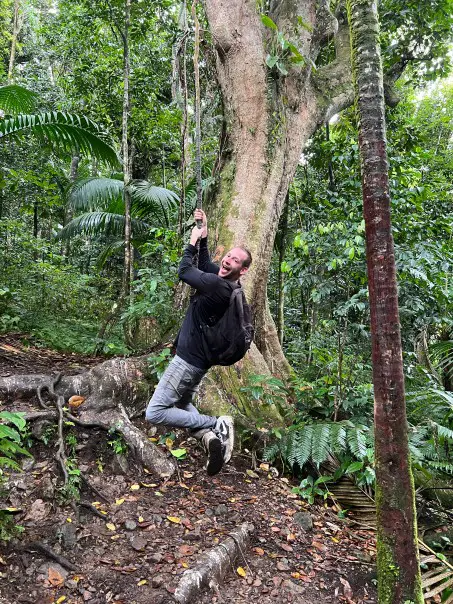 THE ST KITTS VOLCANO HIKE BEGINS!
Hiking up Mt Liamuiga Volcano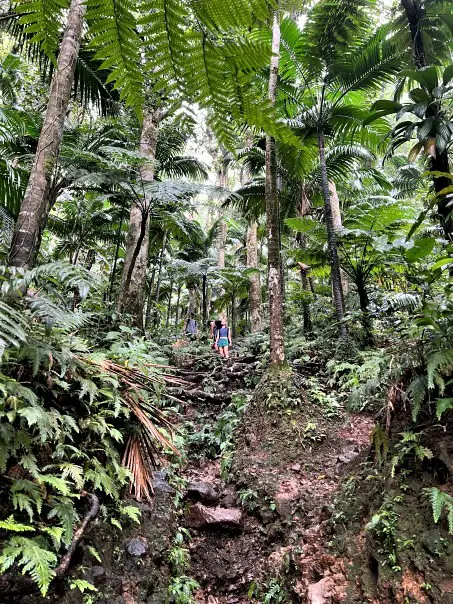 As a group, we decided to wake up early and get to Mt. Liamuiga decently early so that we could beat the heat of the afternoon sun. Most of the hike up would be in the shade covered by the huge rainforest trees - but we knew it would still be hot and humid.
We were very thankful that it rained almost the entire hike up the volcano because it cooled us down! 
The beginning of this hike truly tested my endurance because we hiked only around 30 minutes and I was already wondering to myself, "how much longer?" 
Five minutes of hiking up the steep incline and walking over tree roots and rocks felt like an hour of hiking. This was no easy casual walk up the mountain either. We were climbing up rocks, stepping through hundreds of tree roots, crawling under fallen trees, and hiking through valleys.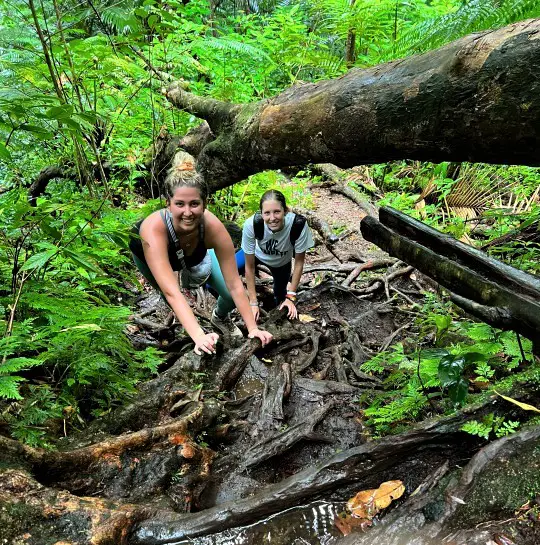 We had to stop multiple times to catch our breath and drink water. Every break, we got to take in the stunning scenery filled with interesting plants and unique trees. We saw some cool yellow mushrooms which looked very exotic in the green forest!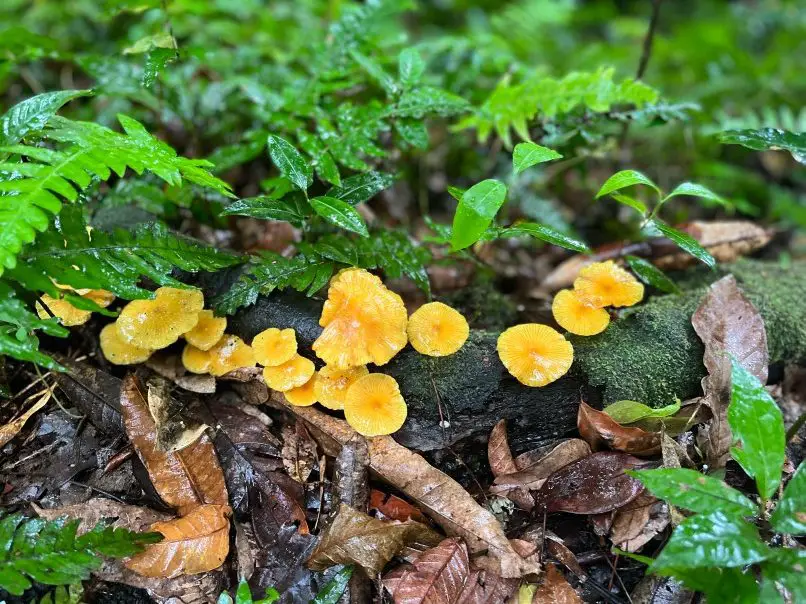 We made sure to pinpoint certain spots that we stopped at so we wouldn't get lost on the hike back down the volcano. Since it was raining on and off the entire way up, it made the path more slippery and each of us fell at least one time! (Don't worry, nobody got hurt!) 
Since the hike is so steep, slippery, and difficult, the path offers ropes in certain places to help you along the way. Near the top, you have to climb up multiple large and slippery rocks to get to the finish line.
Once you see big boulders - you're almost there!
At the top of the St Kitts Volcano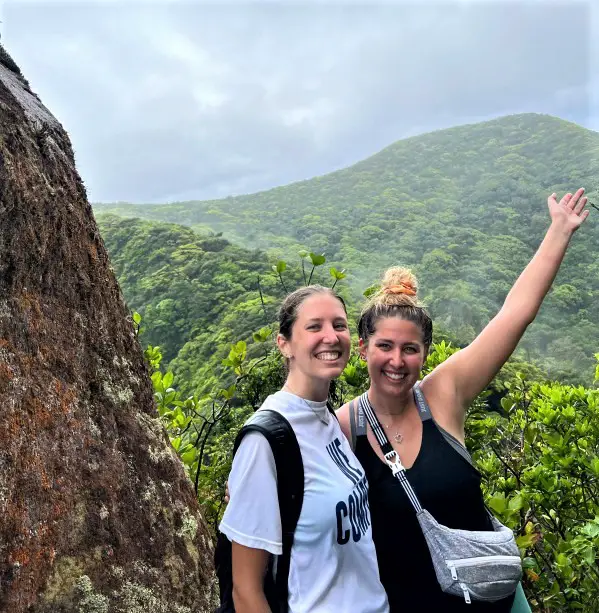 The views from the top of Mt. Liamuiga took our breath away once we reached the peak. We had 360-degree views of the entire island of St. Kitts and we could even see the neighboring island of Nevis. 
The beautiful surrounding made this rigorous hike TOTALLY worth it. We sat on the boulders at the top of the volcano and looked out at the crater while eating our packed lunches. Of course, you can't reach the top of the volcano without having a photo shoot to prove you made it all the way up, so save some time for plenty of pics!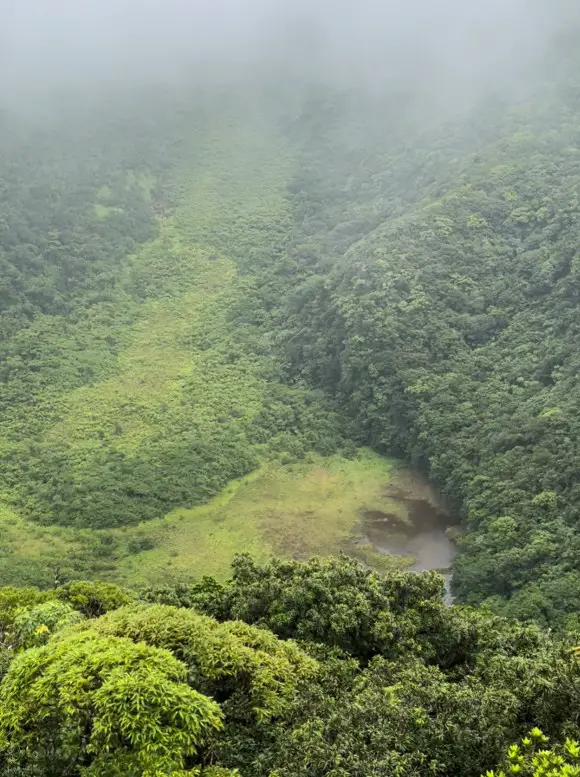 The crater at the top of the Mt. Liamuiga volcano actually formed a lake in the middle of the crater over the years. We thought that was really cool and there is actually more to the hike where you can walk all the way down to the center of the crater and towards the lake. As a group, we decided not to do the extension of the hike, and instead, we started back down the volcano.
Hiking Down Mt Liamuiga Volcano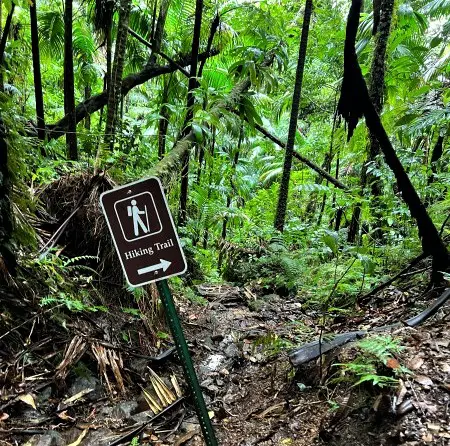 The hike down was physically the most strenuous on our muscles because it was a slippery downward steep slope. The ropes helped us not fall as much on the way down, but still, a couple of us landed on the ground quite a few times. 
The hike down the volcano requires more jumping down from rocks and using our leg strength to keep us from falling forward down the mountain. We did go the wrong way once - but we realized within a few minutes that none of us recognized the path we were on, so we turned around and found the trees with the arrows again and continued on our way down. They also have a few "hiking trail" signs along the path. 
THE END OF OUR ST KITTS VOLCANO HIKE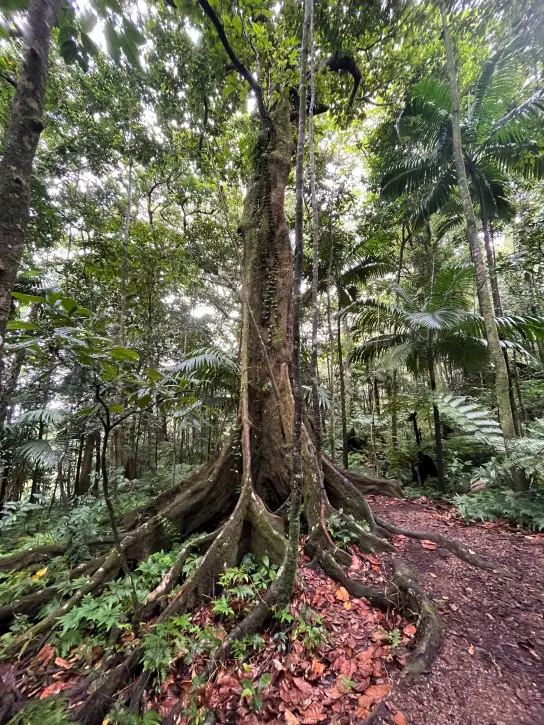 We finally reached the end of the Mt Liamuiga Volcano hike and we were back to our cars - sore and exhausted but mentally PROUD! We finished hiking Mt Luamuiga volcano in 5 ½ hours. 
My biggest advice is to bring all the extra water that you can carry. We had at least 3 extra water bottles and we finished them all throughout the hike.
I would also suggest taking a before and after picture because, for us, we were a lot more muddy, wet, and tired after the hike and this would have been fun to compare to our BEFORE photos! 
You will be sore after hiking up and down Mt. Liamuiga, but it is 100% worth it once you see the views from the top and the beautiful rainforest scenery surrounding you the entire hike.
Save this post for details for your own St Kitts Volcano Hike!