DISCLOSURE: I may link to relevant products, companies or helpful info which may be affiliate links, meaning I may earn a small commission. As an Amazon Associate & other affiliates, I earn from qualifying purchases at no extra charge to you. The views & opinions are my own. Please see the disclaimer and privacy policy.
Last Updated on August 21, 2023
10 Paris Attractions in 2 Days: a DIY Walking Tour of Paris
Paris is both the City of Lights and the City of Love! 
It is the City of Lights because of its leading role during the Age of Enlightenment as well as literally being one of the first European cities to install gas city street lights in 1820 and the first electric streetlight in 1878.  It is quite fitting in this day and age because of its sparkling boulevards and bridges.
It is the City of Love due to its beautiful parks and architecture, including the romanticized Eiffel Tower, its popularity as a honeymoon destination, the romantic language that makes foreigners swoon, its reputation for fine wine and cuisine, and then, of course, Hollywood has made many a film in which the passionate city of Paris has wooed the audience.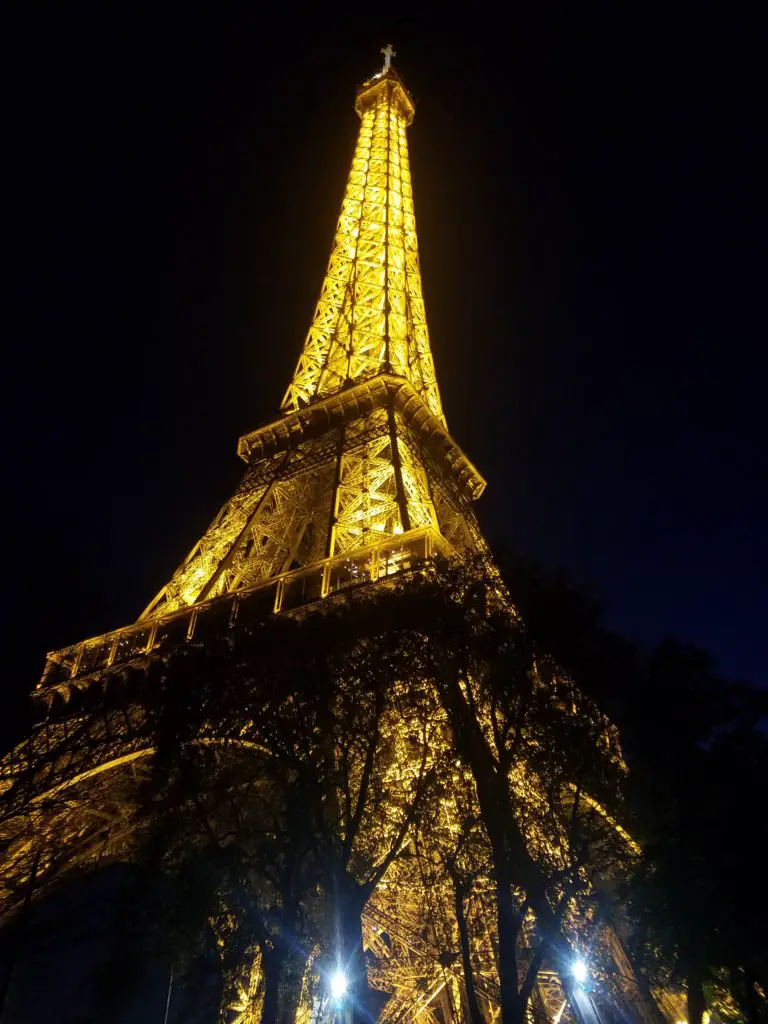 The Bucket-list trip to Paris: a short, but efficient 2 day itinerary for Paris
We spent our 25th-anniversary celebration in the beautiful city of Paris in November 2018.  Hubby also wanted to take me to Disneyland Paris, since I am a self-dubbed Disney-lover. 
Since I have limited vacation time overall, we had limited time to cross off all the Bucket List items in Paris!  Pre-planning our walking routes was key –as was a few rides on the metro.  I learned to read the maps well and we managed to never get on the wrong train. YAY! (While walking, on the other hand, we did manage to get lost at least once!)  
We made sure we spent quality time at the sites we were interested in and moved quickly through those that were less exciting. Time management was well done.
Yes, we did not see everything that this magnificent city has to offer, but we made good use of the short time that we had available to see the top sites. If you are short on time, there are a few sites that you can skip as well as a few other things that you should not do when in Paris, including mistakes made by first-timers. Make sure to hit all the iconic best views in Paris to capture its beauty.
Plan well and plan in advance and you can get it all done without rushing around.
Day 1 Walking Tour of Paris Attractions – Part 1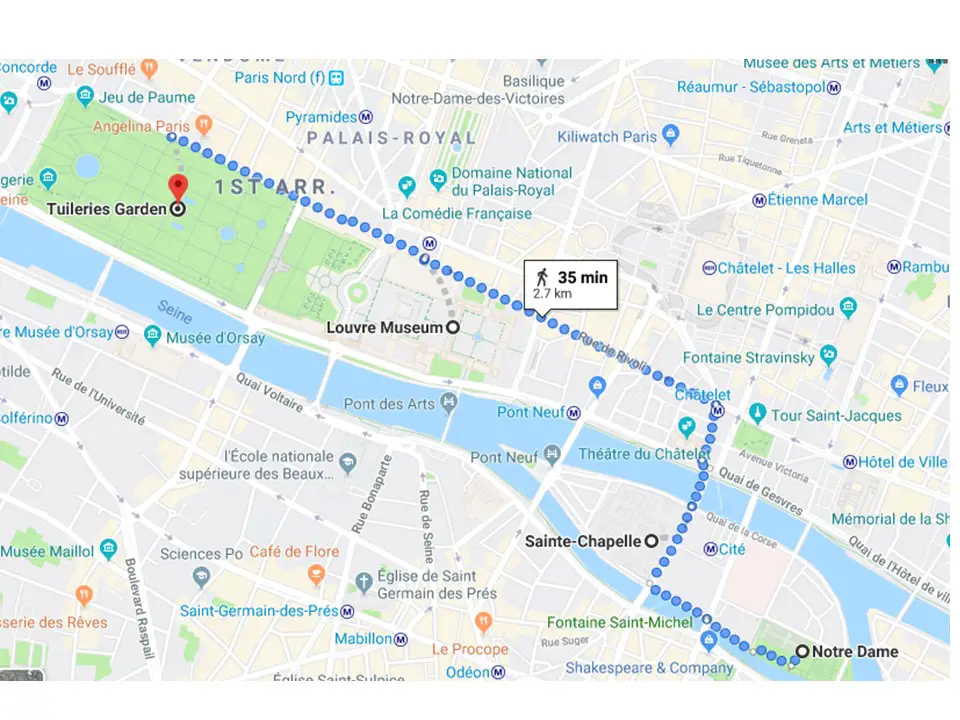 1. Notre-Dame de Paris
We started our walking tour of Paris in the morning at the Notre Dame Cathedral.  Unfortunately, future tours will be shorter than ours since it is now under major renovation due to the recent fire.  We arrived at the cathedral around 9am and the crowds were sparse.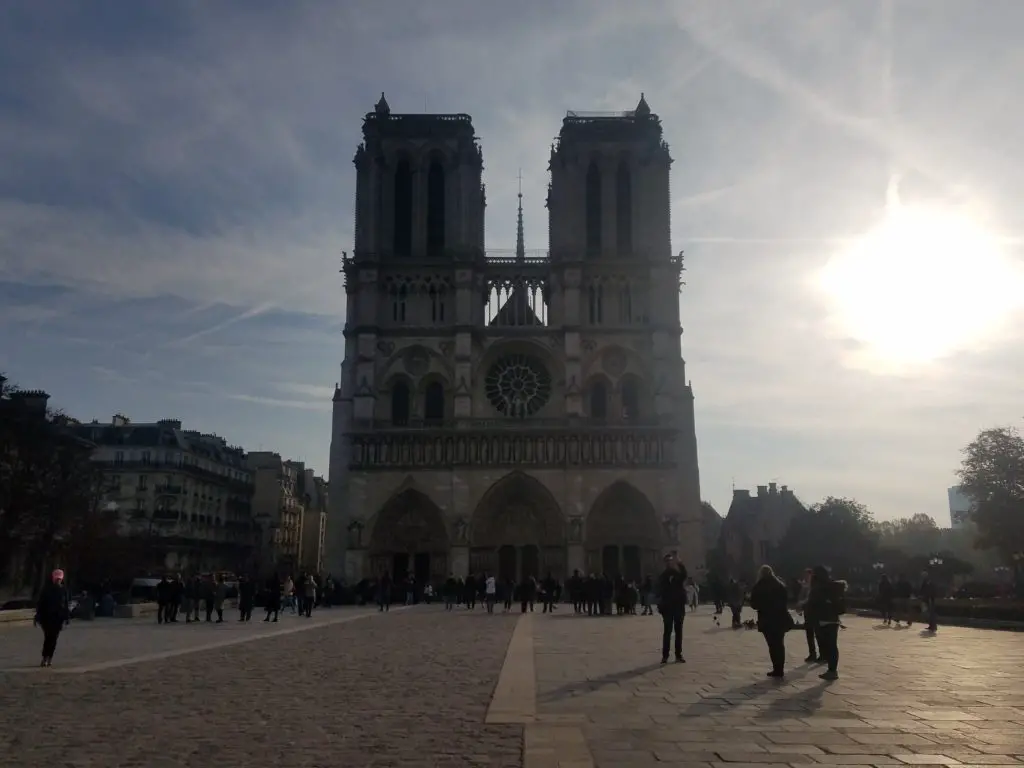 We took our time and toured all around it, inside and out and up into the bell tower while the chimes were ringing. We couldn't have planned it any better since we were up in the tower for 5 minutes and then it was time for the bells to ring! They were so loud and it lasted a really long time! They were chiming almost the whole time we were up in the tower.
2. Saint Chapelle & Conciegerie:
Saint Chapelle was a short walk away and is breathtaking with all the stained glass windows.  It is a Gothic gem that was built to house Christian artifacts like Christ's crown of thorns.  The Conciergerie, located adjacent to the chapel, is the oldest remaining part of the Palais de la Cite, the royal residence of the kings of France and the prison where Marie-Antoinette was held during the French revolution.
3. The Seine River
Crossing a bridge across the Seine, we shopped at the bouquinistes while we strolled along the river.  What are bouquinistes, you ask?  They are old-time vendors on the bank of the Seine that rent little green huts to sell used and antique books, postcards, and art, as well as an occasional Paris souvenir. This is where I bought a cute little glass snow globe for 10 euros.
Interested in a River Cruise? There are many options for River Cruise Itineraries. Check these out if you have extra time to spend in this beautiful city.
We arrived at the Tuileries in time for a picnic lunch in the Gardens so we put our DIY walking tour of Paris on pause.  The Tuileries is a picturesque park with huge open spaces and tons of places to relax.  We found a wonderful Happy Caffe creperie and picnicked in the gardens.
Learning about French food culture was a big part of our vacation and ordering a crepe from a French creperie was lesson one!
Angelina's for hot chocolate was a treasure that we somehow forgot about because we were so full from our crepes!!
4. Louvre
The Louvre is a huge art museum that takes days to tour.  Even though it was a free admission day, we did not go inside.  Just seeing the architecture on the outside of the massive building was overwhelming and satisfied our desire to 'see' the Louvre.  We didn't really have the desire to battle the crowds to see Miss Mona Lisa.
Do you have more time to tour Paris? How about a Day trip to the Palace of Versailles? Get 10% Off Here!
If you have more vacation time, you can also try these 13 day-trips from Paris.
Day 1 Walking Tour of Paris Attractions – Part 2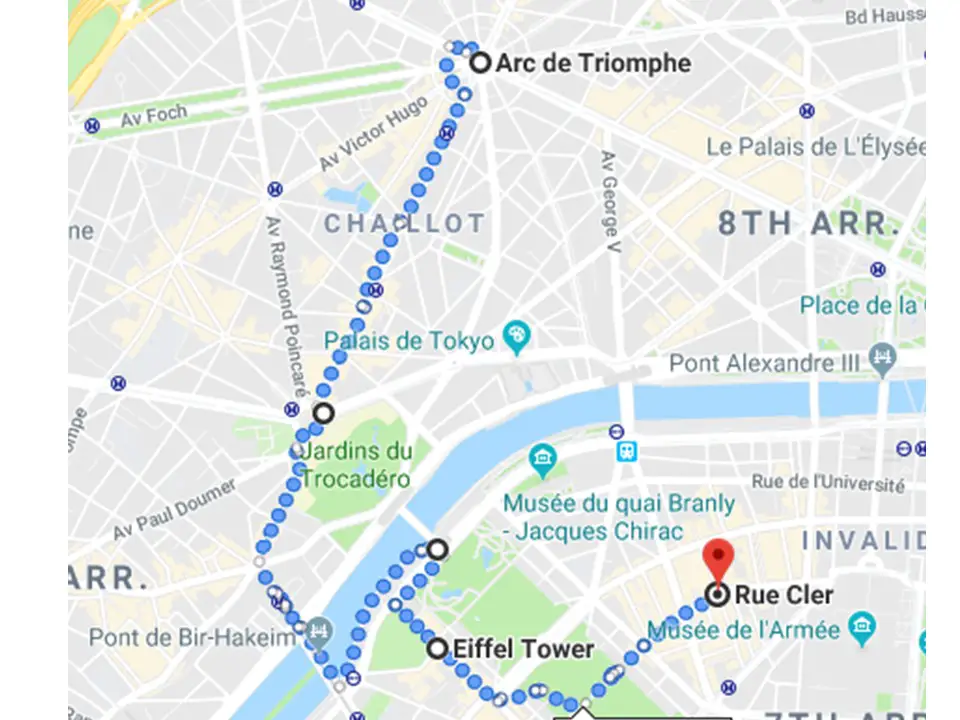 5. Arc de Triomph
Our evening walking tour began at the Arc de Triomph.  They were preparing for the commemoration ceremony for Armistice Day, 100 years after the end of the First World War to be held at the 11th hour of the 11th day of the 11th month so there was a lot of activity and fencing around the Arc.  We walked around it and marveled at its size and details.
A casual walk out from the Arc led us down the Champs Elysees.  This massive avenue was crowded with name-brand stores and chic boutiques.  It was closed to traffic the day we were there, so we had fun walking down the middle of the street.
Make sure you stop at Maison Ladruée for some macarons, a bakery shop and restaurant that is famous for its pastries. A trip to France wouldn't be complete without trying these delicious French treats! MAP to Maison Ladruée.
6. Eiffel Tower
We strolled only a little bit down the avenue because we had another Bucket List attraction to see. The deadline was approaching for our timed tickets to see the Eiffel Tower at sunset.  On our way there, we stopped at all of the best photo locations to shoot the Eiffel Tower.  Definite Musts!  These pictures are post-card perfect.  Finally, our timed tickets up the tower allowed us pictures during daylight, during sunset, and in the evening!  Perfect!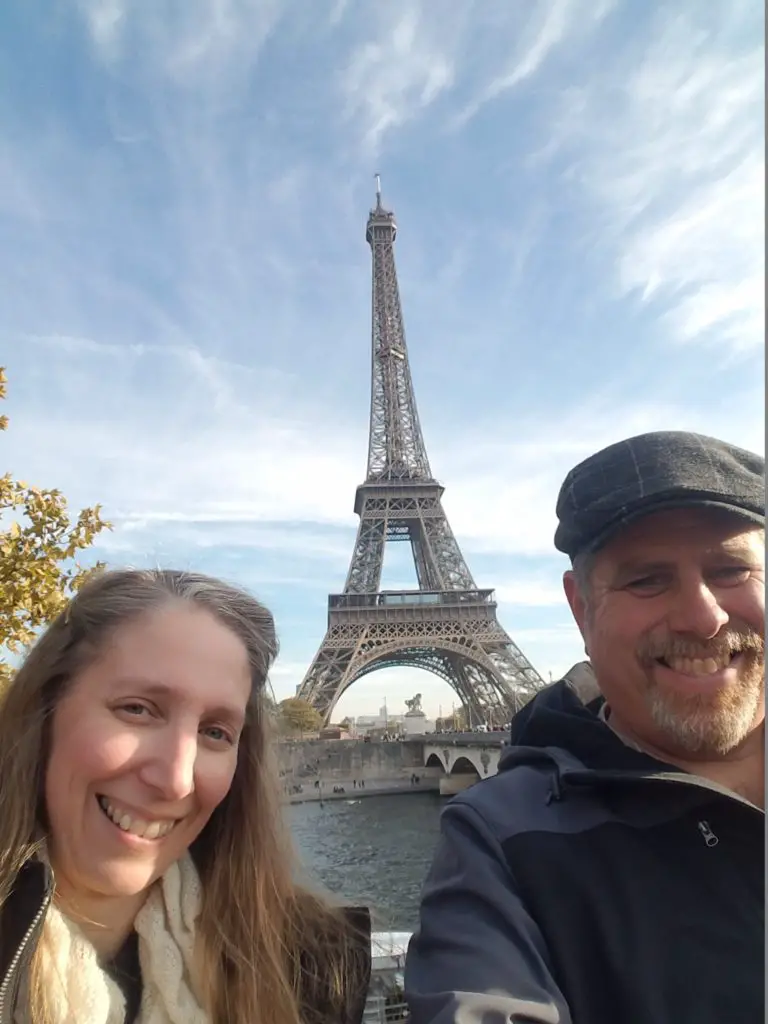 We ended our night on Rue Cler shopping at the markets and dining at Le Petit Cler.  Day one was very successful and we checked off numerous attractions.
If you can't make it to see the sunset at the Eiffel Tower, there are beautiful sunset photography spots throughout Paris. Make sure to try out a different one on each of your 2 days in Paris!
For ideas about celebrating a milestone birthday in Paris see my post about great milestone birthday trip ideas!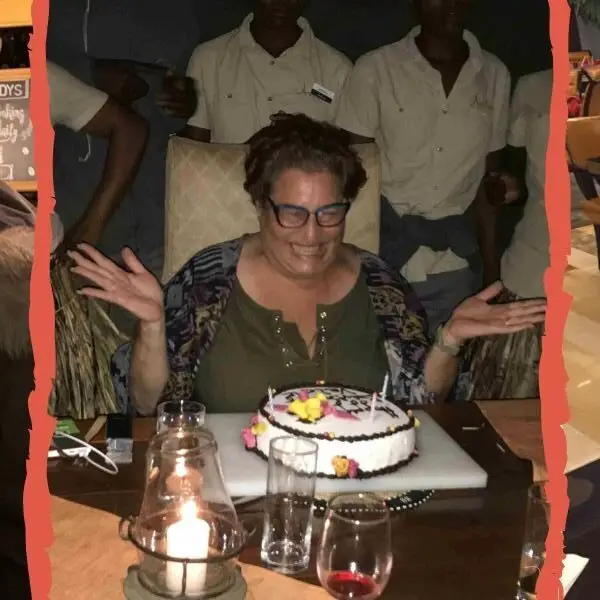 Fun 50th birthday trip ideas and inspiring stories
Here is an Ultimate List of 50th Birthday Trip Ideas as recommended by travel content creators. Read the stories of their own 50th birthday trips, see their inspiring pictures, and watch their amazing birthday trip videos.
Where to stay in Paris after you do a lot of walking on your tour:
Paris is expensive and accommodations are no exception. A good way to save a few bucks is to book an Airbnb. These are rooms, houses, or other miscellaneous accommodations that are rented at a discounted rate. The list of Airbnb possibilities is endless, so take a look at these 9 BEST AIRBNB CHOICES IN PARIS FOR COUPLES. There are Luxury, as well as Economy choices to suit your every need.
If AirBNB is not your thing, there are many good choices for the Best Hotels in Paris.
Day 2 Walking Tour of Paris Attractions- Part 1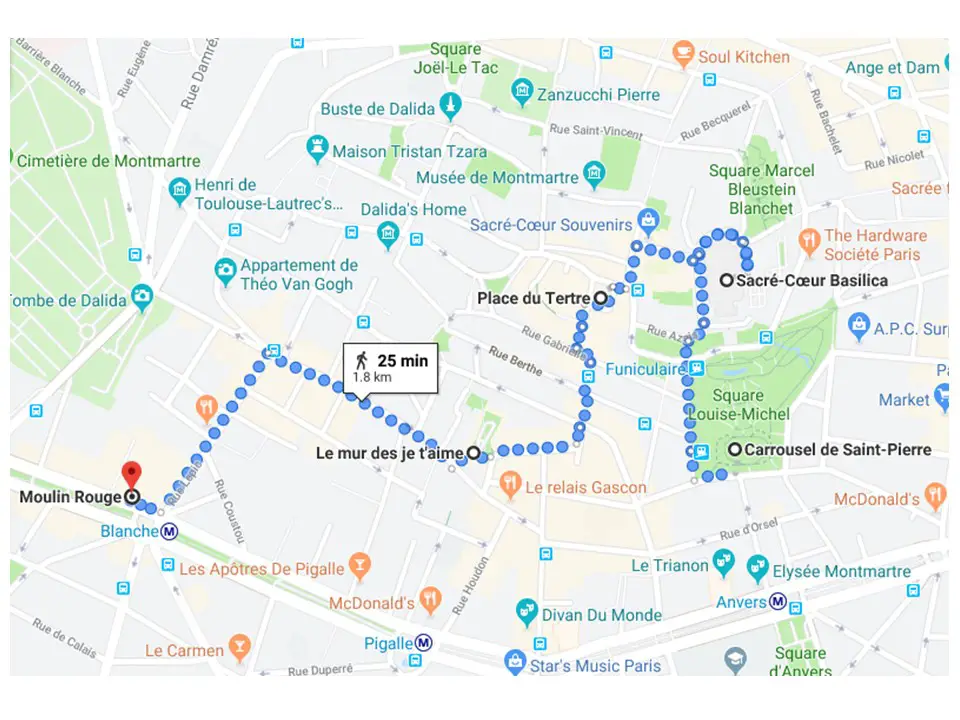 7. Sacre Coeur & Montmartre
Our second day on our self-guided walking tour of Paris took us to the artistic district of Montmartre.   We started at the bottom of the hill of Montmartre and climbed up a million stairs for one of the best views in Paris – complete with the Eiffel Tower.  We took a walking tour of the beautiful Sacre Coeur church and then proceeded to the Place du Tertre where the local artists of today gather to display their latest masterpiece.  Many famous artists of the past lived and worked in Montmartre at one point in their lives, including Van Gogh, Picasso, and Degas.
After a lovely walk around the Montmartre streets, we ended up at the Je t'aime wall, where I LOVE YOU is displayed in every language.  Of course, we took some romantic pics in front of this wall.   A quick picture of the Moulin Rouge and we were on our way via metro to our next area for part 2 of our walking tour.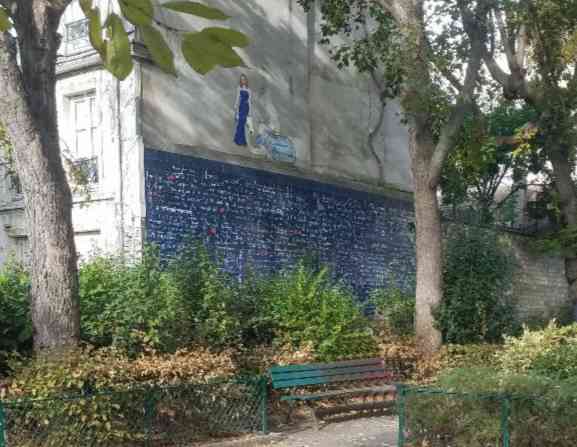 ---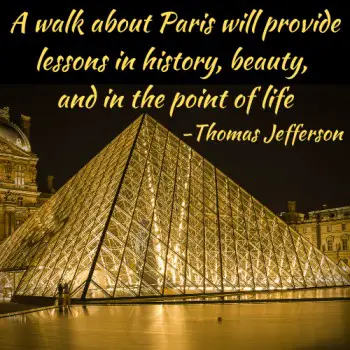 Paris is loved by many famous travelers and historians. There are many Paris quotes showing their love of the City of Lights!
Day 2 Walking Tour of Paris Attractions- Part 2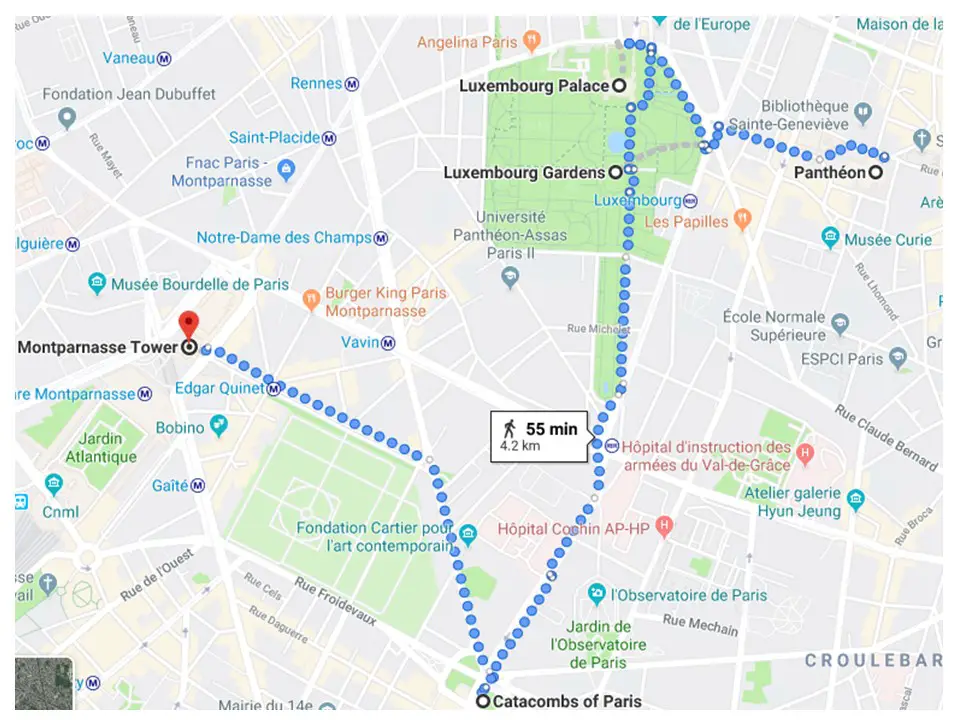 8. Pantheon
We soon arrived in the Latin Quarter district of Paris.  We were in awe at the size of the Pantheon.  Is it just a mausoleum?  It is so huge!  It was first built as a church, modeled after the Pantheon in Rome, but now houses graves and crypts for the most famous French citizens buried in Paris, like Voltaire, Victor Hugo, Emile Zola, Louis Braille, and Marie Curie
9. Luxembourg Gardens and Palace
We continued our walk and it led us to Luxembourg Gardens where we had our afternoon siesta.  Our feet sure were tired from all the walking.  I can't imagine how beautiful these gardens are in the summer when everything is in bloom.  Miles more, we walked around the huge palace and then on to the Montparnasse district.
10. Paris Catacombs
The Paris catacombs were on hubby's Must-See in Paris list. 
What are the catacombs of Paris?
The 17th-century city's solution to major overcrowding of the Paris gravesites was to move the millions of corpses to 200 miles of tunnels already existing beneath the City of Lights.  We walked and walked and could not help but feel somber in this underground tomb, wandering through walkways lined from floor to ceiling with skulls and femurs. We had planned to end the evening with a ride up the Montparnasse Tower to watch the twinkling lights on the Eiffel Tower to end our time in the City of Love, but we were exhausted from our miles of walking and decided to call it a night. 
We accomplished all that we had dreamed of in this beautiful city in only two short days.  We had many memories from our 2 day Itinerary in Paris and even more pictures than we could have hoped for.  It was romantic, magical, educational and beautiful all at once. We missed a lot of sites, but perhaps we will be able to return one day.
Must-See sites to add to your itinerary! Enjoy the video!
A Paris 2 day Itinerary is very difficult, but also very possible with advance planning.
What are your favorites that we were not able to fit into our itinerary? Post them in the comments.
https://www.facebook.com/moyermemoirs/videos/2462159784071098/
If you can't travel to the City of Love but still want to experience France, you can virtually travel from home while in your own kitchen with this delicious French Truffle Pasta Riso Recipe. Turn up the French music, pour yourself a glass of wine, break out some baguettes, and get ready for some great cuisine.
Click HERE for a 10% discount on HOP ON HOP OFF Bus Tour!!
PIN IT for later