DISCLOSURE: I may link to relevant products, companies or helpful info which may be affiliate links, meaning I may earn a small commission. As an Amazon Associate & other affiliates, I earn from qualifying purchases at no extra charge to you. The views & opinions are my own. Please see the disclaimer and privacy policy.
Last Updated on February 6, 2022
The main differences between a llama and an alpaca are the size, the ears, and the fur. We saw llamas and alpacas all throughout Peru. We went to visit an animal sanctuary in Peru that taught us the differences between llamas and alpacas. We also crossed off a bucket list item of feeding these cute animals.
The most adorable LLAMA gifts!!!!!
Happy llama, sad llama totally rad llama.  We saw them all and lots of them.  Our trip through Peru was full of all types of llamas: big and small, white and black, free-roaming grass mowers and people-owned picture props. 
Meet the Llamas
Llamas and alpacas are both members of the camel family.  We were introduced to the llama at the Ccochahuasi Animal Sanctuary near Cusco. The sanctuary is a short drive from the Cusco airport and is a common tourist stop on the route to Pisac or Ollantaytambo in Peru.  It costs a total of 15 soles each to enter or $3 USD which includes a tour of the reserve and an introductory lesson on the differences between llamas and alpacas. 
However, what I was even MORE interested in on our first day in South America was my first opportunity to feed the llamas!  As I said, we encountered many of these 4-legged camelids later on our trip but at this sanctuary, they were rescued and rehabilitated animals that were acclimated to humans and were always hungry.  We took bunches of piles of greenery and they eagerly grabbed it while we were snapping their photos.
South American Camelids

The differences between llamas and alpacas are simple if you know what to look for.  They are outlined in many places online.  Also, we drove 2 minutes from the animal sanctuary and stopped at the Awana Kancha Interpretation Center, which has a nice chart for visitors to note. 
Characteristics of a Llama vs Alpacas
Llamas have banana-shaped ears and a long face while alpacas have a hairier smushed-in fuzzy face with ears that are straighter and smaller. 
Overall llamas weigh in at up to 400 pounds and are used more as pack-carrying animals on long-haul overland trips since they can carry heavy loads. Their shorter cousin alpacas usually don't even make it to 200 pounds and are quite skittish.  For this reason, sometimes llamas are used as guard animals for their alpaca herd-mates. 
The final noticeable difference is in the fur.  Alpaca's single coat hair is the clear winner here for wool since it is much softer than the llama's double-layered coats.
Buying an alpaca or llama sweater
When purchasing wool blankets and sweaters, the preferred choice is definitely alpaca, and the higher priced baby alpaca if you want to choose even softer.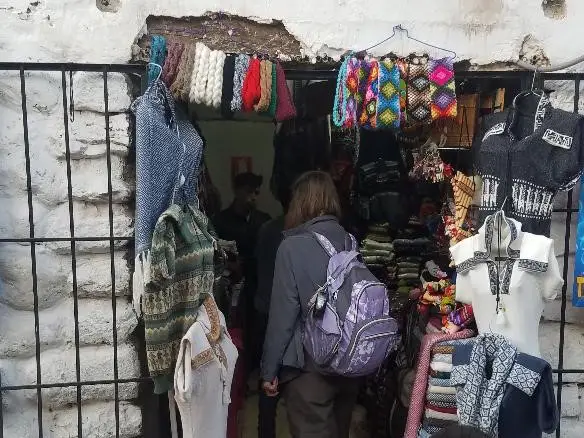 Llama symbols
We were in Peru during the celebration of the fall solstice and witnessed many parades. Here in Ollantaytambo, the parade marchers wore baby llamas and we are not sure of the meaning. I know that the llama fetus brings good luck to your household when buried beneath your entryway. This parade also contained large walking llamas with SEXY LLAMA signs on them! This is the picture posted in the highlight for this blog post.
Picture-prop llamas to capture your selfies
The picture-prop llamas were varied.  They started as tiny babies carried by small Peruvian preschoolers that were dressed in traditional brightly colored smocks and grew into the big llamas walking along-side Peruvian mamas with babies in bright-colored blankets tied to their backs.  For 1 sole, or 33 cents, you could have your photo taken with these llama props.  Hopefully these working-class llamas were well cared for when they weren't on the clock.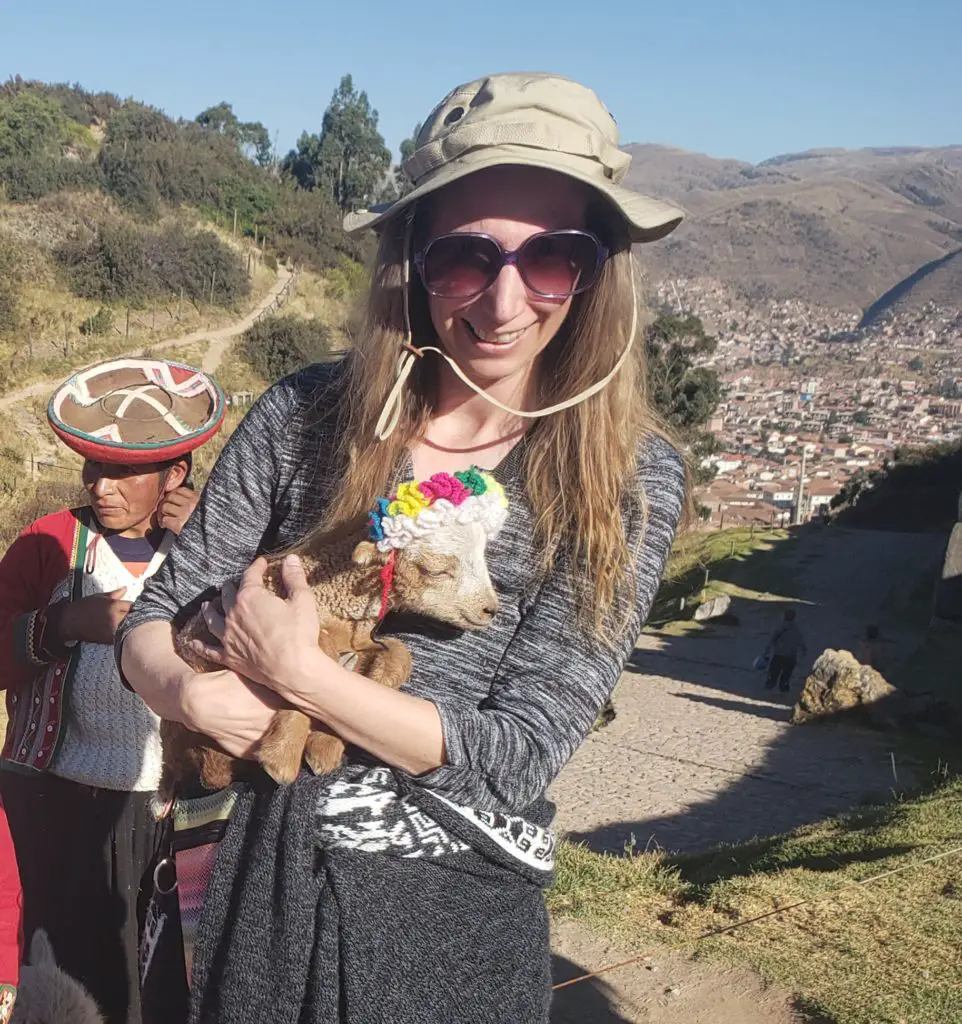 Free-Roaming llamas in Peru
The free-roaming llamas were everywhere.  For the avid and energetic hikers, if you hike the Inca Trail to Machu Picchu, you will see many llamas throughout the scenery and archeology on your long journey to the Wonder of the World. Llamas are at Machu Picchu mowing the grass on the ruins, in the small cities walking in the parks, but mostly among the vast farmlands that spread across Peru.  Most of the free-roaming llamas would allow photos until the proximity line was breached and then they would saunter off to find a more secluded site in which to enjoy their grass feast.
Hopefully the differences between llamas and alpacas is clearer now.  These native species were both very plentiful around Peru.  Camelids, and especially their wool, are very important to the local communities since they create beautiful textiles from them.  Our first stop at the Ccochahuasi Sanctuary provided a fun learning and living museum that enabled us to fulfill the bucket list item of feeding a llama while we recorded it for posterity and posting on the blog!
LIKE THIS? PIN IT FOR LATER!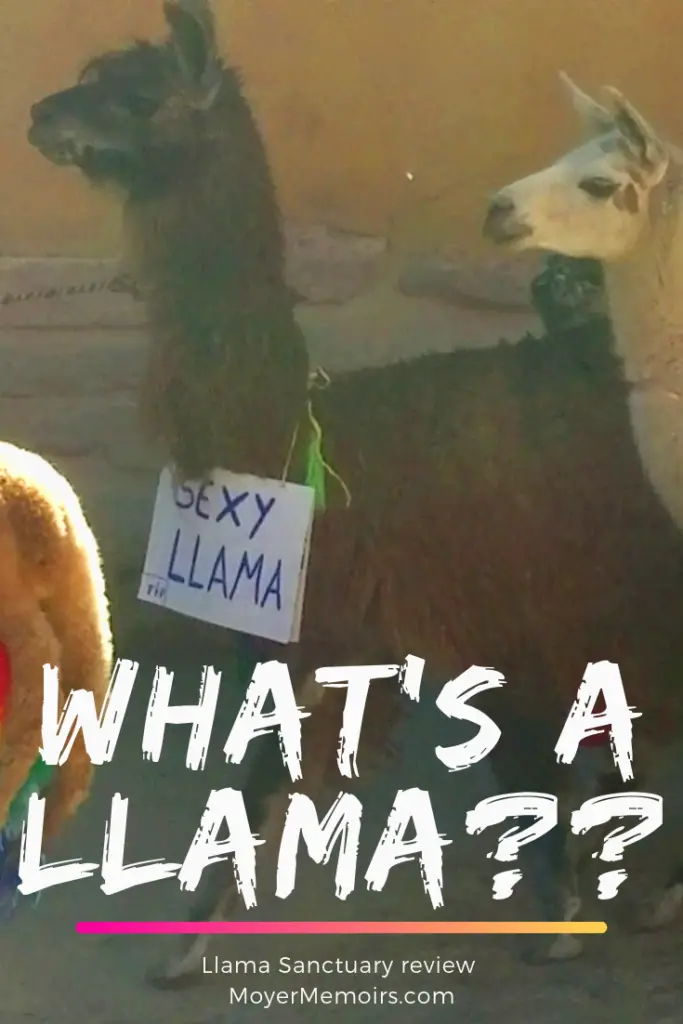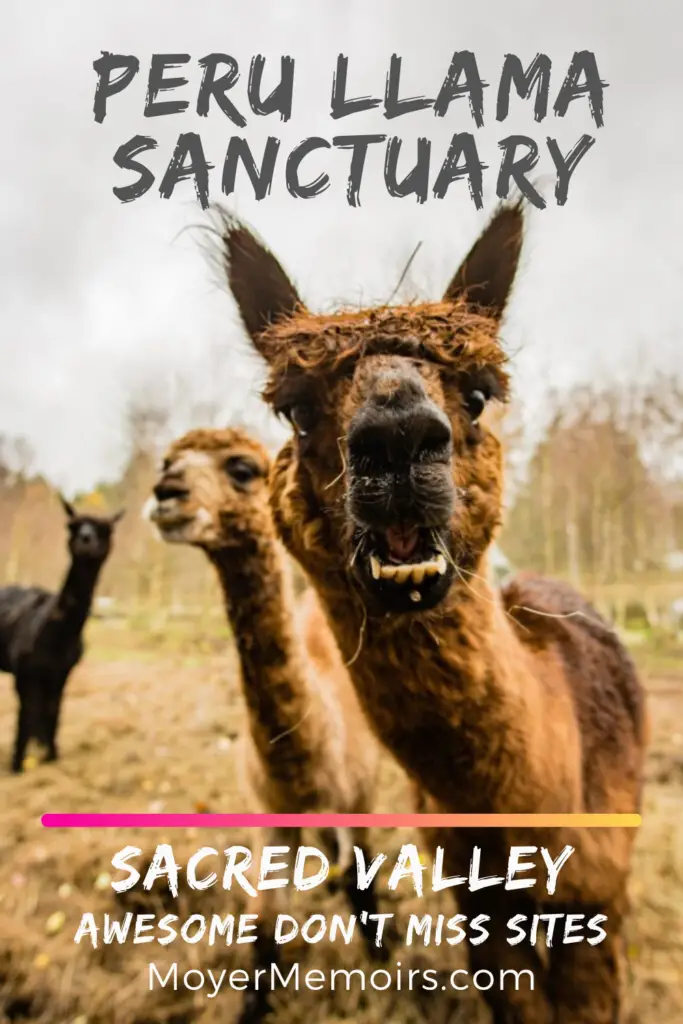 Share your llama selfies in the comments below: