DISCLOSURE: I may link to relevant products, companies or helpful info which may be affiliate links, meaning I may earn a small commission. As an Amazon Associate & other affiliates, I earn from qualifying purchases at no extra charge to you. The views & opinions are my own. Please see the disclaimer and privacy policy.
Last Updated on April 27, 2023
Wanderlust: The desire to travel
Many of us have a wanderlust desire to roam to exotic and unexplored destinations, but we can't always travel. Me included! What can we do to satisfy that desire to travel and see the world? How can we travel from home and participate in virtual travel?
I have compiled a list of 20 activities to travel the world without ever leaving home that you can do RIGHT NOW to curb your wanderlust. Hopefully, you will soon be able to fulfill your travel bucket list, cross off a few items on this list and have fun traveling at home.
Helpful ways to Virtually Travel from Home
1.  Read travel blogs for virtual travel from home.  
Wouldn't you know it, I have a nice choice of interesting articles for you to read!  These are stories of foreign places and the beautiful photographs that were captured.  Which country would you like to read about so that you can travel from home today?
2. Reminisce over your old travel pics. 
Relive your old vacations and travel from home. Dig out the snapshots from your photo storage boxes and organize them by destination.  Scan them into a folder and create a slideshow about that location.  Are they already stored on your computer?  Great! You are halfway there!  Put them together in a movie, tack on a beginning and ending PowerPoint jpeg and add in some corny music.
Create a Personalized Travel Scrapbook
Better yet, go old school and create a travel scrapbook with all your old vacation photos. Your family will love turning the pages filled with memories. Make sure to write some special memoirs in your script writing so that they can treasure your thoughts forever. Design some very special graphics to add to your scrapbook with CANVA, a handy online tool that can help create special momentos of your vacation memories. It is my go-to online graphics creation program!
From the Guggenheim Museum in New York to the Van Gogh Museum in Amsterdam, the Uffizi Gallery in Florence and the Musee d'Orsay in Paris, wander through the halls and view the artwork and sculptures by the click of a mouse.
European Artistic Masterpieces
There are even more museums in Europe that you can tour online. You can virtually visit Paris' iconic Louvre without waiting in line or fighting the crowds. Hop on over to Italy and plan a virtual visit to Rome to make a stop at the Vatican Museums.  What a nice way to see the Sistine Chapel from the comfort of your couch. —or stay in France the whole day and virtually visit all the museums in Paris (–including the Paris Catacombs!! )from this well-put-together list.
4. Try a Virtual Reality Tour to satisfy your WANDERLUST
With VISITING VIRTUALLY, you can take many virtual tours of unique experiences. There is an Ice Hotel, an Arctic Dog Sled Ride, a Hot Air Balloon Ride. These experiences can be take at your desktop computer, OR for a better 360-degree view, you can use an actual VR viewer. Visit their VISITING VIRTUALLY website to view the large variety of choices. New ones are being added often, so keep checking back!
Italy on its own has many ways to travel virtually. From Italian city tours and attraction tours, to virtually attending an Italian opera, there is something for every virtual Italian tourist. Click on this link for an ultimate list of VIRTUAL TOURS IN ITALY.
Add a litte DISNEY MAGIC while you travel from home
Not a museum, but I am sure you will also enjoy virtual travel to the Walt Disney Parks. There are several rides that you can enjoy from home as you ride them virtually!
5. Read a book about travel.
Find a cool book in an exotic location or one close to home, like books about my home state of Ohio.  Pay attention to the details when the author describes the setting and picture it in your mind. 
Here is an awesome list of travel-inspiring books for you to pick from. No matter what sort of travel you like some of these will be sure to inspire some Wanderlust for destinations around the world so that you can travel at home in your comfy reading chair.
If you are looking to virtually travel from home to a specific destination, here is a great list of the best books set in France.
Audible Stories
Do you need some background stories while you commute to work or a selection of audiobooks for your family road trip? Try out Audible by Amazon right now because they have a lot of FREE selections that you can play and listen to while you type away at your keyboard. No downloads are necessary. Listen to books for free from preschool age to classic literature.
6. Enjoy Nature and the World right around you
Before you head out to enjoy nature, please read these tips about Enjoying Nature Responsibly. Keep yourself and others safe with these helpful hints. Practice social distancing while hiking to keep everyone safe.
Local Parks
Go outside and enjoy your local parks!  Take a walk through your local park, take in the view of the spring greenery, and breathe in the fresh air.
Natural Gardens to enjoy while you travel at home
Is it a rainy day?  Take a virtual tour through beautiful gardens from around the world.  Stroll through the magnificent virtual gardens on this list and imagine that you have stopped to smell the roses.
National Parks for an at-home vacation
You can also virtually explore the U.S.A. national parks.  Listen to the narrative led by the park rangers and enjoy tours through five of our nation's popular natural destinations including Bryce Canyon in Utah and Hawaii Volcanoes National Park.

Thinking about a National Park Vacation in the future when travel resumes? Plan a National Park Road Trip so that you have a fun vacation to look forward to.
Animals in Nature
For the animal lovers, a Fellow Travel Blogger has put together a cool list of sites and zoos that have live streams of animals. African animals, pandas, koalas, penguins, whatever your favorite critter is, there is probably a live cam aimed at it!  If you are lonely, cue up a playful sea otter to keep you company.  
Natural phenomenon
I traveled all the way to Iceland to see the Aurora Borealis and did not succeed.  You can now enjoy the beautiful green lights for yourself from your quarantine by tuning into the live stream that is set up from the Churchill Northern Studies Center in Manitoba Canada.  Early spring and late winter are great times to see the lights, best viewable 10pm – 4am EDT.
7. Watch a movie about a foreign place 
The inspiring travel movie list made by a fellow blogger will keep you dreaming about getting away from it all. Curl up on your couch with a cozy blanket and pick out one of these Best Travel Movies of All Time.
8. Get up early, watch the sunrise, and EXERCISE.
Get up early to watch the sunrise. Dream about the sun on the beach.
After you watch the sunrise, get on the treadmill and go on a 3-hour walking tour of Paris! This walking tour is set to music so that it will be a fully entertaining experience. Enjoy your walk and take in some of the Paris tourist attractions!
Let Disney inspire you to get moving. Glenn Higgins Fitness has put together some online workout videos based on popular Disney action movies. They will take you to a galaxy far away and there are enough choices to fill up your entire exercise week. Try them all!
Learn to Salsa Dance in Puerto Rico with a virtual class
Who better to recommend a good travel podcast than a bunch of travel bloggers?! 
The list of favorite travel podcasts from travel bloggers all around has been masterfully put together in a giant review for you to choose from.  Listen to the personal travel tales while you are stuck inside so that the stories on these podcasts can keep you entertained and take you to far-off places.  Put on your headphones, relax and let your mind wander.
Interested in taking a virtual cruise? There is also a great selection of cruise podcasts to satisfy your wanderlust. Cruise the open seas and relax on deck while listening to a great selection from this cruise podcast list.
This podcast starts with a sunrise yoga session and then takes you around this Caribbean Island. There is a large selection of St. Lucia Podcasts to choose from!
10. Learn a foreign language.
Travel will be all-the-more fun if you can communicate with the natives.  Pick a language and learn the basics.  Maybe your next trip will be somewhere in France and saying "Bonjour" and "Merci" will delight the merchants instead of greeting them in English.
There are a lot of language learning apps, like Duolingo, or you can find a channel on YouTube to tune to every day for your lesson. Speaking in a foreign language is a great way to get a sense of travel without ever leaving home
Arm yourself with this cool list of 100 beautiful words in different languages. Learn a couple of new ones each day. The author claims that the "aesthetically pleasing words are not only pretty sounding words but have a beautiful meaning". Enjoy these Mellifluous words (yes, that is the first word on the list!)
Can't afford the price tag of an Around-the-World Cruise?  That's ok. Pick one that you like and read about all its destinations.  They are all over 100 days long and visit many countries and continents. Is there one cruise that hits every place on your bucket list?  Which excursion would you pick at each destination?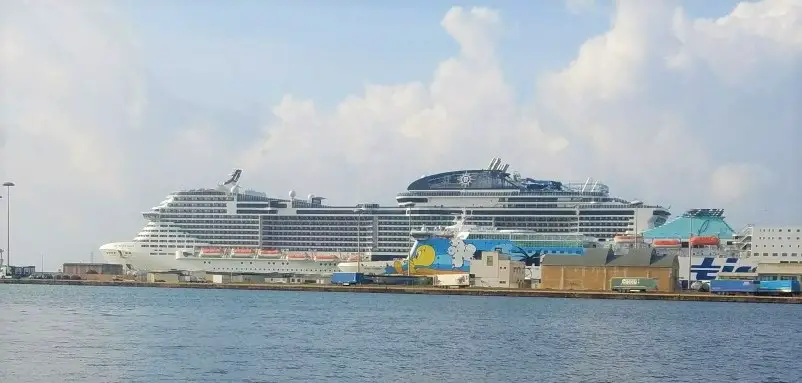 or start planning your next in-person trip!
12. Research your roots for virtual travel at home
DNA travel is very popular right now. Dig into your ancestral history to see where your relatives came from. Which countries around the world are involved in your heritage? Take a DNA test to confirm your ancestry and map out where your genes came from around the world.
13. Go on a virtual tour with a personal tour guide
Tour guides all over the world love to show you their cities. Help support them by going on a personal tour of your favorite city. Bring a beverage, some questions, and a list of must-see sites. They will fulfill your wishlist and show you all the sites and more.
 I went on a tour of Paris from my office chair with a Paris tour guide IN PARIS. The Paris tour industry is out of work until September since the borders are closed until then. They would love to show you around their beautiful city. This tour is perfect for young and old, newcomer to Paris, and those who want to experience a fond memory from a previous trip.
Our tour started at the Eiffel Tower, went to Notre Dame to be updated on its renovation, and then walked along the Seine riverbank, where I learned that they are adding a free public swimming pool. After that, we went to a truly Parisienne canal that is very non-touristy. I'll have to mark that one down for my next trip! You will have to take the tour to find out this secret location. Shhhhhhhh!
Herbert was a friendly and knowledgable guide who gave us a taste of Paris and some tips for touring. He proudly claimed to be a typical Rude Frenchman, but I didn't see it! He was always smiling and laughing. Our tour group requested to visit several special places in Paris and he gladly took us there. He definitely loved Paris.
Support the tourism industry and try this virtual tour to the City of Love. There was even a married couple on my tour that was celebrating their 29th anniversary that evening! They came to the tour with wine, cheese, and French Baguettes on their living room coffee table! We toasted with them for another happy 29+ years!
Girl Travel Tours
For live or recorded tours, try Girl Travel Tours. The tours are free, but donations are accepted. The tours are from all over the world. I took an excellent African Safari Tour at Hwange National Park in Zimbabwe. We even stopped for lunch and dinner in the park while the animals roamed free. The elephants were the most frequently spotted animal on my virtual safari.
Context Conversations is a tour guide provider. They have come up with the solution of providing virtual tours in order to benefit the out-of-work tour guides. The tours are scholar-led seminars to pandemic-affected regions.
I went on a virtual tour to Venice led by Luca Zaggia who does research on the human impact on the struggling city of Venice. He told us how the city, which started in the 7th century, has been through so much including the Justinian Plague, pirate rough-housing, the Black Plague, the decline of the shipping industry, the Acqua Alta and now the coronavirus pandemic. The city has managed to bounce back from many disasters.
Contribute toward the struggling travel industry by still continuing to vacation to new destinations, even though it may just be arm-chair travel nowadays. Let your curiosity take you to new places where the guides can educate you –even though it is just a virtual tour. Learn a lot of history on your journeys by signing up for one – or three of these interesting and informative tours!
There are TED talks that can educate you about all sorts of travel-related categories so that you can travel the world without leaving home. They cover topics like surfing in ice-cold water, to traveling to the North Pole, to living your dream and achieving your travel goals. Watch some of these talks and let your travel Wanderlust go wild! There is a nice list of travel-themed TED talks put together for you so that all your travel desires are in one spot.
14. Binge watch a Travel YouTube channel.
Pick a cool destination and watch the whole series.  My favorite Travel YouTube channel is Flying the Nest and my favorite episodes were the Christmas episodes in Finland where Australian vloggers Stephen and Jess met with the Christmas reindeer at the Holiday village and then went dog sledding –how cool is that!?!?!?
15. Shop for fun travel supplies.
Travelers need many items when wandering around on their vacations.  There are some common supplies that you might still need, might need for a duplicate set for each suitcase, or might need to replace because it is worn out.  –or like me, you have a shopping addiction and you just want to get a new one!  Now is a good time to shop and have it ready to go in time to pack for your next trip.
—and Buy Suitcases too
Since you are buying travel accessories, you definitely NEED new luggage to put them all in on your next trip. Easy rolling suitcases make travel through crowded train stations and airports easier and less stressful. If your suitcase is worn out and doesn't roll easily, do yourself a favor and get a new one! Try one of these top-sellers.
16. Travel Themed Game Night!
Spend time with your housemates and travel from home during game night! You are best buddies so you should all 'travel' together. Find the perfect family travel game to order online so you can all dream of vacationing around the world or into the next city while you roll the dice or answer trivia questions!
Here is a handy list that I made of some of the best travel-themed games to satisfy your Wanderlust when you are stuck at home and dreaming about travelling the world from home.
Order a new WANDERLUST game!
17. Try some travel-themed crafts
When you can't travel to Disney, bring some Disney magic to your home with some Disney-Inspired crafts!
or make something beautiful with all of the shells that you collected on your last beach trip!
18. Practice your photography.
There are billions of settings on your camera that you don't use.  They can help your pictures turn out even better if you switch it off of the auto settings!  Google your phone and find an instructional video to teach you all about those settings, then tell your friends and family with to say 'Cheese' while you perfect those skills. Learn how to take night photos so that you can get that perfect shot on your next vacation!
19. Cook a recipe from a foreign land.
Pick a country and find some interesting traditional recipes to try in your own kitchen.  Make a shopping list of ingredients and get to work after you procure all the supplies.  The aromas of your delicious concoctions will fill the stuffy house and transport you to your new destination as you travel from home while cooking. 
As a bonus, pick a playlist from your destination to play during the dinner hour. Are you cooking Italian food at home tonight? Try some of the best Italian songs of all time on an Italian playlist!
Interested in a

Silicilain Arancini Rice Balls Recipe

to make at home? We tried our own recipe and loved it! Read about it in this post that includes a step-by-step video.
BONUS ACTIVITIES! Volunteer Virtually.
We can all make a difference and do our part to help in this world. Here are a few online volunteer opportunities that can make a difference in the world.
Design and fabricate medical supplies to aid the pandemic
Sew masks for high-risk populations.
Youth can volunteer online for the Red Cross.
Solving Wanderlust as you Travel from Home
There you have it!! Twenty different activities that will help satisfy that traveling bug while you are NOT traveling. Which virtual travel activities work the best for you? Do you have any other favorites that are not on the list and are a great way to travel from home?
For kids travel activities and things to do at home, you might also like:
or click on this link for 15 Travel and Multicultural Education Activities For Students At Home
Like This Post? PIN IT for later!