DISCLOSURE: I may link to relevant products, companies or helpful info which may be affiliate links, meaning I may earn a small commission. As an Amazon Associate & other affiliates, I earn from qualifying purchases at no extra charge to you. The views & opinions are my own. Please see the disclaimer and privacy policy.
Last Updated on September 12, 2021
Ice-Caving in Iceland on a Glacier Hike Tour
Come on a spectacular tour of ice caves in Iceland on a glacier walk. Learn what to bring and where to go ice-caving in Iceland to see these dazzling ice caves and glaciers.
How Glaciers are Formed
Glaciers are found in very cold snowy regions like Iceland and result from the buildup and compression of snow over a millennium.  Each layer of snow in the winter accumulates over the forming glacier.  The fresh buildup of snow slightly melts during the summertime and then compresses against the layers underneath from the weather of the next snowfall. 
The compressed layers change into sheets of ice forming on top of each other.  Eventually, the layers become fused into one big block of ice.  It continues to still grow as more snow falls on it and joins the big cube.
And now the newborn glacier is capable of moving.  Glacier movement is slow, from a few centimeters to several meters in a single day, and downhill.  They pick up debris just like rivers and carve out pathways in the land.
The compressed ice of the glaciers does not have any air bubbles so it allows uninterrupted white light to go completely through it. Red light is absorbed by the dense ice so that the blue light is what we observe when we look at the beautifully formed glaciers and their blue hues.
Glacier Hike in Iceland
It is against the law to set foot onto a glacier in Iceland without a professional guide.  Glaciers are dangerous not only because they are made of cold, slippery ice, but because they are always moving and changing. 
There are many different tours available depending on hike duration and whether or not other activities are included.
How to see an Ice Cave in Iceland? Ice Cave Tours!
The best and safest way to see an Ice Cave in Iceland is to go on a tour. There are many tour guides that can take you safely on a glacier and safely into a beautiful Iceland Ice Cave!
Here are some excellent choices of guided tours.
Choose one of these tours and get ready for some awesome Instagram Cave Photos!!!
Our Iceland Ice Caves Tour
We went on a Glacier and Ice Cave Tour and it was a wonderful experience that I will never forget. 
I wanted the double experiences of walking on a glacier and also seeing glacial ice caves.  It did not disappoint me with all its beauty in every direction. 
We were in a very small tour group so that we had personal attention from our guide, Matt,  who took very good care of us. 
I was a little bit nervous about how successful I was going to walk on the ice. I even emailed the company beforehand to ask how they thought 'old people' would do on this tour.  We went slow enough for me to keep up, but fast enough for the youngins to still have fun.
Our whole tour lasted about 3 hours and was very entertaining.  We were able to take a lot of very scenic pictures of the glacier and caves while on this tour.  It is highly recommended.
Here are some more Iceland Glacier walk tours that you will enjoy.
For reading material to take on your trip to Iceland:
Rick Steves' book was released in April 2020 and Lonely Planet is FREE with Kindle Unlimited!
Vatnajokull Glacier
Iceland got its name from all the ice that covers 10% of the whole country.  The largest glacier, name Vatnajokull and translating to "the Water Glacier" in Icelandic, covers 8% of the country. 
It is the largest glacier in all of Europe at over 8,100 km2 and up to 1,000 m thick at some points.
In 2008 the area around Vatnajokull glacier was named a national park, becoming one of Europe's largest national parks. 
The large variety of dynamic landscapes in the park not only contain Vatnajokull glacier but massive glacier rivers, glacier lagoons with huge floating icebergs, remarkable waterfalls, scenic mountains with Iceland's highest peak, and giant canyons carved from glacier grooves
How to get to Vatnajokull Glacier for an Ice Cave Tour in Iceland
The Vatnajokull Glacier is in the southern region of Iceland.  The trip from the capital city of Reykjavik, Iceland is 4 hours along the main city road 1 that wraps completely around Iceland. 
Road 1, also called Ring Road, is paved and full of beautiful sites for you to see on your way to your glacier hike.  It is a nice day trip to get to your meeting point which is most often in Skaftafall National Park Visitor's Center, now a park of Vatnajokull National Park.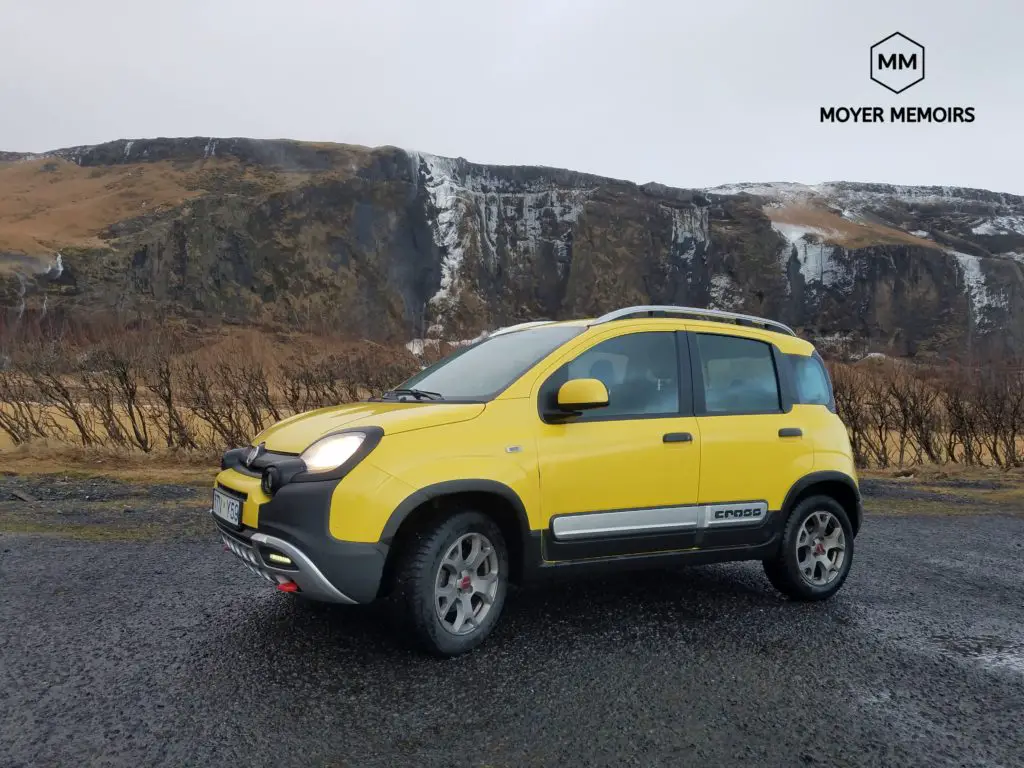 What to wear on a glacier tour
Are you wondering what to pack on your trip to Iceland?
What else do you need to know about your trip to Iceland?
Get all the helpful planning advice!
Iceland Glacier Hike
Our official glacier tour began at 9:30 am.  We met at the hut in the parking lot of Skaftafall National Park Visitor's Center.  We were outfitted with our gear which included crampons, a hard hat, and an ice pick. 
We were encouraged to rent hiking boots, but hubby and I did research and pre-purchased warm, sturdy winter boots for this trip, so we opted out of the rental.
It was a beautiful day and we were ready to start our Iceland Glacier Hike! 
We boarded a very large all-terrain vehicle with super huge tires and we were on our way.  This vehicle was so large that I wondered what we would be traveling across that needed such power!
Wow!  Now I understood.  The road to get to the glacier was not very passable.  Our heavy-duty all-terrain vehicle went about 5 miles an hour over bumps and turns and valleys while we were tossed and turned inside. 
Seat buckles are mandatory and I understood why as I was almost thrown out of my seat to the floor.  Make sure your ice pick is not sticking up–  we don't want any accidental impalements!
After a very bumpy 15 minute ride, we finally arrived at the foot of the glacier.  We exited our vehicle with all of our gear.  We weren't wearing the helmet or clampons yet so we had to carry everything. 
Luckily I had my trusty traveling backpack with me.  That thing has been everywhere from Europe to South America with me!
And for some reason, I had a carabiner attached to the clamp on the top of the back.  What luck!! I just hooked all my gear to the carabiner and had my hands free to take photos and keep my balance.  –More of the former while on the rocks and the latter when we finally got to the ice.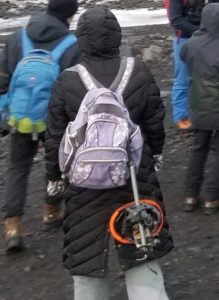 We went up.  Like straight up! 
There was a narrow pathway in the rocks that we wove around, back and forth, making our way up to the base of the glacier.  We were heading for one of the 30 Vatnajokull ice cap outlets, or glacier tongues, called Falljokull Glacier.
The rocks under our feet were black lava rocks from the eruptions of volcanos. 
Seven volcanos are under Vatnajokull glacier.  The most active one in recent years is Grimsvotn volcano which erupted several times in the last 2 decades.  The most recent eruption was in 2011, sending smoke in the air for many miles and disrupting air travel for days.
---
Be sure to witness Iceland's newest & most AMAZING attraction!
---
Our Iceland Ice Cave Tour & Glacier Hike Continues
Soon our glacier tour party got to a bridge that crossed over the melted running water that was pouring out of the glacier high above.  This is the new bridge.  The old bridge was washed away and we saw parts of it encased in ice along the side of the running water.
We crossed the bridge –two people allowed at a time- and continued up to the foot of the outlet called Falljokull Glacier.  Our guide told us that the pronunciation was a very slurred "Fat Yogurt" but I am not sure that I ever nailed it.
We then received step-by-step instructions on how to put on our clampons. 
Clampons are the spikes that dig into the ice and keep us from sliding off and down the big hills. 
Clampons are steel and rigid with long straps that keep them attached to your shoes while you are stomping away. 
We wrapped our straps and secured them tight, then tucked them into our socks for safekeeping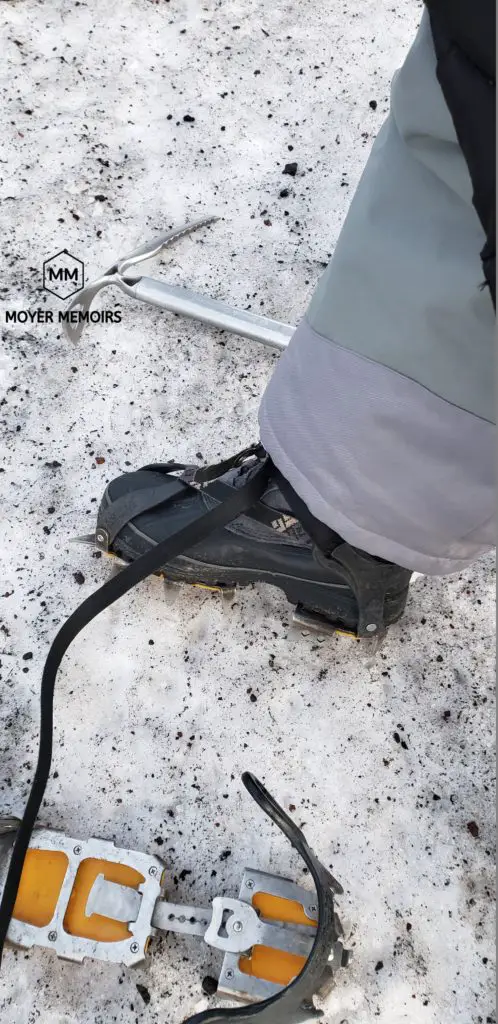 While we were putting on our gear, we had a visit from the local resident black raven.  He was quite tame and would take food from our hands.  Hubby had some leftover Laugarvatn Fontana bread that we all shared to feed the raven.
We got out our ice axe and prepared for our trek across the glacier. 
The ice axe was to be carried in a special way so that if we slipped and fell: #1- we didn't gouge our eye out and #2 we could quickly dig the pick of the axe into the ice to prevent ourselves from sliding further to our doom.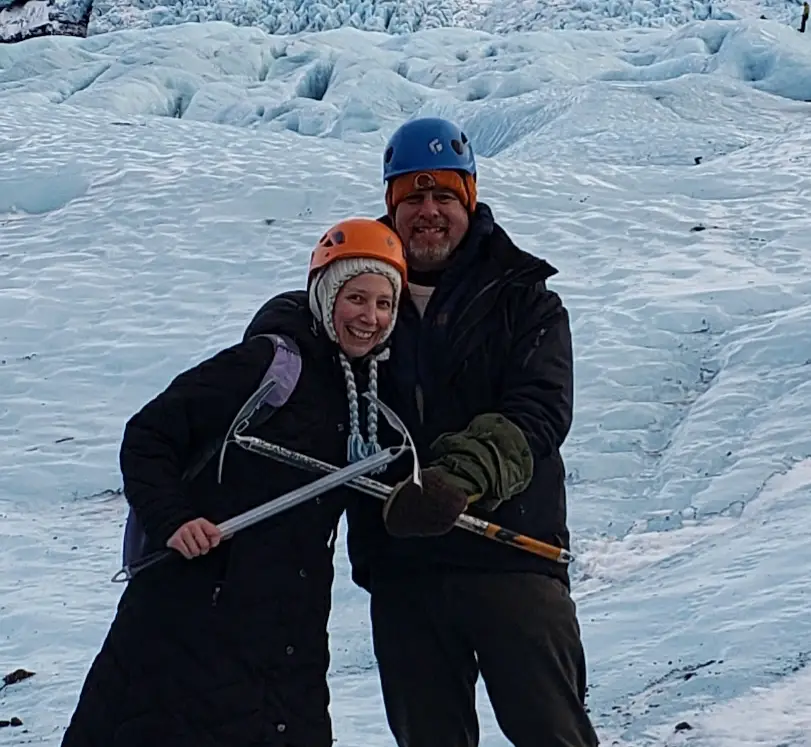 So, to keep us all upright on the ice, we were taught how to use our clampons properly.  However, in order for the clampons to work, we needed to stomp our feet hard so that the metal spikes dug into the ice. 
Our guide gave us the stomping instructions. 
Stomp with your feet shoulder-width apart so you don't accidentally catch your other foot.  Take little steps.  Move your weight forward when going uphill and lean backward when going downhill. 
So much to remember! 
Despite having to learn how to walk again, I managed to figure it out and didn't fall anywhere.  I felt like I was in a marching parade.  It was a little easier for hubby since he has a few more pounds on him than I do, so he didn't have to stomp his feet quite as hard.
The glacier was breathtaking and huge.  We paused a minute and heard sounds from miles away and around the next mountain.  It was the deep thunder and growl from glacier calving– the glacier giving birth to an iceberg. 
We heard more of the sounds of the ice from the glacier moving and falling.  We saw other people from glacier walking tours closer to the mountain pause and look up in wonder –or maybe it was little fear!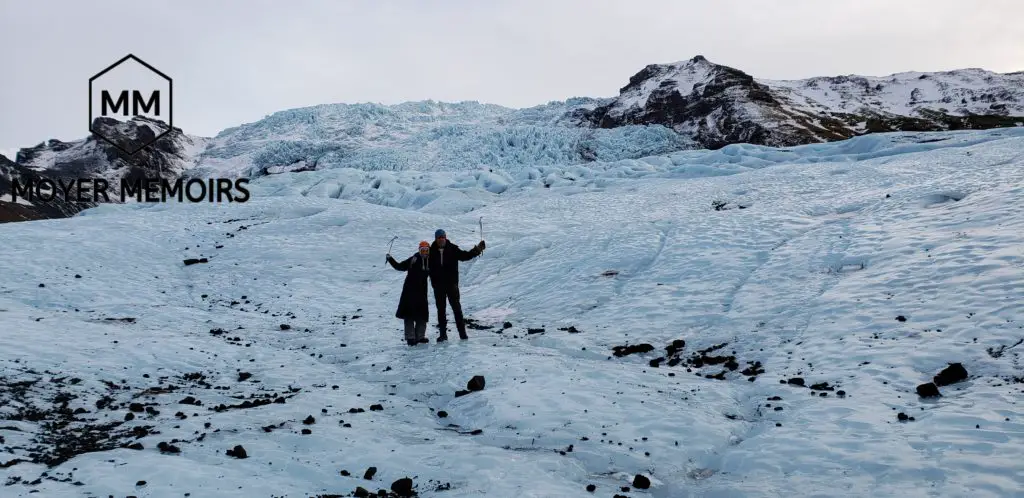 We walked up the glacier – lean forward, right?-  and took some photos and selfies.  We then walked down toward the other side, which was a little scarier since I envisioned myself tipping forward and slipping and sliding down the long sledding ice hill.  It would have been a fun ride until the ending thud. 
It was a nice sunny day and I was cozy warm in all my layers.  When we arrived at our next destination, I took off my bulky winter coat and went inside Mother Nature's masterpiece of art to view the beautiful ice caves in Iceland.
Ice-Caving in Iceland: The Ice Cave Tours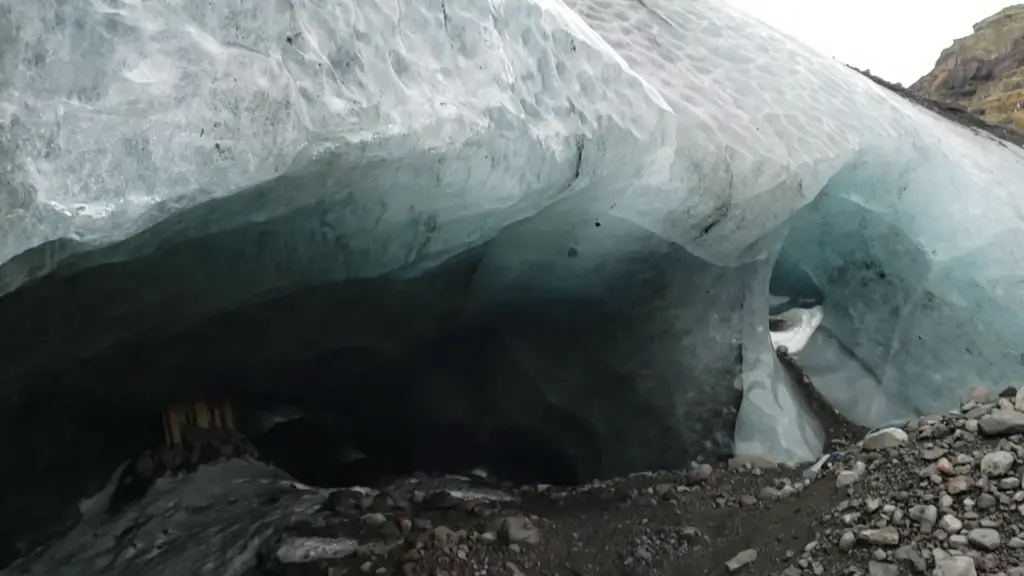 Ice cave tours are only offered in the winter in Iceland.  In the summer the caves disappear into glacial rivers created from the melting ice due to geothermal activity and warming air temperature.  The rivers form channels, tunnels, and crevasses here and there.  In the winter, these rivers freeze, and the ever-changing and gorgeous caves appear in their tracks. 
What are the Ice Caves in Iceland like?
…
Our trusty guide, Matt, took us into two very different caves on the Vatnajokull glacier. 
The first cave was dark and tight.  We squeezed through the cracks and scurried around boulders that the glacier waters left behind.  There were deep grooves through these tunnels.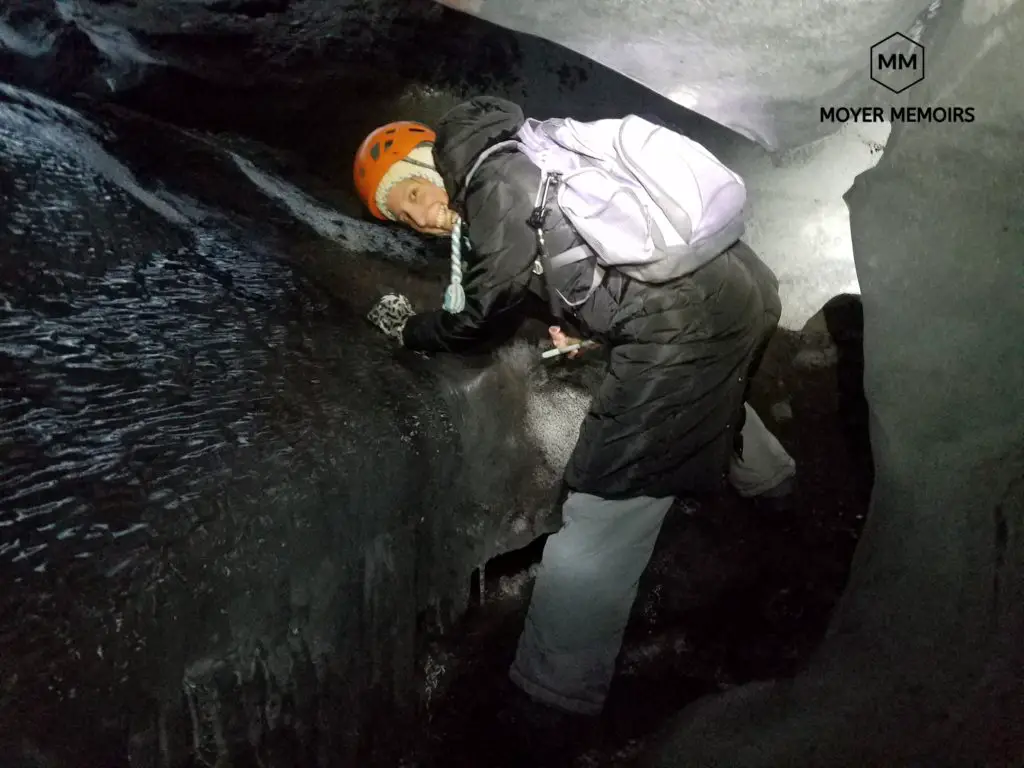 The second cave was big and bright.  Our whole ice-caving tour group fit into the main lobby of this cave.  There were icicles formed on the inside 'shelving' and we saw dripping water everywhere. 
It was easy to break off a small icicle.  Hubby snacked on 2,500 year old –that's how long ago the Vatnajokull Glacier is believed to have formed– ice while we admired the cave interior.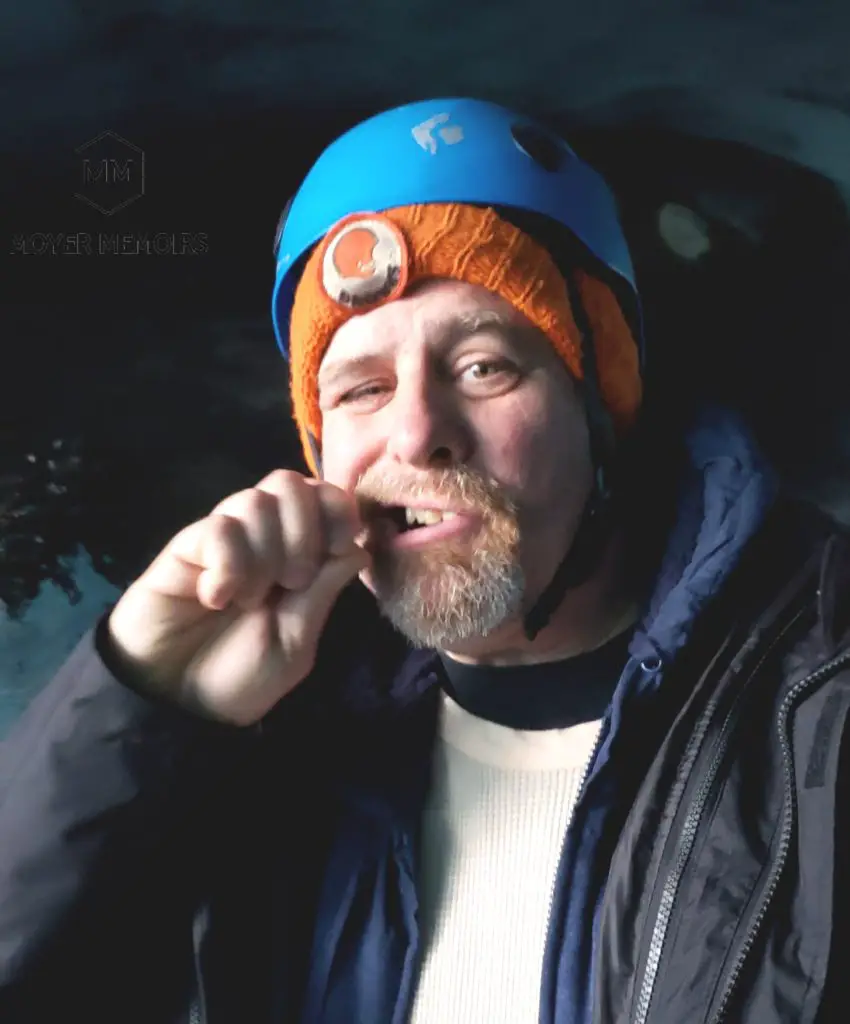 The deep blue light that reflected off of the glacier ice was a gorgeous backdrop for our selfies.  THIS is what I had taken this tour for.  I could have stayed here for hours taking in the beauty, but unfortunately, our tour was almost over. I basked in the beauty of the blue glow of the glacier a while longer before heading back to the vehicle and back to the reality of the whiteness of Iceland snow.
Make sure you don't miss out on an Iceland ice-caving tour and plan ahead!
Need more help planning your Iceland Vacation?
Subscribe so that you don't miss any trip advice.
Like this post? PIN IT for Later