DISCLOSURE: I may link to relevant products, companies or helpful info which may be affiliate links, meaning I may earn a small commission. As an Amazon Associate & other affiliates, I earn from qualifying purchases at no extra charge to you. The views & opinions are my own. Please see the disclaimer and privacy policy.
Last Updated on June 21, 2023
The once notorious Caminito del Rey in the hills behind Màlaga in Spain has been transformed into a major tourist draw following a €9 million investment in the last decade. There are many reasons El Caminito del Rey Hike is so popular in Malaga, Spain!
Originally developed for hydroelectric workers, the route takes visitors on a spectacular 8 km (5 miles) hike suspended 100 m up the Desfiladero de los Gaitanes gorge.
Situated just 60 km North of Màlaga, the Caminito del Rey is easily accessible by train or motor vehicle, but you can also book a day trip from Malaga with a local travel company.  After you have spent a weekend enjoying all the beautiful Malaga Beaches, plan a bucket list trip to this popular hiking destination!
The closest town is El Chorro. The El Caminito del Rey Hiking trail has become one of the region's most popular outdoor attractions since its opening in 2015.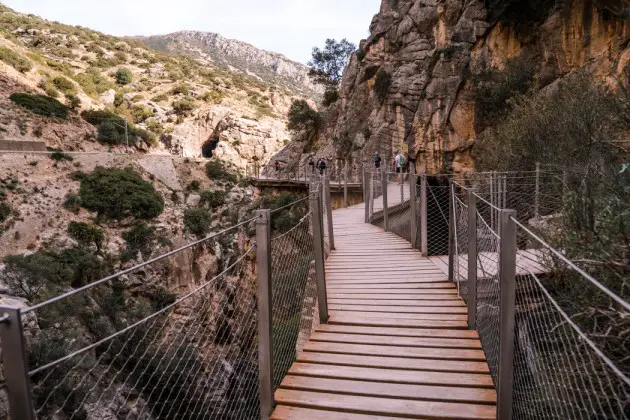 BUCKET LIST ALERT!!
The area is a magnet for hikers and nature watchers and should also be on your must-see list.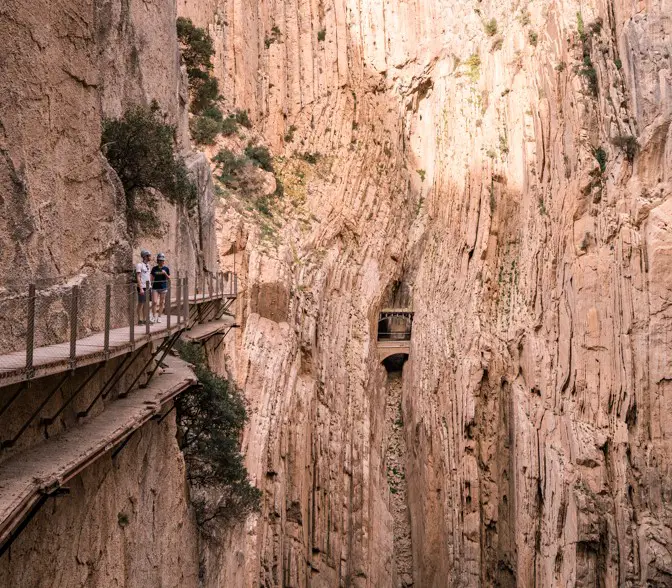 ---
Here's the guide to getting the best from your El Caminito del Rey Hike in Malaga.
What is the Caminito del Rey?
Named to commemorate the visit in 1921 by King Alfonso XIII, the Caminito del Rey walk has also been known by less friendly names, such as the Walkway of Death! It was originally built to provide access for hydroelectric workers, but it fell into disrepair and was shut down in the last century.
It has been renovated, rebuilt, and refurbished and is much safer now! Parts of the original walkway can still be seen from the new structure as it winds through the gorge, rising above the Guadalhorce River through incredible scenery. The new suspended walkway is boarded, wide enough for people to pass comfortably, and has a handrail these days too.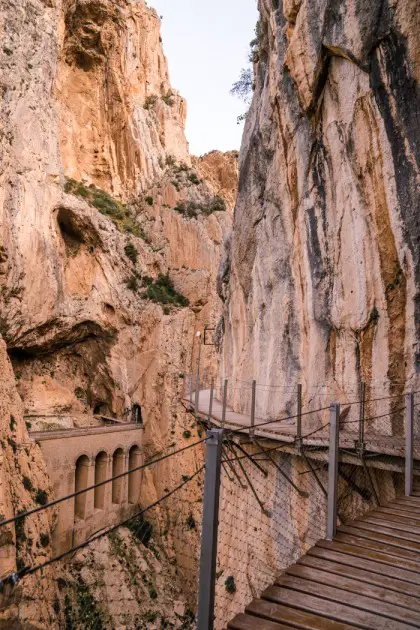 7 Reasons to Visit Caminito del Rey
The fantastic scenery has to be the number one reason to walk this trail as you traverse the gorge high above the waters of the river below. Your Insta will never look so good. The trail rises and dips between the gorge walls allowing dramatic shade from time to time.
Test your tolerance of vertiginous heights and your enjoyment of adrenaline while remaining perfectly safe at all times on the Caminito del Rey. There is a limit of 1100 visitors per day to prevent the walkways from being overused, while 17% of your €10 ticket price is spent on maintenance every year.
Marvel at the ingenuity of the engineers that built the hydroelectric plant more than 100  years ago, and the skill of the original builders of the walkway. Records tell us that sailors used to working in ships rigging were suspended from the cliff tops and that in the riskiest sections, convicts were used.
The suspension bridge at the top of the hike was emblematic of progress in the early part of the last century and was all part of a strategy to propel Màlaga into a prosperous future. Still, local folklore tells the story of a young English beauty who plunged to her death from this bridge in an act of suicide following a broken heart.
The Caminito del Rey is a legendary wildlife haven. Eagles wheel and swoop overhead and by your feet, brightly colored lizards run. The protected status of the gorge means that there is no access here to the river for bathing, but there is a lake close by the North Entrance, ideal for a dip after your hike.
The trail has won multiple Spanish and European heritage and tourism awards for its levels of safety and sustainability. It is an easy day trip from Màlaga and other local cities such as Setenil de las Bodegas or Ronda.
It is one of the most reasonably priced outdoor attractions in the area at just €10 per person. If you are on a tight budget it is also possible to park for free in the village and walk to the trail entrance. For those without a car, you can access the trail by booking day trips from all the destinations on costa del sol, like Fuengirola for example.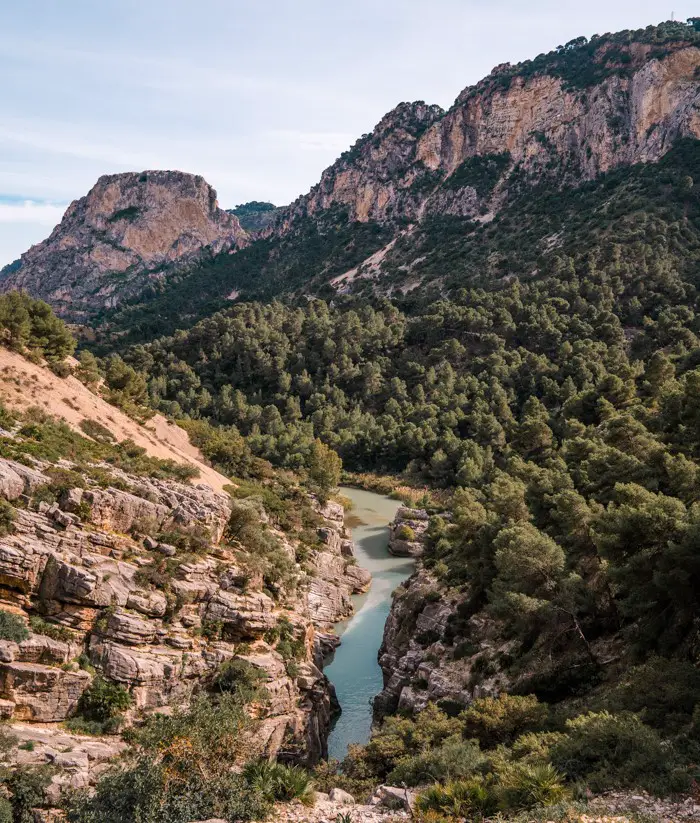 Book Your Tickets to Caminito del Rey
Booking your El Caminito del Rey tickets can be done either HERE, if you only want to book a day ticket or several sites can provide a group booking or coach tour. See the suggestions for how to tour Caminito del Rey with a pre-booked tour below!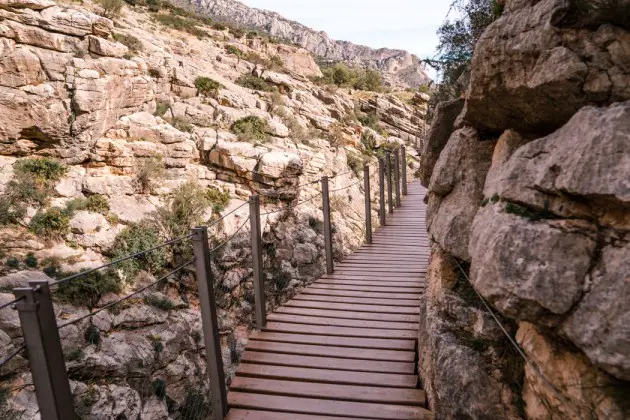 ---
Top Tips for Enjoying Your Visit to the Caminito del Rey
Book early. The El Caminito del Rey trail gets booked up well in advance, so a visit to the Caminito del Rey will need to be planned well before you leave. The high season of July and August and the Easter break fill up three months ahead of time. Book your tickets as soon as your travel date is planned.
Leave early. Whichever timed ticket you have booked, be aware that it will take time from your arrival at the railway station in Chorro, or finding a parking space, to get to the start point where your tickets are checked. Allow approximately 1 hour from arrival to get to the beginning of the trail.
Pee early. The last public toilets are at the North Entrance start point. Along the 7 km of the Caminito del Rey, there are spectacular views, but no restrooms until you get to the end.
Wear sensible shoes. You won't need to wear hiking boots, trainers or sneakers will be perfectly adequate, but leisure footwear, such as flip-flops, or sandals are not recommended, and the chances are that you may be refused entry as the emphasis is on safety.
Take water. Especially in high summer, the two hours minimum that it will take to complete the trail will take its toll on your body's fluid levels, so make sure to bring some water with you. A small backpack is ideal. There are spots where you can stop, breathe, enjoy the views, and refresh yourself.
Take your time. Unless you are part of a guided tour, while the entrance times are strictly observed, you can easily take up to three hours over the course. There are areas where bottlenecks are unavoidable, but sometimes hanging back and enjoying the view is essential.
Use sunscreen. The route is one-way, so pay special attention to your left side, especially if you are tackling the hike over the midday period. 
Don't style your hair. The Operators are so safety focused that they insist that all hikers wear protective headgear, issued at the start point. You will end the trail with 'hat-hair', but that is a small price to pay for the experience.
Don't take your young children. Quite apart from 8 km (5 miles) being a decent distance for any able-bodied adult to cover, the operators state that those aged 8 to 18 must be accompanied by an adult and have proof of identity. Likewise, baby carriers, strollers, and pushchairs are not permitted on the trail.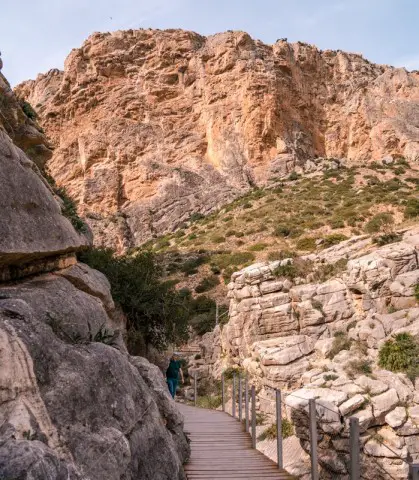 How to Get to the Caminito del Rey
There are several options that you can choose from, whether you are traveling by car, or public transport, or prefer to be part of an organized group visit.
Be advised that the start point (North Entrance) is accessed via a pedestrian tunnel and footpath that is approximately a kilometer and a half long (1 mile), so factor this in too. The shuttle bus does stop right outside the entrance to the tunnel, but it will take approximately 25 minutes to get to this point from the railway station in Chorro.
Getting to Caminito del Rey By Rail: 
Getting to Caminito del Rey from Malaga: It is a straightforward ride from Malaga to Caminito del Rey from the Maria Zambrano railway station in Màlaga that will take you to the nearby town of Chorro. Tickets cost between €3.50 and €5 depending on the time of day and can take between 30 minutes and an hour, so check the timetable carefully before booking.
From Chorro, you take a shuttle bus (€2.50 per person) to the tunnel at the head of the trail. The shuttle buses are quite regular, and chances are there will be one waiting when you leave the railway station, however, it is also equally likely that there might be a 15-minute wait.
All of these increments of time should be factored in when making your ticket booking to allow plenty of time to get to the beginning of the trail. However, arriving by car does give you the freedom to spend as much time as you want on the trail.
Getting to Caminito del Rey by Road:
Driving to El Caminito del Rey from Màlaga will take about an hour on the A357.
There is plenty of parking at El Caminito del Rey once you arrive. The first car park you come to is the official Caminito del Rey parking, with tarmac and a visitor center. It is situated more than two kilometers from the tunnel that leads to the North Entrance, so you will have to take the shuttle bus (5 minutes).
It is possible to use a private car park situated opposite the beginning of the pedestrian tunnel, but remember that the Southern exit to the trail is almost back in Chorro, so allow time for the walk or budget to use the shuttle bus.
Getting to Caminito del Rey by Tour-Bus:
Apart from booking on the official website, there are tour operators that will take you from Màlaga directly to the Caminito del Rey for an inclusive ticket. Some will pick up directly from hotels or a pick-up point in town. If the official ticket site is all booked out for the date in your itinerary, there are often spaces on board these tours instead.
Tours to El Caminito del Rey
Choose one of these fun Caminito del Rey tour suggestions!
Like this post? PIN IT for Later